Cinnamon Cream Cheese Waffle Trifle
Guys, it was Fathers' Day yesterday. And we all know little quirks about our dads that make them each special in their own goofy ways. So, when thinking of a good dessert for my dad, I  went through all of his favorite things. If you've read my bio, then you know I get my sweet tooth from my dad, so I was able to think of a million different things he'd be happy with for dessert, but that just made it hard to narrow down. Then, I realized that, as far back as I can remember, his Saturday morning breakfast of choice has always been Belgian waffles. So where did I get the idea to make it into a trifle, you may ask? Well, first of all, I thought it'd be fun to try to recreate a cinnamon roll motif using waffles because cinnamon rolls just sounded good to me at the time and everybody loves them, and, second, because it's fun to layer things, of course!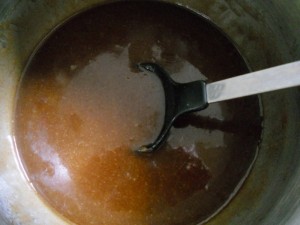 Therefore, this trifle has layers of Belgian waffles, cinnamon roll filling, maple cream cheese frosting, and cinnamon chips. I know, try to contain yourself. So, when you stick a big spoon in and scoop out a heaping pile of trifle guts, it's pretty much like pulling a big cinnamon roll out from a mountain of other cinnamon rolls. And that is exactly what it tastes like! If you didn't know what was in it, you'd swear you were eating a messy, gooey cinnamon roll.
And, of course, there are plenty of different variations of this you can make. Whether you're a waffle person, a pancake person, or a French toast person, you can choose whatever you want to use in the layers. Personally, I think waffles work great due to their built-in, goo-catching cups. They absorb whatever you plop on top of them!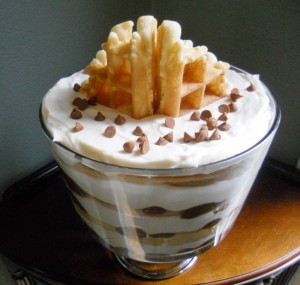 My only note about this trifle is that it's a pretty heavy dessert. So, if you prefer it to be a little lighter, especially if it's following a big dinner like the one my family had (steaks, ribs, baked sweet potatoes, shame), then I'd suggest spreading on thinner layers of cream cheese frosting and squeezing in an extra waffle so that it won't taste quite so rich. Or, if you're like me and can handle lots of the sweet stuff, then pile on however much you want and let your born-to-be-wild baker flag fly!  *Cue the guitar riff*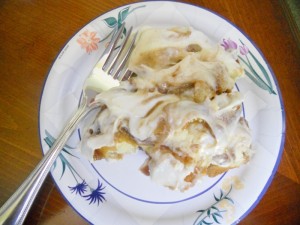 Cinnamon Cream Cheese Waffle Trifle
Yield: Serves 10-15
Source: All Things Sweet Original recipe
Prep: about 2 hours
Belgian Waffles:
1 package of your favorite Belgian waffle mix
Prepare waffles according to package directions. Keep warm until assembly.
Cinnamon Roll Filling:
1 1/2 cups (3 sticks) unsalted butter
2 cups brown sugar
1 tbsp. ground cinnamon
Melt the butter in a medium sauce pan over medium-low heat. Add the brown sugar and cinnamon, then bring to a boil. Cook and stir until the sugar dissolves and you are left with a thick, brown syrup. Keep warm until assembly.
Maple Cream Cheese Frosting:
1 pound cream cheese, at room temperature
1 cup (2 sticks) unsalted butter, at room temperature
2 tsp. vanilla extract
5 cups powdered sugar, sifted
1/4 cup maple syrup
Combine the cream cheese and butter in the bowl of an electric mixer fitted with the paddle attachment. Stir in the vanilla, then gradually add in the powdered sugar. Mix until smooth then pour in the maple syrup and stir once more until well-combined.
Assembly:
Cinnamon chips
1.         Cut the waffles into fourths.
2.         Rearrange waffle pieces in the bowl of a 2-quart trifle dish until the bottom of the dish is well-covered.
3.         Ladle the cinnamon roll filling over the waffle layer until the waffles are well-covered and each divot is filled.
4.         Spread the cream cheese frosting on top of the cinnamon layer until it is covered with a thick layer of frosting.
5.         Sprinkle generously with cinnamon chips.
6.         Repeat Steps 2-5 until the trifle dish is filled to the top. Arrange leftover waffle pieces in a decorative fashion on top of the trifle.