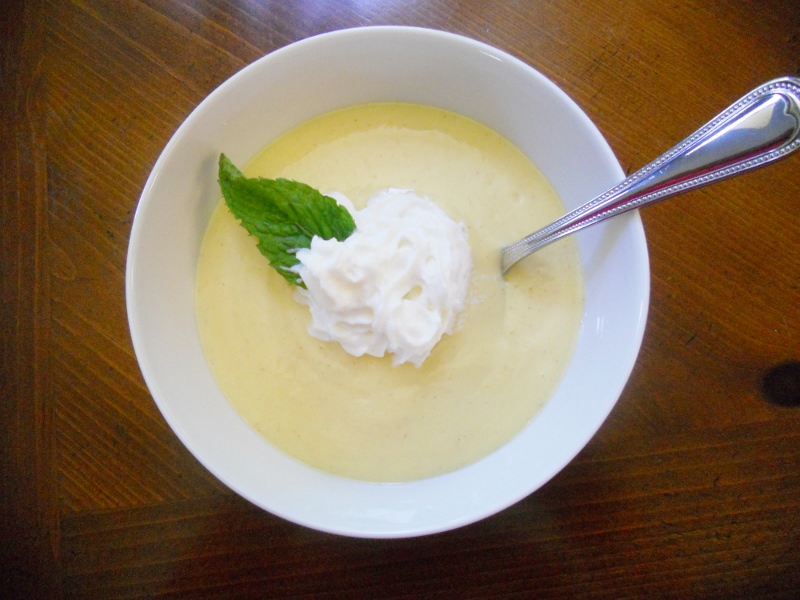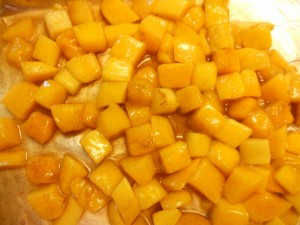 Let's see, there's hot soup, cold soup, chicken soup for the teenage soul, and then there's dessert soup. And dessert soup is GOOD. So, since summer has just begun and we're finally getting to experience this thing called "the Sun" over here, I thought a cool, fruity, sweet bisque would be perfect for a light summer dessert. But then, I realized that the only kind I've ever had before was strawberry bisque, which is ah-mazing, however, I decided to try something new. Something tropical.
Mango! More precisely, mangoes that have been roasted in honey and cinnamon. Yeah, pretty much dessert-ready at this point. All you'd need is a bowl and some ice cream. Maybe next time. They're then pureed into a smooth, mango-ey liquid, sweetened, and combined with yogurt, half n' half, and a hit of Triple Sec (orange liqueur).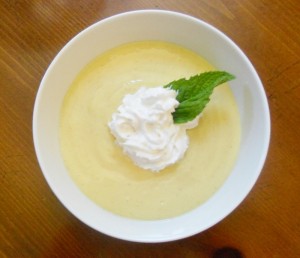 After all is said and done, the bisque is light, refreshing, and would be great to serve at a summer get-together. I also think it'd be a fun idea to dip pound cake, lady fingers, or shortbread cookies into it. Maybe as dessert croutons? Either way, it'll keep you satisfied on those hot summer days.
Chilled Mango Bisque
Yield: 4 cups or 8 half-cup servings
Source: All Things Sweet original recipe
Prep: 45 minutes plus 1 hour for chilling
Ingredients:
1 1/2 pounds fresh mangoes, peeled and cut into chunks
3 tbsp. honey
1/2 tsp. cinnamon
1/2 cup sugar
1 1/2 cups vanilla yogurt
1 cup half n' half
2 tbsp. Triple Sec
1 cup prepared whipped cream for topping
Mint sprigs for garnish
Preheat oven to 375 degrees F.
1.         Toss together the mango chunks with the honey and cinnamon on a baking sheet. Roast for 15-20 minutes, tossing them once or twice, until soft and tender. Let cool for 5 minutes.
2.         Place the roasted mangoes into the bowl of a food processor along with any juices on the baking sheet. Process until mangoes are thoroughly pureed, about 5 minutes. Add the sugar and puree again until well-combined.
3.         Pour the mango puree into a medium bowl. Add the yogurt, half n' half, and Triple Sec. Whisk together until thoroughly mixed. Cover and chill for at least one hour. Pour 1/2 cup servings into small bowls or teacups and top with whipped cream and mint sprigs.