What's better than feeling like something was made just for you? Whether it's a beautiful gown, a house for sale, or the delicious outcome of one of your baking endeavors, it's always great to have that one thing that fulfills all your personal vices. Any-hoo, while watching the Food Network last week, I was inspired by the granola bars that happened to be created at that moment in time, not only because they were actually something with a healthy side to them (unlike the usual sugary decadence that you know I'm all about), but because I caught onto the fact that they were completely customizable.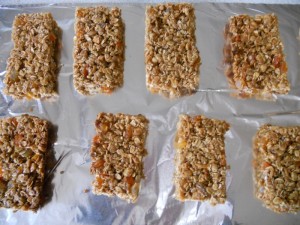 It's simple. All you do is pick out your own favorite nuts, fruits, and the type of chocolate you want to dunk them in, and out comes your own personal creation fitted to your taste. For me, it was peanuts, macadamia nuts, apricots, pineapple, mangoes, and white chocolate. These are a few of my fav-o-rite things.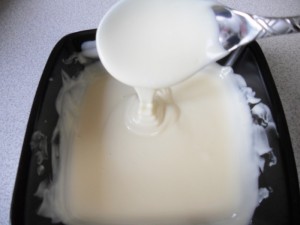 Let me JUST say: homemade granola bars – WOW! It's something you'd never suspect would be so good. When all those toasted oats and nuts combine with the warm sugary syrup, look out! You'll just want to sit and eat that with a spoon. But as hard as it is, you MUST go on. Because when the bars are all finished, they are so chewy, sweet, and flavorful with the plus that you don't have to feel guilty about them later! They're pretty much like homemade ice cream: once you've had it, you'll still probably get the store-bought kind most of the time, but deep in your soul you'll be wishing you had it the other way.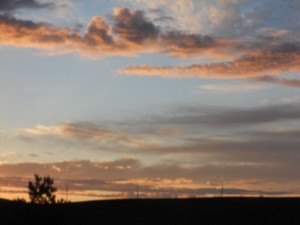 And in other news, today is my last day in Pullman (*collective "aww!"*). While I am sad to leave, I'm ready to get back into my own kitchen where my work will not be limited by a lack of resources. So, get ready for Desserts: Full Force! On a final note, here's what I've been getting to look at every evening for the past 3 weeks:
My Custom Granola Bars
Yield: 10-12 bars
Source: All Things Sweet Original Recipe
Prep: about 50-60 minutes, plus 2-3 hours cooling time and 3-4 hours setting time
Ingredients:
2 cups old-fashioned oatmeal
1/2 cup chopped peanuts
1/2 cup chopped macadamia nuts
1 cup sweetened shredded coconut, loosely packed
1/2 cup wheat germ
1 1/2 cups rice cereal
1 cup brown sugar, packed
1/4 cup honey
1/4 cup strawberry syrup
1/4 cup apple juice
1/4 cup molasses
2 tsp. vanilla extract
1/4 tsp. salt
1/2 cup chopped dried apricots
1/2 cup chopped dried mango
1/2 cup chopped dried pineapple
12 ounces white chocolate, melted
Preheat the oven to 350 degrees F.
1. Toss the oatmeal, nuts, and coconut together on a sheet pan and bake for 10 to 12 minutes, stirring occasionally, until lightly browned. Transfer the mixture to a large mixing bowl and stir in the wheat germ and rice cereal. Reduce the oven temperature to 300 degrees F.
2. In a medium saucepan, combine the brown sugar, honey, strawberry syrup, apple juice, molasses, vanilla, and salt. Heat the mixture slowly, stirring until all combined. Remove from heat and pour over the toasted oatmeal mixture. Add the apricots, pineapple, and mango and stir well.
3. Pour the mixture into a greased 8 x 13 baking dish. Wet your fingers and lightly press the mixture evenly into the pan. Bake for 25 to 30 minutes, until light golden brown. Cool for at least 2 to 3 hours before cutting into squares.
4. Dip the cooled granola bars straight into the melted chocolate so that the top is plain and the bottom is chocolate-covered. Set on parchment until set.