Why is Mielke opposed to a quarry enforcement officer?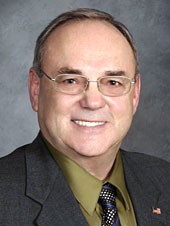 Clark County Councilor Tom Mielke is the only councilor opposed to the hiring a code enforcement officer specifically to police the county's quarries.
His reasoning seems sound, and it may be. Hiring another full-time employee specifically to for quarries when there are already code enforcement officers wastes county resources, Mielke argued during the council's board time meeting on Wednesday. I covered this issue earlier this week.
Mielke, however, received money from J.L. Storedahl and Sons, Inc., which operates Yacolt Mountain Quarry, for his Clark County council chairman campaign. The Kelso rock crushing company contributed $1,300 to Mielke's campaign in March, according to the Public Disclosure Commission.
It's unclear whether Mielke's connection to Storedahl is the motivation for his opposition to the hire. I called Mielke asking him, but he never returned my message. I'll let you draw your own conclusions.