Trump endorses Joe Kent in 2022 election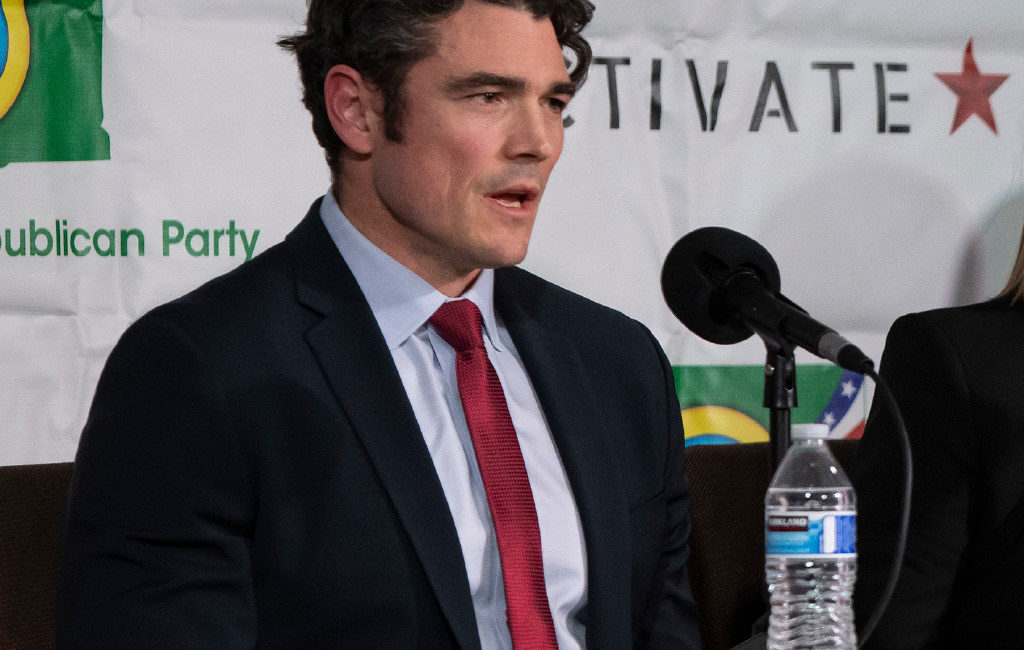 Former President Donald Trump officially endorsed Joe Kent, a Republican running for Congress in Washington's 3rd Congressional District.
Kent is challenging the incumbent and fellow Republican Rep. Jaime Herrera Beutler, who fell out of Trump's favor when she crossed party lines and voted to impeach the former president following the Jan. 6 attack on the Capitol.
In his endorsement, announced Wednesday, Trump stated that Kent "will be a warrior for the America First agenda, unlike Jaime Herrera Beutler."
"I met Joe at Dover Air Force Base on the evening that his wife was being brought back from the Middle East, where she had been killed in combat. It was a very sad moment in Joe's life, but I was incredibly impressed with him and told him that he should someday run for office," Trump's endorsement states.
The news comes on the heels of another announcement from Kent's campaign: Kent will appear at the Clark County Fairgrounds for a meet and greet on Monday with fellow Trump ally Rep. Matt Gaetz, R-Fla. Gaetz has a national profile, in part due to an ongoing federal investigation into whether the congressman violated sex trafficking laws when he allegedly travelled and had a sexual relationship with a teenage girl.
Trump's capability as a potential kingmaker will likely face a tough test in Southwest Washington. Here, moderate voters have stuck by their center-right incumbent for the last 12 years. Herrera Beutler hasn't had a viable GOP primary challenger since 2010 (even then, before she'd even won her first federal election, she beat the trailing Republican by more than 14 points).
But her impeachment vote spurred fresh enthusiasm among the right-leaning wing of her party to unseat and replace her with someone more aligned with Trump, and the Trumpism that's more broadly come to define the modern Republican party.
Kent isn't the only one hoping to unseat Herrera Beutler in the 2022 primary. Heidi St. John, a conservative Christian speaker and author, is also running to Herrera Beutler's right. So is Wadi Yakhour, who briefly served as a special assistant to the Secretary of the Interior during the Trump administration.
At a campaign forum in March, Kent, St. John and Yakhour all publicly pledged that they would drop out of the race should Trump endorse one of the other candidates.
I've reached out to both St. John and Yakhour Wednesday afternoon asking if they plan to honor that pledge. St. John's campaign manager hasn't offered a statement as of 6 p.m.; Yakhour said he's "still pondering" what he's going to say.
UPDATE 4:50 p.m. Thursday, Sept. 2: St. John is not dropping out.
Her campaign issued a statement the following day claiming that St. John knows the issues facing Southwest Washington better than Trump does, and that she'd be a better fit for the district.
"I'm the only candidate who has lived in the district, worked in the district, and been a conservative activist in the district for nearly two decades," St. John wrote.
Her statement is also highly critical of Kent.
"Joe is a johnny-come-lately who is deeply tied to the beltway and a former Portland resident where he was a registered democrat," St. John wrote.
"In March 2021, when I was brand-new to this race, I participated in a forum with Joe Kent. We were asked if we would support whoever Trump endorsed. We all said we would, in good faith—because we believed each of us could represent the area well. It has been said, 'You don't know what you don't know.' There was much I did not know about
Mr. Kent when I said I would support him if he got Trump's endorsement. Now I know better. Joe isn't who I thought he was."