Out-of-towners influence Clark County motto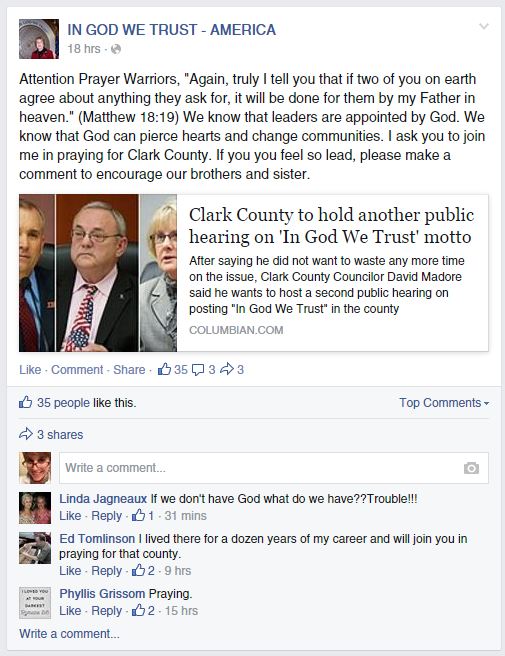 Councilor Tom Mielke, the champion for posting "In God We Trust" in the Clark County hearing room, has made it clear how upset he is that the council has heard so much public comment from out-of-towners. At Wednesday's board time meeting, he complained about the "bus-load" of people from Tacoma and Portland who think they can influence Clark County politics.
It might be closer to a minivan full of people.
I took a look at the list of speakers from the Feb. 10 public hearing. With the help of the speaker sign in sheet and a bit of Facebook stalking, identified nine people who spoke against the measure who are from out of town. A total of 43 people spoke, with 29 opposed to displaying the motto. It is a decent chunk of the speakers, but is by no means a majority of those who spoke. Here are the minutes with those who are not local indicated.
The irony in this whole thing is that Mielke himself is acting under the suggestion of out-of-town organization.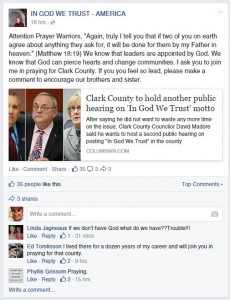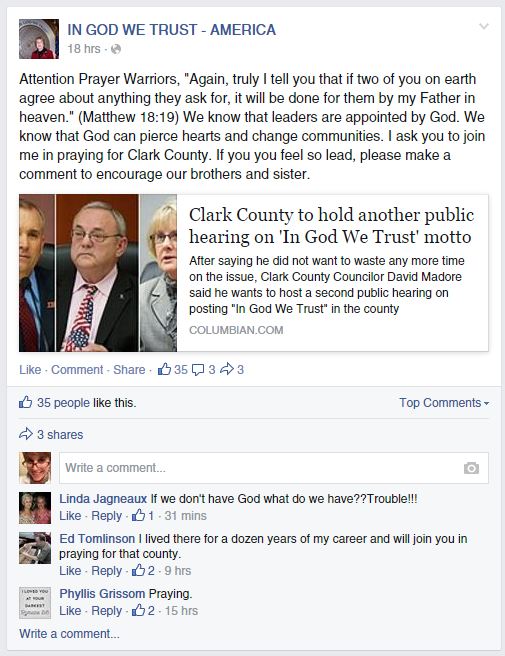 In God We Trust-America is run by Jacquie Sullivan, a city councilor in Bakersfield, Calif. She launched the non-profit organization in 2004 to "promote patriotism" by encouraging elected officials to display "In God We Trust" in "every city, county chamber and state capitol in America."
So far, they've successfully lobbied 480 cities and counties to vote to display the motto in their public spaces, including the Pierce County Commissioners.
And by the way, In God We Trust-America seems to have taken a special interest in the back and forth this issue has prompted in Clark County. On its Facebook page today, the group called for "Prayer Warriors" to pray for our councilors.