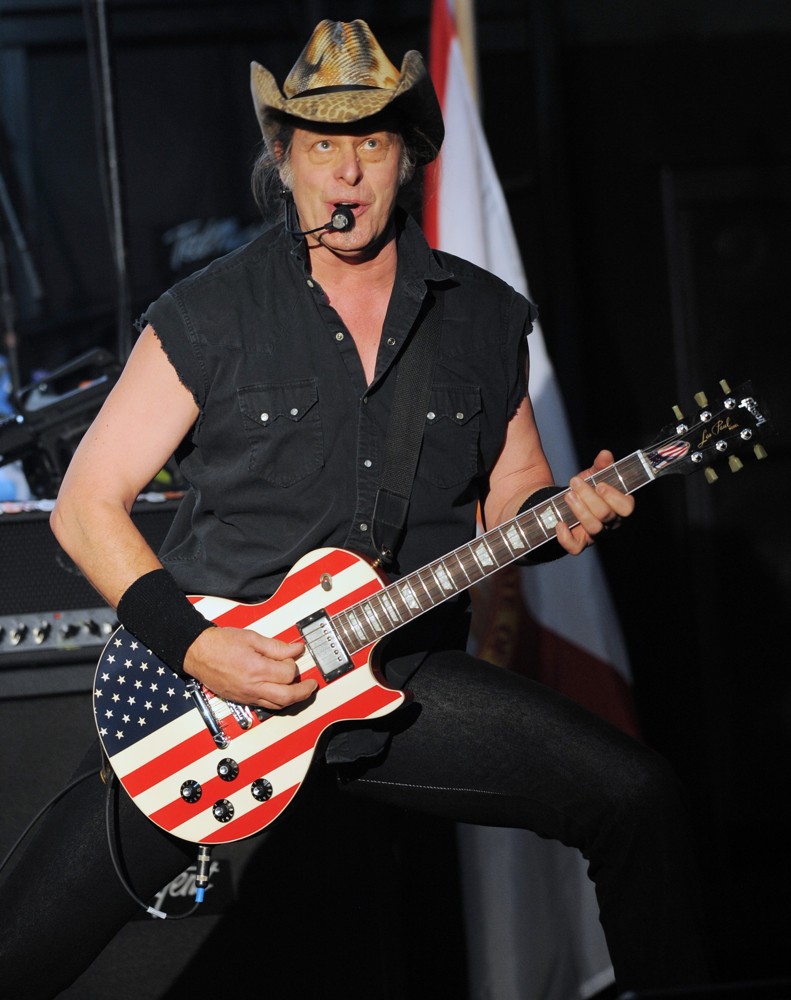 A series of emails, released as part of a public records request, is shedding light on what happened before and immediately after the Clark County Fair disinvited controversial rocker Ted Nugent to play an August show.
I did not file the records request, but I am privy to the emails.
At the time of the decision, in May, Fair Manager John Morrison said it was prompted by a contractual issue. Fair contracts typically prohibit artists from performing other shows within a certain distance and time of the fair. The Nuge was set to swing through Washington as part of his aggressively named "Shut Up & Jam Tour!" and was scheduled to appear Aug. 2 and 3 at the Emerald Queen Casino in Tacoma. For the fair, that was too close — in terms of proximity and time — to his Aug. 5 show in Clark County.
Nothing in the emails indicates that the fair's stated reason for nixing the show was disingenuous. At the time, Nugent's fans said the decision was politically motivated after people complained about the booking and an anti-Nuge petition began circulating online. But for those interested in how the right-wing rocker — and noted long-time sufferer of a feline-related fever — took the news, the emails are illuminating.
In a June email presumably from the Motor City Madman himself, the writer of such songs as "Wang Dang Sweet Poontang" offers himself up as a humble family entertainer with a "hardcore message" of being clean and sober.
Dear John,

Ted Nugent here from the wilds of TX hoping to connect with you in serious hopes to reinstate our concert at the Clark County Fair Aug 5.

As you know our last performance there was a resounding success on every level, and certainly you know that my concerts are the ultimate PG13 family events as proven at 100's of county & state fairs all across America, as well as perfect family events like RibFests, RiverDays, Stampede Days, other wonderful family events of every imaginable description and geographical location.

And I dare say that NO other artist better represents the positive spirit of state and county fairs at events that celebrate ranching, farming, animal husbandry, a respect for the land and nature, real conservation, a positive work ethic, the great outdoors lifestyle, and most importantly my lifelong hardcore message of being clean and sober and always striving to be the best that you can be.

How on God's earth those that hate those basic American & Great Northwest principle got their hateful lies across to the Clark Country Fair BOD is rather surprising. There is still time to make this right, for we know that Night Ranger, myself, Blue Oyster Cult & others were allowed to perform at the Clark County Fair even though they played other gigs nearby.

I respectfully recommend you do the right thing to avoid a wasteful & ridiculous long drawn out legal action to finally get to the right thing.

Sincerely,

Ted Nugent & family
If you're wondering what sort of "long drawn out legal action" this traveling troubadour is referencing, an attorney working for the fair explained in emails to Morrison, the fair manager.
From May 27:
John, here is my proposed response to Vince (editor's note: That's Nugent's attorney):

Vince, in your email below you seem to be arguing that the Contract and Rider are enforceable but not Addendum 1.  That does not make sense.  Paragraph 11 of the Contract provides: "Attached addenda and Artist's Rider are made part of this contract herein."  As stated before, FSMG executed the Contract, Addendum 1, and Rider at the same time (April 7).  FSMG never would have, and did not, agree to the Contract without Addendum 1.  In other words, either the agreement includes Addendum 1 or there was no agreement between the parties.

Assuming there was an agreement, per the terms of Addendum 1, the Contract and Addendum constitute the entire agreement of the parties.  Accordingly, any alleged waiver of the Radius Protection clause prior to the signing of the Contract and Addendum 1 is not enforceable.  Addendum 1 provides:  "Any amendment or modification to the Contract or Addendum after signing shall have no effect unless in writing and signed by both parties."  There was no amendment or modification of the Radius Protection provision in writing signed by both parties after the execution of the Contract and Addendum 1.

You are correct that FSMG believed that it had an agreement with Amboy Dukes consistent with the terms of the Contract and Addendum 1.  Based on the recent information provided by you, it appears Amboy Dukes never agreed to those terms.  So, either there was an agreement that included a Radius Protection provision or there was no agreement at all.  Either way, there is no basis for the claims being threatened by your client.

John, let me know if you approve and/or have any questions or comments.

Thanks,

Joseph Vance, P.C.

Partner
On June 4, the fair's attorney wrote that some of the confusion might have happened because Tom Fohn, president of Northwest Events & Marketing, didn't provide paperwork on time.
John, I hope your recovery is going well.  FYI, I received a phone call this morning from Vince Chieffo, the attorney for AIG and Ted Nugent.  He indicated that they never received any signed documents from Tom Fohn (which is not entirely surprising given Tom's story that he mailed them without any cover letter, etc.).

Vince said his client is prepared to pursue litigation.  They believe that the real reason for the cancelation is political and not the radius protection clause.  He indicates that makes them mad and they will fight it.  As he has done before, he suggested that the fair simply resolve the conflict by putting Nugent back on the schedule.

I rehashed all of the same arguments made to him before.  In addition, I suggested that prior to filing litigation he might want to reach out to Tom Fohn to see if Fohn was willing to pay some sort of compensation to avoid litigation.

We ended the conversation with him indicating that he would discuss that with his client and that I would pass on his message to you.  So, I have passed the message on. . .

My view is that the only reason there is any sort of ambiguity in this matter is because Tom did not take care of getting the documents executed as he should have done.  At the very least, he should have sent our executed documents to the other side.  I think we have a very strong argument that he is liable for his failure to do so.

Let me know if you would like to discuss further.  Otherwise, I assume that we are to hold our course. . .

Thanks,

Joseph Vance, P.C.

Partner

Miller Nash LLP
Nugent's agent, New York-based Adam Kornfeld, also got into the act, asking the fair board to pay his client the fully contracted amount of $61,500 to prevent litigation. I've placed a request with Morrison to see how this was resolved, or even if it's been resolved. I will update the post if I hear back.
This isn't the first time that Nugent has threatened to sue, or actually sued, a venue for canceling a gig. In 2005, he sued the Muskegon Summer Celebration for putting the kibosh on a show. That lawsuit finally ended in 2008 with the festival paying Nugent $80,000.
There are some other interesting insights gleaned from the email exchanges, which date back to January. For one, Nugent absolutely does not participate in meet-and-greets, according to his agent. But if you're willing to pony-up some cash, he will meet with you on-on-one — after the sound check.