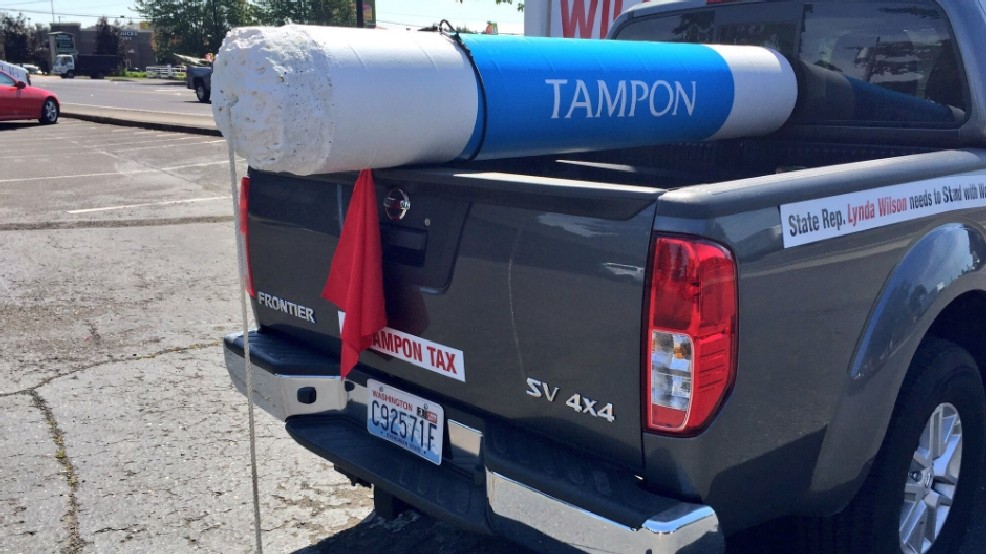 A truck with a giant tampon cruised through the streets of downtown Vancouver last week.
The stunt was part of a campaign by the Washington Community Action Network whose intent was to raise awareness about Lynda Wilson's voting record when it came to women's issues.
While serving as a state representative, Wilson, the Republican candidate for the 17th Legislative District senate seat, proposed using a tax on tampons to help domestic violence survivors.
"We don't believe it's fair for women solely to be responsible for funding domestic violence, it should be something both men and women should pay for," said Rosalind Brazel, the communications director with the Washington Community Action Network.
In addition to the giant tampon, the truck also had a sticker that read, "No tampon tax."
The tampon tax already exists. Wilson proposed reallocating the money to funnel toward domestic violence programs. Her legislation wouldn't have prohibited dollars from other programs also boosting efforts to prevent domestic violence.
Wilson said she thought dedicating the existing tax would help pay for more law enforcement and prosecuting attorneys to arrest and prosecute offenders.
"I've spoken to these women. I've heard their stories. I know how they feel," Wilson wrote in an email.
And when her tampon tax measure failed, she introduced another measure to end the tampon tax completely. There is a nationwide effort underway to end the tampon tax. But neither of Wilson's measure gained momentum in the state Legislature.
Brazel, with the Washington Community Action Network, said Wilson's proposal to end the tampon tax, after suggesting reallocating the tampon tax dollars, "was confusing to voters."
I'm not sure if voters found that confusing or the giant tampon rolling through the streets confusing.
One thing is clear, it sure sparked some back and forth between the two candidates vying for the swing seat.
The giant tampon truck drove past Wilson's business, she said. And she pointed out that her opponent, Democrat Tim Probst, was at a campaign forum with the Washington Community Action Network the night before, saying the two were likely tied together.
"So much for running a clean campaign," Wilson wrote.
Probst did attend a candidate forum the evening before, hosted by the action network. Wilson was also invited to participate.
Referring to the tampon truck, Probst's campaign said, "We had nothing whatsoever to do with that event."
Additionally, Probst wrote in an email, "I'm glad Lynda also supports domestic violence prevention, and I'd be happy to work with her to help find an appropriate funding mechanism.  Additionally, I'd like to work with Lynda to write an open letter demanding that all the negative smears stop, including those against me and those against Lynda."
I'm not sure that clears anything up.
But to the person who recently asked if the tampon truck was driving around handing out free tampons, I can clarify: No.