No incumbent in first-time race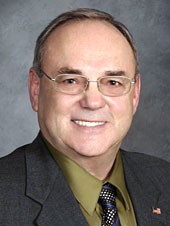 In case it wasn't clear before, the Clark County council chair we're all voting for is a new position. Yes, there is a current chair. Yes, the chair leads meetings. But this August and November, voters are, for the very first time, electing a chair of the county board due to the home-rule county charter which voters approved last November.
This means, therefore, that there is no incumbent for this race.
Apparently no one told chair candidate Tom Mielke that, however, based on the banner ad the current councilor took out in The Reflector this week and a number of campaign signs dotted across Clark County.
The Reflector ad and Mielke's signs ask that you "Re-Elect Tom Mielke" for chair. Of course you can't re-elect Mielke for chair, because he isn't the chair, and also no one has ever been the elected chair of Clark County.
I forwarded photos of Mielke's sign to Lori Anderson at the Public Disclosure Commission to confirm that this is a problem—after all, for Councilor David Madore to ask voters to "keep" him as county chair was kosher—and she said if Mielke hasn't been contacted by the PDC already, someone will call him give him a warning. It's illegal to claim false incumbency with actual malice, meaning the candidate has acted with "knowledge of falsity or with reckless disregard as to truth or falsity."
Mielke was warned by the PDC once before on a similar matter in 2005. You can read that report here.
Fortunately for Mielke, the signs look like a relatively easy fix. If you look closely at Mielke's signs, they're from prior campaigns. Time-sensitive language, like what office he's running for, have been taped over. All it would take is a teeny piece of tape to cover the prefix and boom, done.