Moms protest gun violence at Herrera Beutler's office
In Wednesday's afternoon chill, about 65 people from Moms Demand Action For Gun Sense in America gathered outside Rep. Jaime Herrera Beutler's Vancouver office to demand better protection from gun violence. The protest was silent and concluded when 50 participants lay down in front of Herrera Beutler's office to signify the 93 Americans killed by gun violence each day.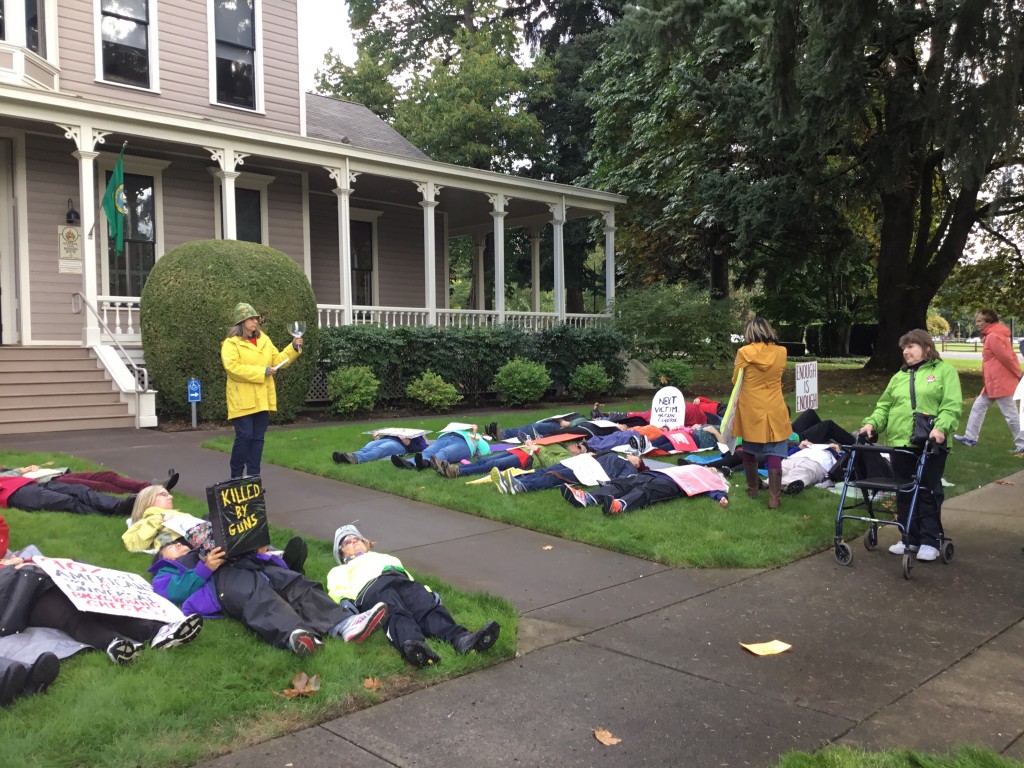 DeAnna Woolston, communications lead with Moms Demand Action, said about 30 minutes into the protest staff locked the office door and left a note that the office was closed for safety reasons.
"Moms found this ironic, since we were at her office because we are concerned for our safety," Woolston said.
The action taken by staff seems to be protocol for Herrera Beutler's office.
Herrera Beutler's spokesperson Angeline Riesterer said the representative welcomes feedback from all Southwest Washington residents.
"It wasn't our intention to exclude anyone's voice yesterday," Riesterer said. "If a participant in the event was unable to connect with one of our staff members who greeted and offered comment forms in-person, we encourage them to use one of these other methods."
Those methods including town halls, email, phone calls and letters.
She added that the office is not designed to handle large groups.
Eventually, after most protestors had left, staff brought down comment cards for those who remained to fill out.
"They did not comment on our gun violence or share a comment from Rep. Herrera Beutler," Woolston said.
The group had asked why Herrera Beutler supports bills such as HR 38 that allows someone with a conceal and carry permit from a state that doesn't offer universal background checks to carry in Washington. Herrera Beutler is a co-sponsor of the bill. The bill has not yet been voted on.
"Our Representative doesn't meet with her constituents, doesn't hold town halls, doesn't return calls or emails or answer direct questions on this issue," Woolston said. "Rep. Beutler has an A rating from the NRA. Her silence on gun violence is deafening."