Memories of a county beat reporter
First of all, I'm leaving. I'm going to Sochi to cover the Olympics. I'll miss working at The Columbian. I'll also miss some of you. But not all of you. Goodbye.
If you want to follow me after I'm gone, I'll be at @ehidle on Twitter. See ya' there.
Now that we got that out of the way, let's talk about a triumvirate I'll really miss: the Clark County commissioners.
Since the new year matches with my departure, let's take a look back at the 12 months we all shared together with the county's leaders. You through the reading of 15-inch stories and me through enduring listening to three grown men talk about themselves and how great they are.
Here is my list of greatest commissioner moments for each month of 2013.
January
In what is now just a totally obvious sign of things to come, the year started with Republican Commissioner David Madore firing a warning shot at Democratic Commissioner Steve Stuart by announcing state Rep. Paul Harris, R-Vancouver, would challenge Stuart for his commissioner seat.
But it turned out Madore forgot to tell Harris, and Harris said he was more in "considering" mode than actually announcing a bid for the office.
February
The two Republican commissioners voted to oppose the Columbia River Crossing project — a state-to-state infrastructure project spanning a federal waterway that the county has no control over.
Now you might find yourself thinking, "Wait, didn't they just do this recently?" Well, good news, you aren't crazy. Just months later the two commissioners would spend more county time and money on a second anti-CRC resolution that would accomplish the same thing: nothing.
March
Commissioners began a months long odyssey where David Madore opposed, then supported, then opposed, then supported, then ultimately opposed but still voted in favor of a contract with the Humane Society for Southwest Washington.
At one point in the hours and hours of discussion on the topic the commissioners debated what should be done with lop eared rabbits. In the end, commissioners just approved the contract that had been offered up in the first place.
April
Commissioners fully socialized county parks by using the county general fund to scrap user fees at parks and boat launches.
The plan was a campaign promise of Madore, who ran on a conservative platform.
The effort resulted in some problems at first — more trash, more drinking — but never degraded into full fledged chaos as some worried.
May
Madore and fellow Republican Commissioner Tom Mielke decided on May 1 to hire state Sen. Don Benton, R-Vancouver, as county environmental services director.
The commissioners made the decision at a meeting with no public in attendance  — except for Madore's personal assistant and a reporter from The Columbian (me)  — and in spite of the warning of former County Administrator Bill Barron that their decision was obliterating county process and would "devastate" county workers.
The move so outraged Stuart that he declared the two guilty of political cronyism and stormed out of the meeting, yelling "bullshit."
The two Republicans would later take different tacts on explaining the hiring.
Mielke stuck to his original claim: That this was akin to appointing a cabinet at the state or federal level.
Meanwhile, Madore would blame Barron for making the hiring, make a Facebook post riddled with inaccuracies explaining he was confused during the meeting (the post was later deleted at the request of county legal staff, but don't worry, we archived it), and saying he changed the job description without any process so it was really no big deal.
At one point, much like a Scooby Doo villain who claims they would have gotten away with everything if it weren't for those meddling kids, Madore blamed The Columbian for the public backlash. Because, you know, we reported what they factually did and how dare us.
June
Another Madore campaign promise was fulfilled when commissioners voted to cut all development fees for business.
Did it work? No one knows yet!
Madore says it has since the economy is improving. But the economy is improving everywhere and Stuart says Madore is interpreting the numbers all wrong.
The county's finance office is planning an update to commissioners later this year to discuss what is really happening.
July
Madore said it was hard to lead "a meaningful life" on less than $50,000 a year because apparently money is everything. Or, almost everything. Or, just, whatever at this point. Is anyone else shocked that this is how commissioners spend their time?
August
Over 100 people registered as candidates for freeholder in an attempt to change the way county government works.
Commissioners also put five nonbinding advisory votes out to voters. Continuing a theme of the board of commissioners, only one of those advisory votes actually was about something the commissioners control.
September
Stuart made comments that indicated he might not vote for a light rail plan as a member of the C-Tran board because the plan appeared incomplete. Then he totally voted for it anyways.
This set off Madore, who made a ton of Facebook posts, and eventually…
October
…redefined "integrity" and demanded public officials apologize to voters.
In the commissioners' second anti-CRC resolution, the same thing was accomplished as before: nothing.
Why nothing?
Because commissioners still don't have authority over a state-to-state infrastructure project that spans a federal waterway. This fact really can't be repeated enough.
November
A former county employee went on the record and told commissioners what their staff really thinks of them: that they're bullies.
"Your employees fear you," said Rekah Strong. "They're not engaged. They're operating in a place of paralysis. You have a lawsuit that is filed against you (by a current county employee) for going against our (equal employment opportunity) practices and what we've committed ourselves to do for the past six years. … We've had a mass exodus of employees because people are fearful."
December
In a final holiday greeting before the new year, Madore decided to argue with himself during a public meeting.
Whew.
And those were just the greatest hits.
Remember the whole forcing employees out thing?
Remember when Madore compared a county employee to someone who changes spark plugs?
Remember the sock puppets?
Remember this picture: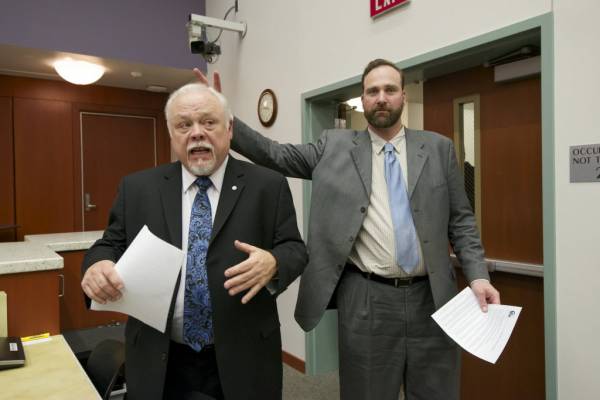 Ugh, memories. I'll take them all with me on my future adventures. Not willingly, mind you. These are more like memories painfully seared into you at the core. Ones that can't be purged even with the most powerful of Russian vodka. But that doesn't mean I won't make the effort.
In closing, to you fair readers who appreciate our work: Thanks. We had fun, didn't we?
And to you trolls, I'm reminded what Wu-Tang said: "Thanks to all you haters, for all the (cash) you made us."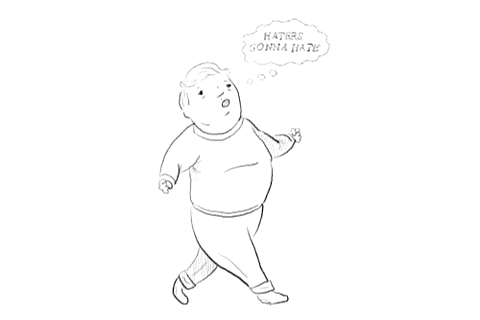 Later.