On Mondays mayors wear pink

Feeling a bit low after all the bad, sad news of the week? Perhaps a peek at local mayoral fashion will boost your mood.
In the Pacific Northwest, where dark or neutral-colored clothing is the norm, a man wearing flamingo pink in a professional setting tends to stand out.
That's why Vancouver Mayor's bright pink dress shirt paired with a pink tie caught my attention at the Aug. 17 city council meeting. Making things more interesting, the shirt was accented with a white grid pattern.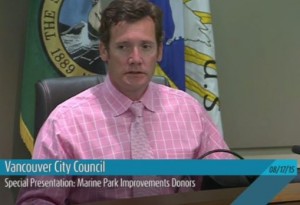 I wasn't sure if it was just an anomaly or if he was making a fashion statement until the next meeting when he did it again. Another pink on pink ensemble! How delicious! But what did it mean?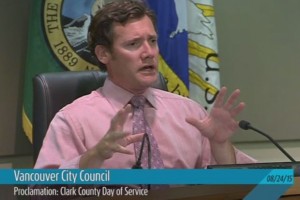 Overcome with curiosity, I asked Leavitt about his clothing choices afterward. (Disclaimer: Perhaps because I grew up on Guam and then lived in Florida for 20 years, I have no problem with me or anyone else looking like a tropical bird. Happy memories and all that.)
Turns out, these weren't off-the-rack clearance items from The Gap. Leavitt said he has his shirts custom made because he doesn't have standard measurements, and that he picked out the fabrics. So he chose colors that appealed to him.
As it happens, I must not have been the only one paying attention to what constitutes mayorly attire. Fast forward to the Sept. 28 city council meeting. Leavitt was absent, and Councilor Larry Smith filled in for him as mayor pro tem.
To my undying delight, Smith wore a pale pink shirt with a pink tie with black polka dots to lead the meeting.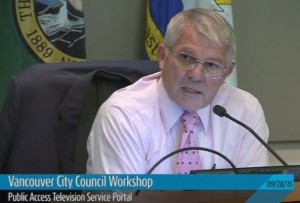 As the late Joan Rivers used to say on the TV show Fashion Police, "B—- stole my look!"