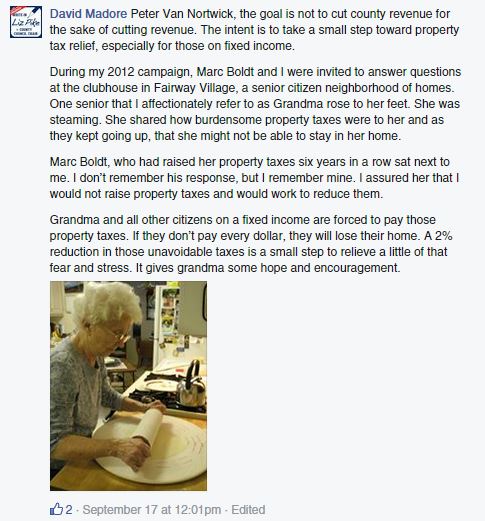 If you haven't noticed, Clark County Councilor David Madore is full of what I've affectionately come to call Madoreisms.
Aside from being great potential rules for a county council drinking game, these Madoreisms make for great little sound bites for the Republican councilor to frame whatever project he's pursuing in any given week.
Take the story of Grandma, for instance. Grandma, allegedly, was a little old lady who stood up during one of Madore's campaign event in 2012 and told him property taxes were pricing her out of her home. Madore says he told the woman he would not raise her property taxes, and he's now using that promise to justify lowering Clark County's general fund property tax levy by 2 percent.
In the telling of this story on his Facebook page, Madore pulled a sweet photo of an elderly woman rolling out some kind of pastry. Facebook best practices and all that. Plus there was a good opportunity to jab council chair candidate Marc Boldt, no party preference. It's basically the perfect summation of everything Madore does online.
"Grandma and all other citizens on a fixed income are forced to pay those property taxes," Madore wrote. "If they don't pay every dollar, they will lose their home. A 2% reduction in those unavoidable taxes is a small step to relieve a little of that fear and stress. It gives grandma some hope and encouragement."
The problem is what I thought was just a generic grandma stock photo is someone's actual grandma. And she's amazing.
That woman is Eunice Sylvester. She holds the unique title of being the first woman who pops up when you Google Image search "grandma rolling dough." She was also featured on Smithsonian.com in 2010 in a series of essays about "eating at Grandma's house." The series featured guest writers—in this case, food blogger Jenny Holm—writing about the traditional dishes their grandmas cook.
In the essay, Sylvester is rolling out lefse, a traditional Norwegian potato-based crepe, one of the recipes her own grandparents brought with them from Norway when they moved to the Minnesota prairie. She still lives there today.
"Now don't you dare stick to that board, stinkerpot!" she lectures the dough as she rolls it out.
It doesn't get better than that.
Full disclosure, I did none of this research. I watched this all unfold on Twitter as several of you who follow me tracked down the source of this photo, found Holm's blog and Twitter account and verified that this was, in fact, her grandma. The Internet is an amazing place.
After informing Holm of how her grandmother's photo was being used, she told me she'd be sending Madore her grandma's "thoughts on the misuse of her image." She also was kind enough, by proxy, to send me her grandma's thoughts.
"What the hang?! I get in the news and I don't even know about it," Sylvester said through Holm. "Well, they sure chose the wrong person, because I'm a Democrat."
Last I checked, Sylvester's image was still on Madore's Facebook page.
Holm is also profoundly interesting. She lived in Georgia (the country) where she taught English, and writes about the food and wines of this former Soviet Union country. You can check out her blog here.