Leavitt steps away from C-Tran board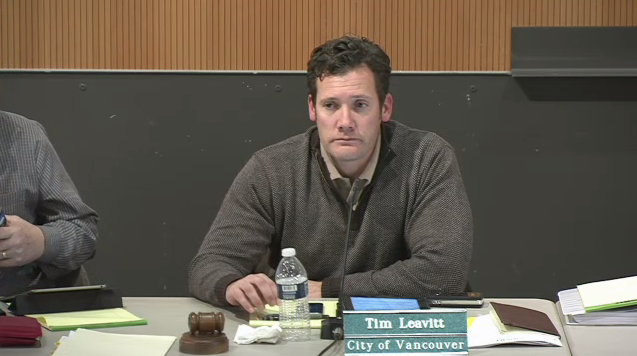 When the new C-Tran board is seated next month, it will be without at least one familiar face.
Vancouver Mayor Tim Leavitt, currently C-Tran's board chair, is removing himself from the board. He made the announcement to his City Council colleagues this week.
"I've been at it for 10 years now as (a) C-Tran board director, and I want to offer one of you the most enjoyable opportunity to serve on the board," Leavitt said.
As it turned out, Leavitt couldn't even say the words "enjoyable opportunity" with a straight face. He went on to describe a "ramping up of the rhetoric and the misinformation" and the "ideology against transit" that has characterized board discussions at times in recent years.
Leavitt nominated Vancouver City Councilor Bart Hansen to take his place. He'll join fellow councilors Anne McEnerny-Ogle and Jack Burkman, who will stay on the C-Tran board next year.
Leavitt's departure won't be the only change on the board in 2015, after a 10-member committee voted last month to rearrange the board's membership. Clark County lost one of its seats in the process, dropping from three members to two. That allowed Camas, Washougal and Battle Ground to all have their own seats. La Center, Ridgefield and Yacolt will all share one seat.
Each jurisdiction will pick its representatives in the coming weeks, before the new board makeup takes effect in January. But that may not be the end of the debate.
Vancouver and Clark County both lost their veto power through the recomposition process. But there's nothing preventing a new board from drawing up a new veto rule if it wants to. During this week's Vancouver council meeting, Leavitt and others said there's still an opportunity to change the agency's bylaws and protect the city's interests.
What followed was a venting session in which several councilors took turns decrying the state of affairs at C-Tran. The discussion came on the heels of a lawsuit aiming to stop a planned bus rapid transit system in Vancouver.
"This is just ludicrous," Councilor Larry Smith said. "How in the devil are we going to grow a city and build a first-class public transportation system when you have individuals out there that totally oppose public transportation regardless? They're just opposed to it."
In any case, it appears next week will be Leavitt's last C-Tran board meeting, at least for the next year. I'm sure he'll find something more fun to do on the second Tuesday evening of every month.