Herrera Beutler supports border wall, noncommittal on transgender troop ban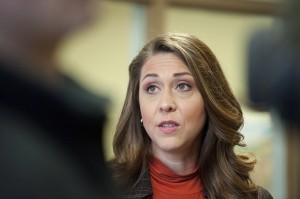 On Thursday, the U.S. House of Representatives passed a $788 billion defense spending bill. In addition to giving the Pentagon a boost in funding, the bill has money for veterans programs and, more controversially, a $1.6 billion down payment for President Donald Trump's border wall with Mexico. Congresswoman Jaime Herrera Beutler, R-Battle Ground, voted for the bill, and I reached out to her office for comment on why she supported it. In a statement, she explained that the bill has some provisions that will benefit her constituents:
The spending plan passed by the U.S. House last night includes several priorities I authored including provisions to improve Portland-area VA service to veterans, reforms to prevent veteran homelessness, maintenance of our region's waterways that our ports rely upon, money for Hanford cleanup, resources to protect the Columbia River against invasive species, and countless others.
If you're surprised by her support for a border wall, you shouldn't be. When she was first running for Congress in 2010, she told The Columbian that when it came to border security and illegal immigration that she would do everything in her power "to strengthen our existing border operations in order to get our borders under control." "Whatever it takes, whether it's a wall, a fence, or new technologies, we must secure our borders," she said. In her statement, she noted what the bill will do for border security.
The bill also meets U.S. Customs and Border Patrol requests for funding to secure the areas of the border with the highest current risk and greatest operational need, including secondary fencing in San Diego and additional security in the Rio Grande Valley in Texas. In the six years I've served in Congress, we have regularly provided strong funding to improve border security and enforcement.
I also made a point about asking her for comment about President Donald Trump's insistence that Mexico will pay for the wall. Her response. "I'm eager to see the details of this plan." While I had the congresswoman's attention, I also asked for her thoughts on Trump's announcement on Twitter transgender individuals would be banned from serving in the armed services. Both of Washington's U.S. senators have condemned the announcement, as well as multiple Republican senators. In response, Herrera Beutler noted how the chairman of the joint chiefs of staff has stated that it won't begin modifying the military's policy regarding transgender individuals serving in the military in response to Trump's tweets. For now, she wrote that she's taking a wait-and-see approach:
My number one priority for our military is to ensure readiness of our troops to succeed in combat. I'll be interested in reviewing any studies that show the impact of a potential policy change on military readiness. That has to be the biggest consideration for any military policy.