Herrera Beutler makes appearance on Chris Evans' show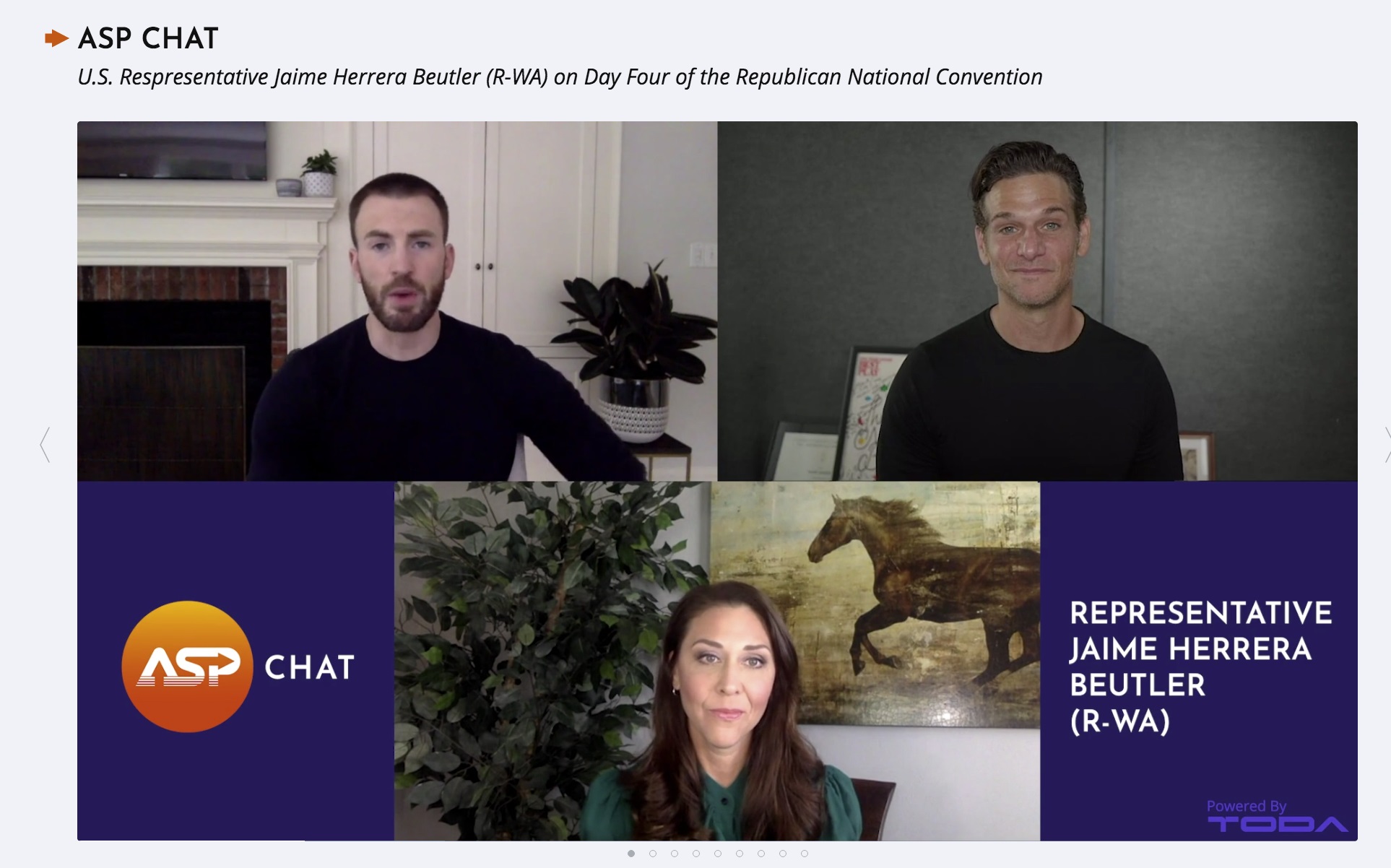 Rep. Jaime Herrera Beutler fielded questions from "Captain America" actor Chris Evans this week in an appearance on his remote talk show, "A Starting Point."
The show, hosted by Evans and fellow actor and producer Mark Kassen, is billed as a civic engagement platform on a mission to "create a bipartisan channel of communication and connectivity between Americans and their elected officials with the goal of creating a more informed electorate."
In Herrera Beutler's appearance Thursday, Evans asked the Battle Ground Republican what she thinks is the most important issue young people should consider when casting their votes.
"What's going to allow them to prosper and move them forward with their own lives?" Herrera Beutler responded.
"I think there's a lot of young people right now who are coming out of high school, coming out of college, who are looking around and going, what's the economic opportunity going to be for me? And I think when you're looking at candidates, when you're looking at issues, I would say try and dig past some of the personality — because there's a lot of it out there. I know that's my challenge, that's what I try and do.
"I think also you have to be able to pick someone who's going to help you and empower you in what you want to move forward in, whether it's start a family, whether it's not start a family, run a business. Whether it's start a nonprofit, whether it's go overseas and serve."
That, she said, is how she plans to cast her vote in November. Herrera Beutler has said she'll vote to reelect President Donald Trump.
Herrera Beutler also explained how the delegate nomination process works in Washington state, and fielded a question about staying accountable to constituents. The full conversation can be viewed at https://www.astartingpoint.com/.
And a bonus round:
Evans' show wasn't the congresswoman's only high-profile media appearance this week. Herrera Beutler was also the subject of an L.A. Times piece on moderate Republicans who have said they plan to vote for Trump on Nov. 3, in a reversal of their position since the last presidential election.
The article, which published Thursday, highlighted Herrera Beutler's distinction as the only Republican House member representing a district that touches the Pacific Ocean — she's "outlasted her party's slow retreat from increasingly Democratic coastal communities by bucking her party on occasion," the piece states, as she did in 2016 when she refused to support Trump.
The piece also featured Chris Vance, former chair of the Washington State Republican Party, with a scathing assessment of the five-term congresswoman's newfound support for the president.
"Her strategy has been keep your head down, don't attract attention, stay below the radar and survive," Vance told the Times. "It's a wonderful strategy if all you want to do is survive."