Herrera Beutler campaign accuses Long of violating corporate PAC pledge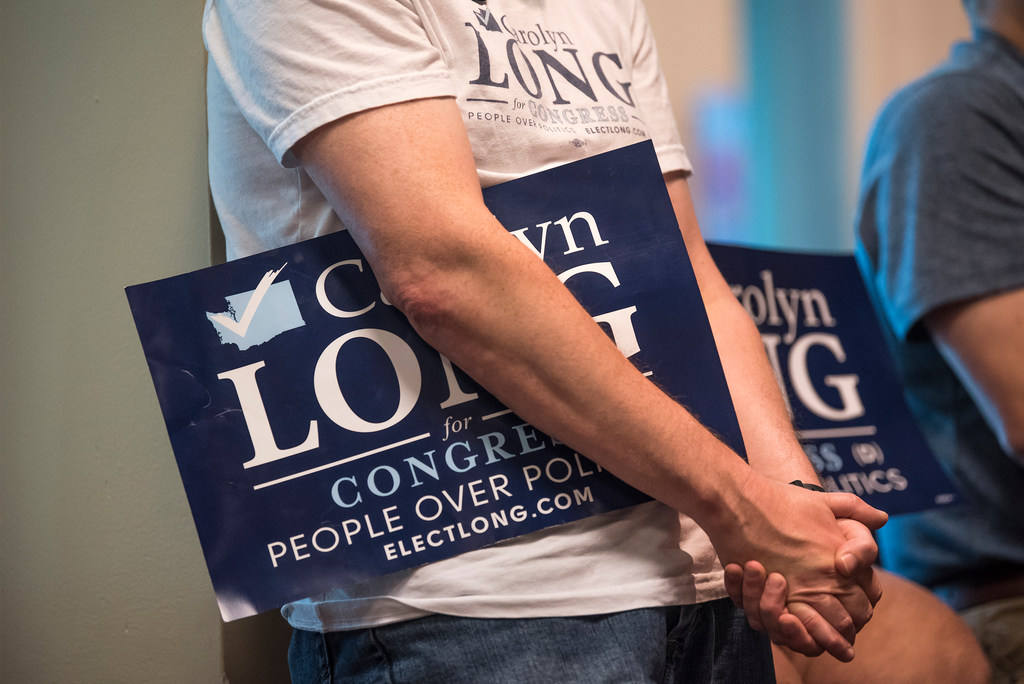 Earlier in the week, when I was working on a story about the final round of campaign fundraising numbers, I received a message from a spokesperson for Rep. Jaime Herrera Beutler's reelection campaign.
He told me that Carolyn Long, the congresswoman's challenger, was circuitously violating her campaign's pledge not to accept any dollars from corporate political action committees: "Long has a relatively low cash on hand number of $257k, which means she's increasingly reliant on the DCCC to run her attack ads which, by the way, gets funding from corporate PAC's," the spokesperson, Parker Truax, wrote in an email.
Truax told something similar to The Goldendale Sentinel. "If she was being truthful with voters, Carolyn Long would amend her pledge to state that she won't accept corporate PAC money unless it's been legally laundered," Truax told the Goldendale newspaper.
Is accepting funding from the Democratic Congressional Campaign Committee a violation of that pledge? According to Long's campaign, no — The DCCC isn't a corporate PAC. Case closed.
In a written statement, Long campaign manager Abby Olmstead called the claim "yet another political headfake from Jaime."
"While Carolyn Long has refused to ever take a dime of corporate PAC money, Herrera Beutler is inventing increasingly absurd excuses for why she's taken nearly $2 million from corporate PACs and spent her decade in Congress voting their way," Olmstead said. She also pointed to Long's anticorruption plan, which would ban corporate PACs from contributing to candidates directly.
The DCCC, for what it's worth, does accept corporate PAC dollars, and has raised north of $290 million this election cycle in total to support Democratic candidates for Congress nationwide. Top donors included asset management firm Grosvenor Capital Management and the Walt Disney Corporation.
The DCCC has spent around $468,000 to try and unseat Herrera Beutler come Nov. 3. The National Republican Congressional Committee, the DCCC's counterpart, has spent about $491,00 against Long.
Over the course of their campaigns, both candidates have raised enormous sums reflective of the competitive nature of the race: Herrera Beutler brought in $3.65 million, and Long raised around $3.47 million.