Here is the Facebook post that county attorneys asked Madore to delete

It appears Clark County is taking this lawsuit against Commissioners David Madore and Tom Mielke for alleged discrimination in hiring pretty seriously.
So seriously, in fact, that Madore was apparently instructed by county lawyers to delete a Facebook post in which he apologized to the public for hiring state Sen. Don Benton, R-Vancouver, to the position of environmental services director without following any county procedures.
In a new post, titled "Fighting pervasive local corruption," Madore explains he "removed FB posts related to our Environmental Services staff" on the recommendation of the Clark County Prosecuting Attorney's office.
The post also explains he is being targeted for fighting corruption, that "corrupt local public officials play every trick in the book to defraud Clark County citizens of hundreds of millions of dollars" and asks readers of his post to stand with him as he works to "defend our community" from whoever is doing all of this to him.
The post is nonspecific to what corruption he's fighting, which local public officials are corrupt or how deleting his post defends the community or fights "pervasive local corruption."
Madore has frequently said that he's a "free speech guy," so there is a good chance he's irked that his opinions are being stymied.
Luckily we made sure to take a screenshot of the post before it was deleted.
Full disclosure: there was an accompanying photo of Benton with this post. I didn't feel the need to include that.
Oh, and here is the new, as-of-yet-not-deleted, post: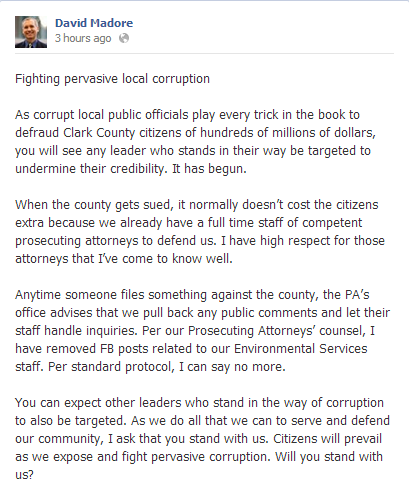 Madore says he can't speak anymore as per "standard protocol."
But in case you want to hear his opinion on the lawsuit, before "standard protocol" was enacted, check out what he said to KOIN news, on video tape, here. (Spoiler: he likens the plaintiff in the case against the county to a spark plug technician at a car dealership.)