Free speech guy's views on free speech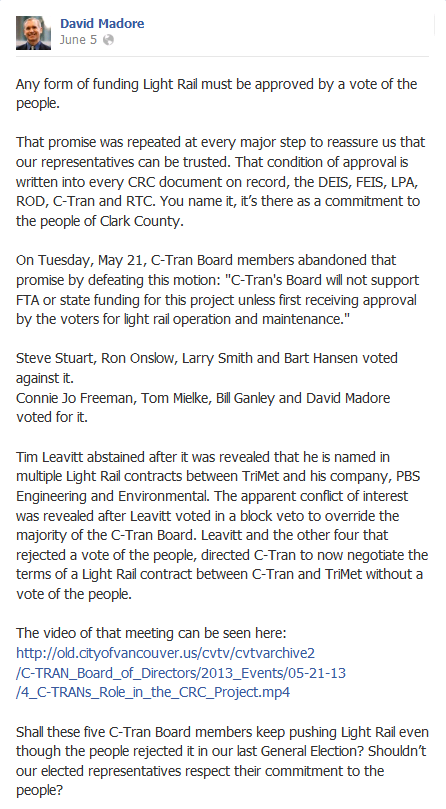 Clark County Commissioner David Madore makes a point of reminding folks he's a "free speech guy."
Here he is just last Tuesday saying of local government that, "I love our freedom of speech."
So I bet you can imagine his response when this was said the very next day at board time regarding county policy and projects:
"Once a policy is set, the time to campaign against it is over. As official voice from the county, the time to support that is something I think we all need to get on board, and at least not continue to campaign against it."
Oh, wait. Hold on. That was Madore who said that.
Madore was displeased the county's internal newsletter quoted Commissioner Steve Stuart on his dissent on the fee waiver. You can read it here: PDF of newsletter.
All three commissioners were quoted; Madore and Commissioner Tom Mielke were upset Stuart had a little more space.
But Madore took it further than Mielke.
Madore just wants a "positive" message in the county newsletter.
The discussion went on for more than an hour, during which both Stuart and Mielke pushed Madore for answers and pointed out Madore wasn't answering them. Here's a 40 min excerpt of the talks.
Stuart called Madore a "hypocrite."
Toward the end, Mielke told Madore, "you're getting into censorship."
County Administrator Bill Barron also called what Madore wants "censorship."
Madore told Stuart he can speak his dissent on his Facebook page. Since, ya' know, Madore does that with C-Tran: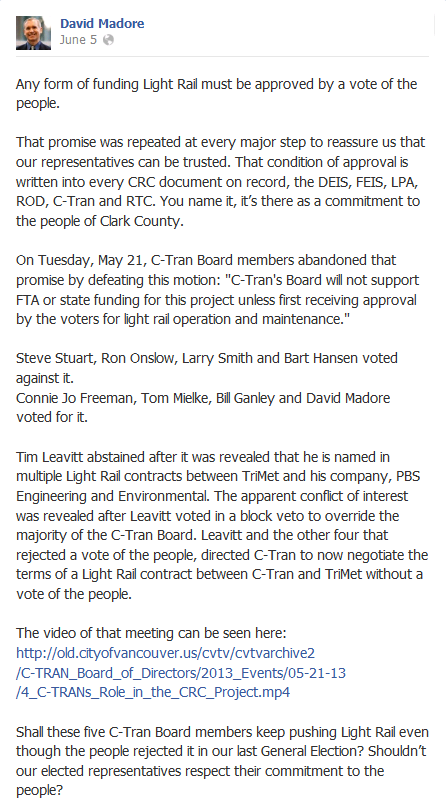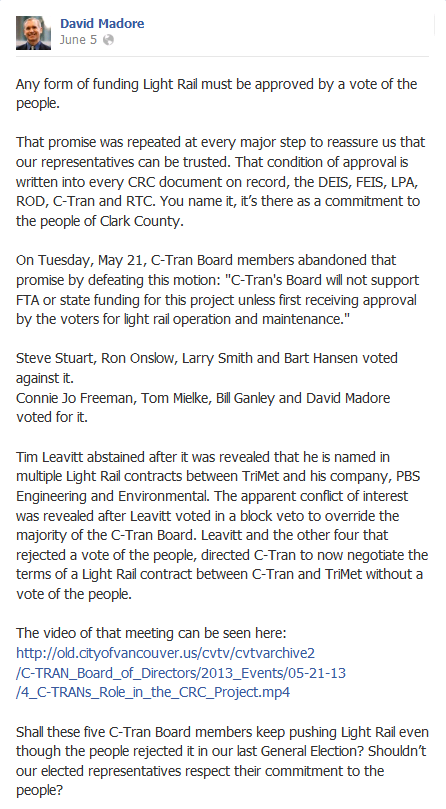 Or maybe he says to use it just before a vote. Again, it is a highly confusing conversation. And it's not entirely clear exactly what policy Madore hopes to create.
Needless to say, Madore's direction to Stuart to keep quiet went over poorly.
And it's no fun for the county staff members who are caught in the middle.
Holley Gilbert, who wrote the article for the newsletter, explained she got the quotes from the meeting. She asked what the commissioners' credibility will look like if they start removing the dissenting opinion.
At one point, Stuart uses the term "propaganda."
And this wasn't broached, but one wonders what county staff will think when they get a sunshine press release stating no dissent on a 2-1 vote while the newspaper reports the information, with the commissioners comments, with the fact that the public came out to speak overwhelmingly against it and that the dissent included other local elected Republicans.
In the end, Mielke —  who has quickly become the peacemaker — halted the conversation.
For the record, the entire conversation ended with Madore wanting a "positive" message, and Mielke and Stuart wanting "neutral."
So I suppose if Madore is outvoted on the matter, at least he'll be allowed to voice his dissent.