Councilor David Madore scraping at the bottom of the litter box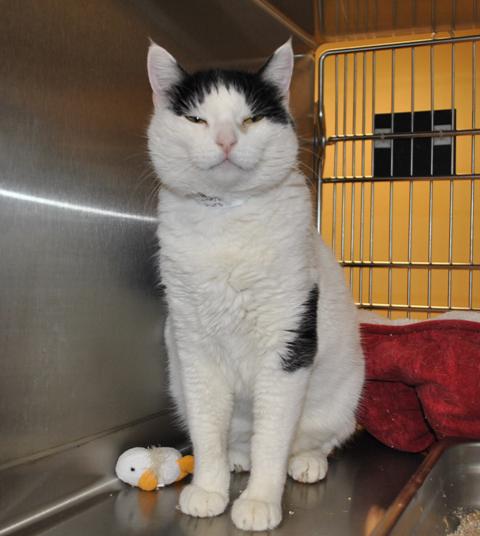 Clark County Councilor David Madore compared the work of Regional Transportation Council Chair Melissa Smith to a cat that doesn't know how to cover her own feces.
Literally.
Local gadfly Lee Jensen—who could really use a vacation from Clark County politics—read a pair of emails at the council's Tuesday meeting this week containing the offending remark. I've attached the exchange and Jensen's testimony below, but I called Smith, a Camas City councilor, to get some context.
Back in April, Madore allegedly tried to withhold RTC Executive Director Matt Ransom's timecard, Smith said. The RTC chair is responsible for approving time cards, but the county is responsible for processing them, she said. There have never any questions or issues with this process.
"We let it go through the county because there was never an issue," Smith said.
This time, however, Ransom apparently took some sick leave Madore questioned, Smith said. Smith shot Madore an email saying she already approved Ransom's time card, and directed Madore to process it.
Madore responded, saying he would send the time card along, but made sure to get a jab in.
"The 'just do it' order without access to information needed to ensure compliance with the required HR policies, would amount to negligence," he wrote. "I was not familiar with the specific policy governing sick time as uniquely recorded on this timecard. So I held off until I was able to ask HR for help."
"They are glad to help ensure that we have what we need to fulfill our responsibility," he continued. "We can only do so if we at least know the relevant policies and ask for help when needed."
And then: "Our cat used to turn around and scratch in the kitty litter after doing her job. She didn't know why and it was funny to watch her go through the motions that didn't always cover the right spot. These tasks that we just do, 'just because', can be like that. We are to use our heads or change the process."
So, in short, doing what should be a routine task like signing a time card is like trying to cover up cat poop and failing.
Jensen proceeded to call Madore disrespectful, disgusting and misogynistic. That last one matters most, but I'll get to that.
I asked Smith if she replied to the email, and though she said she was upset by the comments, she did not.
"Even if I responded, there's nothing I could have said that would have appeased him or had any meaning whatsoever to him," Smith said.
Smith added she was one of the first people Madore banned from commenting on his Facebook page. There's probably some badge of honor to be held in that.
Then I asked her why she didn't say anything at Tuesday's council meeting, which she attended. She said she wanted to—"Trust me, I usually fight my own battles," she said—but thought Jensen would have a better shot at getting through to Madore… because he's a man.
"I've seen him more passive aggressive toward women," Smith said.
Here's the full exchange for a bit more of the albeit limited context they provide. Any circling or additional emphasis is Jensen's.