C-Tran board meeting takes uncomfortable turn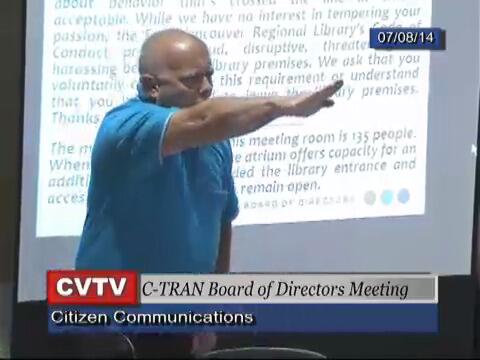 For several months now, the projector at C-Tran board meetings has displayed the same message during public comment. It warns people against using loud, disruptive or threatening behavior.
The regular warnings started last fall, when the board approved the infamous light rail contract with TriMet. The resulting fallout included a "Unite Against Tyranny" rally complete with at least one pitchfork.
Bus rapid transit has become a hot-button issue in its own right. Tuesday's C-Tran board meeting on the subject drew plenty of impassioned testimony, but speakers remained civil. Then this happened:
[youtube http://www.youtube.com/watch?v=Yimr2ZkWaqQ&w=420&h=315]
After standing for the entirety of his testimony, a man ended his comments with "Sieg Heil!" as he appeared to make a Nazi salute toward the board. Then he turned around and walked out of the room. (In the video, that's the conduct warning on the screen behind him.)
The gesture made more than a few people in the room uncomfortable. It also drew a smattering of applause.
"You clap at that?" Ridgefield Mayor Ron Onslow told the crowd. "I don't understand. That's ridiculous."
I've said this before, and I'll say it again: Remember when C-Tran meetings were boring? Me either.