Garlic and Lemon Kale Chips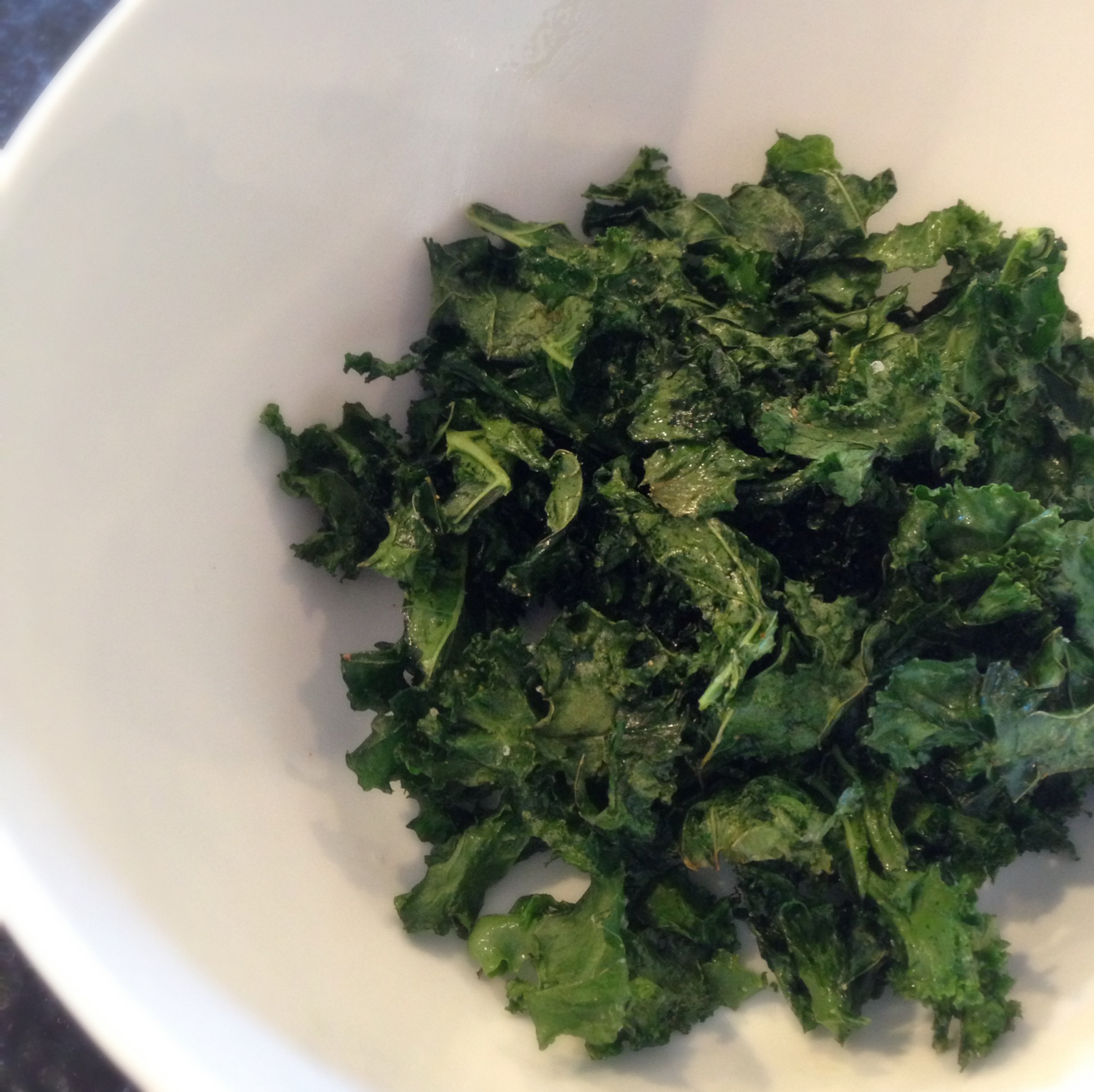 Not only is my Great Aunt Mary one of my personal heroes, but she is one of my favorite dinner companions, as well. Even at ninety-six years old, Aunt Mary has not lost any of the spark of her younger years. My mother once served a health-conscious dessert of vanilla frozen yogurt and fresh berries, and Aunt Mary leaned over to whisper in confidence, "Have you ever heard of Häagen-Daz?"
However, we like to attribute Aunt Mary's eternal youth not to ice cream, but to her favorite vegetable, kale. Aunt Mary tends her garden daily, from which she harvests a seemingly endless bounty of the green, leafy superfood.
Though Aunt Mary was eating kale before it was cool, kale's popularity has gone mainstream, thanks to its incredible vitamin and antioxidant content. My family began to grow kale in our vegetable garden, too, and we have been using it in everything from stir-fry to salad.
Kale chips are one of the easiest things to make with kale, and perfect for the picky eater or skeptical newcomer. As an added bonus, the small amount of healthy fats from the olive oil used to make the chips helps your body take advantage of kale's many fat-soluble nutrients. Surprisingly addictive, kale chips are an ideal side to a sandwich or afternoon snack, and will keep for several days if stored in a tightly-sealed container.
Garlic and Lemon Kale Chips
Ingredients:
1 bunch of fresh kale (12 ounces)
1 tablespoon olive oil (I used an olive oil cooking spray, which worked, as well–just be sure the leaves are evenly coated with the spray)
1/2 teaspoon salt
4 cloves garlic (chopped)
1/4 of a fresh lemon
Directions:
1.  Preheat oven to 300 degrees. Place a wire cooling rack on top of a cookie sheet.
2.  Remove and discard the thick stems from the kale. Tear the leaves into bite-size pieces. Rinse kale, and dry before placing in a large bowl.
3.  In the bowl, combine the kale, oil, salt, and garlic. Toss to thoroughly combine. Place in a single layer on the wire rack. (Over the cookie rack, in case the oil drips)
4.  Bake for 15 minutes. Stir gently while in the oven, and continue to bake for 2-3 minutes. Watch carefully, because the chips will burn easily.
5.  Once the kale is dry and crisp, remove from oven and drizzle with lemon juice. Serve warm, or store in an airtight container to save.