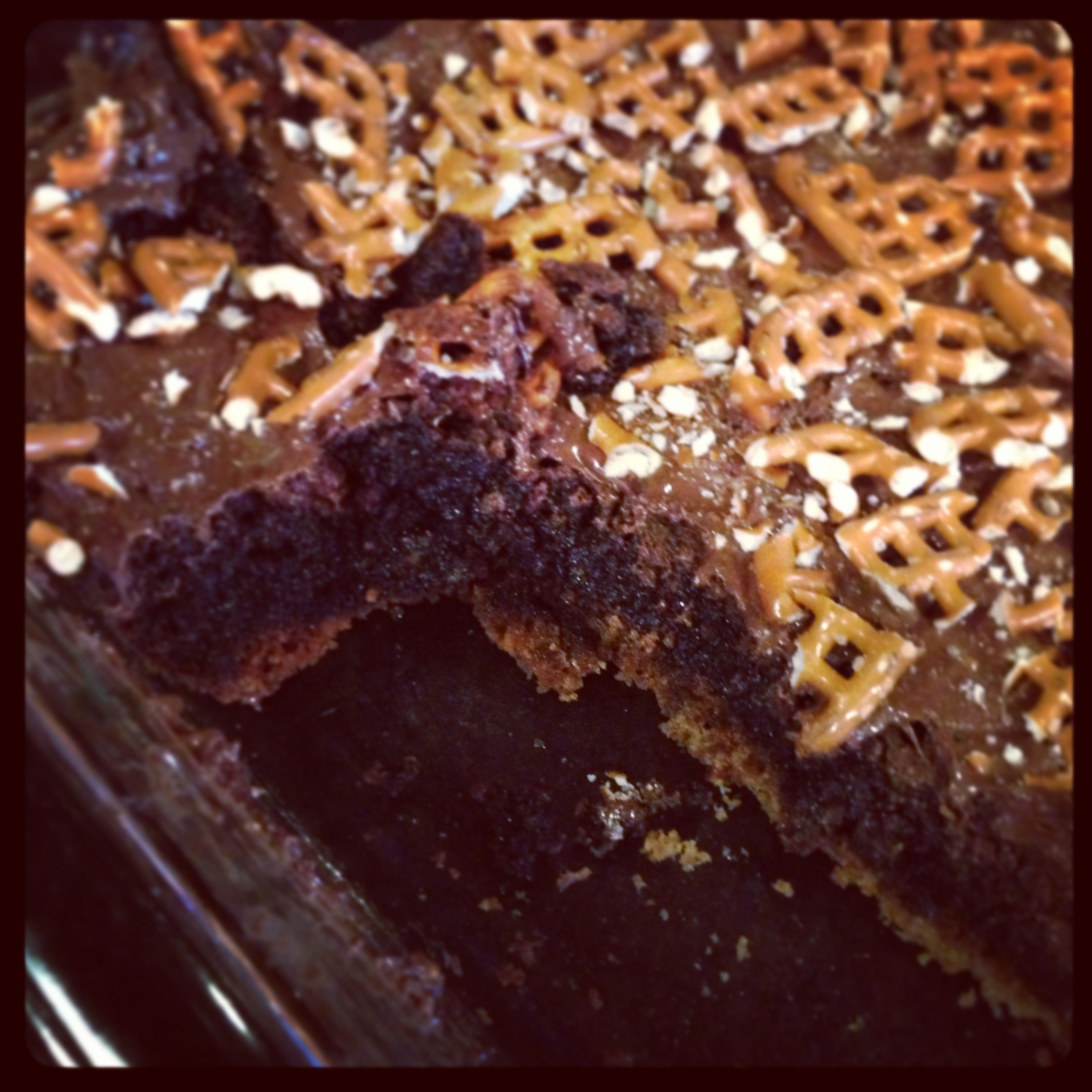 If you've read the majority of my posts in my "Something Sweet" category, you may have realized that I am nuts for Nutella. Even an empty jar of Nutella is amazing–use a freshly finished Nutella jar as a container for vanilla ice cream or frozen yogurt, and you have an instant five-star dessert. In these Nutella Pretzel Brownies, a pretzel crust and a Nutella-infused brownie batter combine to make a salty-sweet creation guaranteed to knock your socks off.
Nutella Pretzel Brownies
Makes 16 Brownies
Ingredients:
For the Pretzel Crust:
1/2 cup pretzels
1/3 cup brown sugar
3 Tbsp. butter, melted
For the Brownies:
1/2 cup butter, softened
1 cup sugar
2 eggs
3/4 tsp. vanilla
1/3 cup Nutella
1/4 cup cocoa
2/3 cup flour
1/4 tsp. salt
Extra Nutella to frost brownies
Extra pretzels (slightly crushed) for garnishing
Directions:
1.  Make the crust: Preheat oven to 350 degrees. Lightly coat an 8 x 8 inch baking dish with cooking spray; set aside.
2.  Place the pretzels in the bowl of a food processor and pulse until the pretzels are broken up into tiny pieces. Add the sugar and pulse until combined, then pour in the butter. Continue pulsing until combined.
3.  Firmly press the pretzel mixture into the prepared pan. Bake for 12 to 15 minutes, until the edges are golden and the crust feels firm. Remove from oven
4.  While the crust is baking, make the brownies: In a standing mixer, cream together the butter and the sugar. Add the eggs and blend well. Add the vanilla, salt, and Nutella, and mix until combined. Add the cocoa and the flour. Don't overbeat.
5.  Pour the brownie batter into the pan and over the pretzel crust, and bake at 350 F for 20-25 minutes, or until a toothpick comes out clean.
6.  Allow brownies to cool for at least 45 minutes before frosting with Nutella and garnishing with the crushed pretzels.