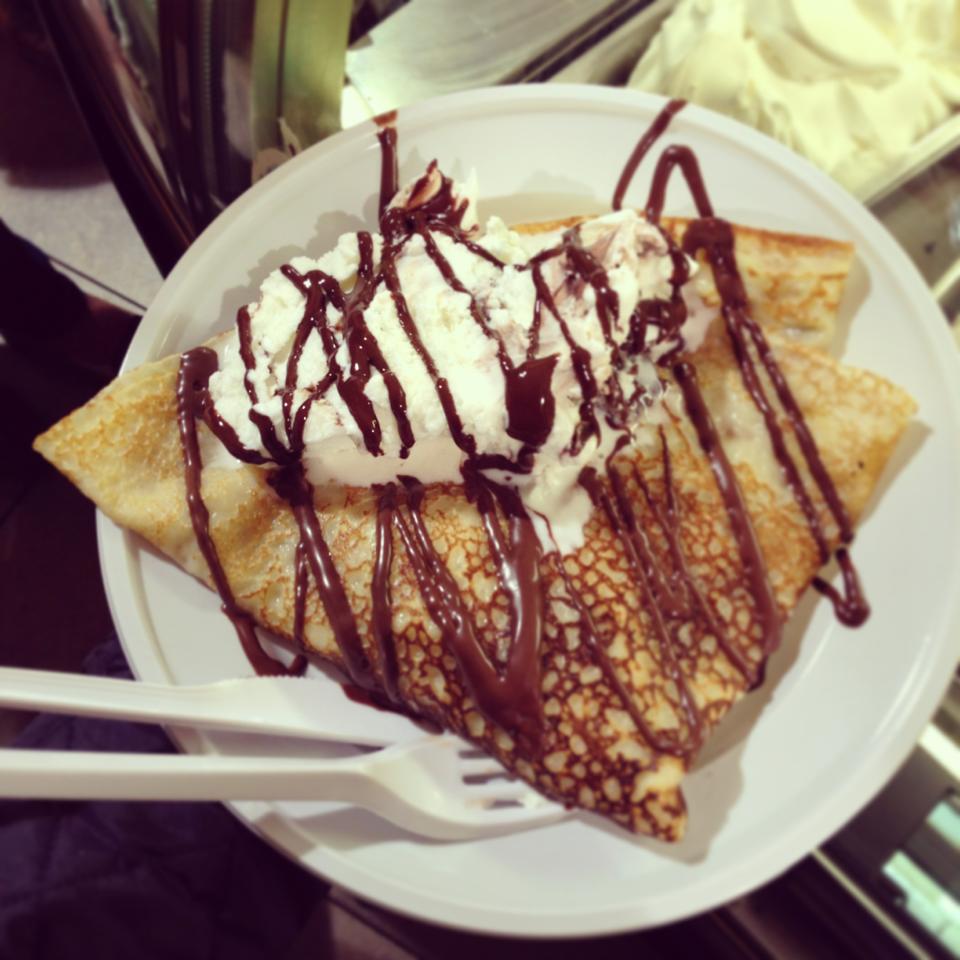 During the second semester of my junior year at the University of Notre Dame, I studied abroad in London, England. I took full advantage of my time in Europe (and the lack of Friday classes) by not only exploring London, but visiting twelve different countries, as well. Living and travelling throughout Europe greatly expanded my worldview and broadened my cultural horizons. Besides experiencing history, art, and architecture firsthand, I tried–and liked–dozens of different types of cuisine. Confession: haggis is pretty good. Paramount amongst all these new foods? Crepes.
What an epiphany. Crepes are a thin type of pancake, served hot off the griddle and with a variety of fillings both sweet and savory. From smoked salmon and spinach crepes in Dublin to Nutella, banana, and crumbled digestive biscuit crepes in Prague, I tried them all! Essentially, I now view my life to be divided into two periods: Carolyn Pre-Crepe, and Carolyn Post-Crepe.
Occasionally I will be hit with a particularly strong wave of London nostalgia, often involving some sort of wistful longing for crepes. This weekend, I decided to finally do something about it. I walked to the grocery store, bought ingredients, walked home, and made myself some crepes. Color me European.
Depending on your choice of filling, crepes can serve as breakfast, lunch, snack, dessert, or second breakfast. My favorite kind of crepe includes a dollop of the food of the gods, aka Nutella, and slices of fresh banana, but be creative. If you're willing to try new combinations, even the French will forgive your pronunciation of "Chantilly."
Basic Crepes Recipe
Makes 8 crepes
Ingredients:
1 cup all purpose flour
2 eggs
1/2 cup milk
1/2 cup water
1/4 teaspoon salt
2 T butter, melted
Directions:
1.  In a large mixing bowl, whisk together the flour and the eggs. Gradually add in the milk and water, stirring to combine. Add the salt and butter; continue whisking until smooth.
2.  Heat a lightly oiled griddle or frying pan over medium high heat. Pour or scoop the batter onto the griddle, using approximately 1/4 cup for each crepe. Tilt the pan with a circular motion so that the batter coats the surface evenly.
3.  Cook the crepe for about 2 minutes, until the bottom is light brown. Loosen with a spatula, turn and cook the other side. Serve hot.
Fillings Ideas:
Jam or Applesauce
Lemon Juice and Sugar
Whipped Cream and Berries
Melted Chocolate and Sliced Almonds
Nutella and Banana
Nutella and Strawberries
Nutella and Nutella