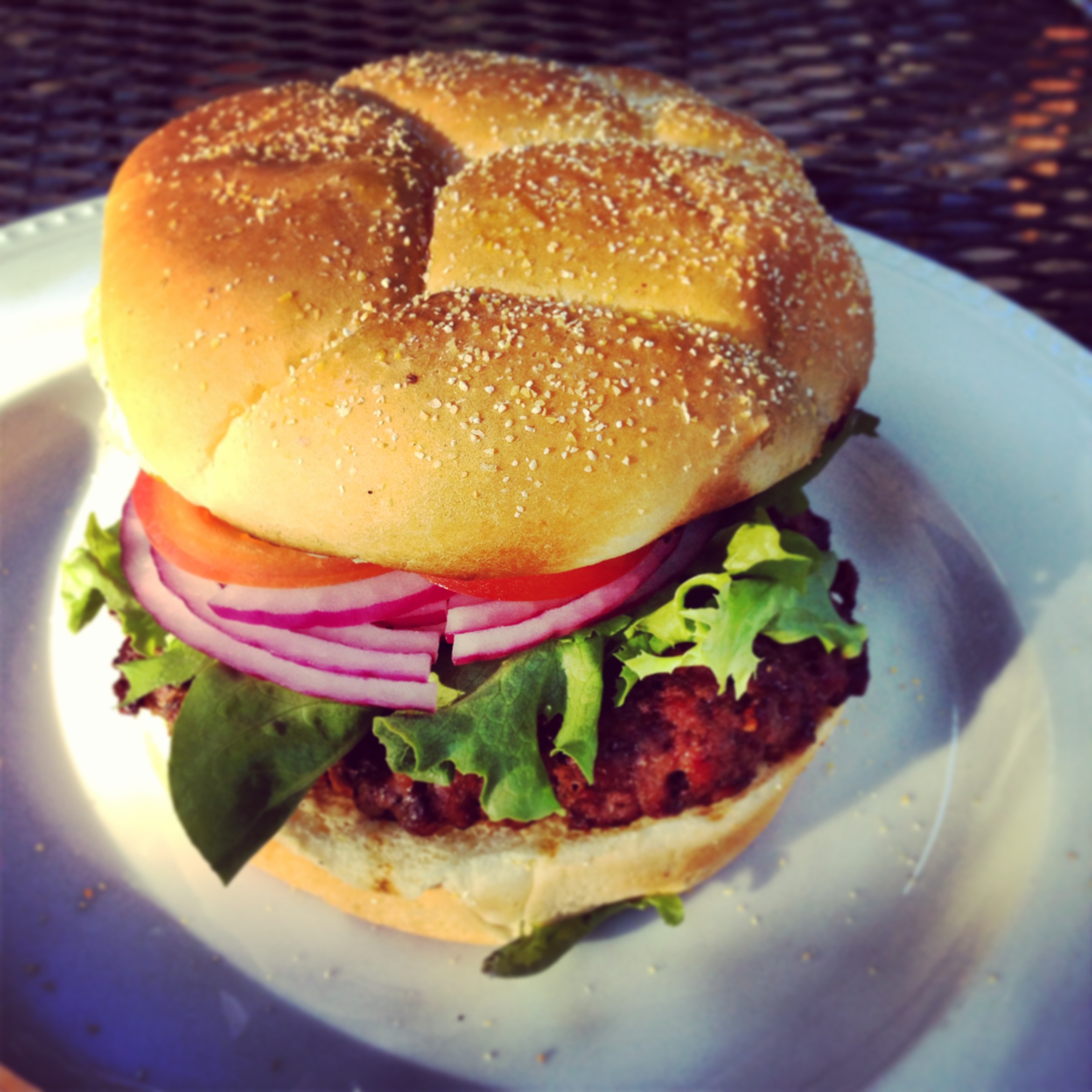 Most of my lessons about cooking, I learned from my dad. Some of my earliest memories involve working with my dad in the kitchen, keeping watch over a pan of onions caramelizing on the stove while he finished seasoning a pork tenderloin, or peeling the blackened skin off a tray of roasted red peppers he recently pulled from the oven. He has a number of different specialties, ranging from shrimp risotto to homemade, deep-dish, stuffed spinach pizza, (don't worry, I will share these recipes soon), but one of my dad's most famous recipes is his hamburgers. It sounds basic–a dad grilling hamburgers–but my dad truly does make the best burgers.
Here is the burger recipe that even out-of-town relatives request when they visit. As my dad says, with burgers, the simpler the better. However, I have also included a list of toppings ideas for your burgers. Though my dad has been known to grill in freezing rain or sifting snow, summer is ideal cookout season. Set up a "burger bar" for your guests, so they may dress their burgers as they choose. Finally, I have also posted my favorite fruit salad recipe, here, to go alongside the burgers. Fresh fruit salad? Grilled hamburgers? Tastes like summer to me!
Ingredients:
Ground Beef (Chuck, Sirloin, or Round; 85% lean, 15% fat) –plan on a little over 1/4 lb. per person
Kosher Salt
Pepper
Sesame Seed Buns
Desired Toppings (see below)
Directions:
1.  Without overworking the meat, shape the ground beef into a patty. Using your thumb, press an indentation into the middle of the patty. (This prevents the patty from contracting while cooking.)
2.  Season the patties with Kosher salt and pepper. Cook to preferred level of doneness on a hot, clean grill, turning once.
3.  As the burgers finish, lightly toast the buns on the grill.
4.  Place the patties on the buns, and add condiments and toppings as you wish.
Toppings:
Perhaps you're a purist, preferring the classic combo of ketchup, lettuce, onion, and tomato, or, like the folks at Killer Burger in Portland, you think that even veggie burgers should come with bacon. Personally, I think that everything tastes better with avocado. Offer a variety of choices to your guests, and enjoy experimenting.
Burger toppings:
Ketchup
Mustard (stone-ground is the only way to go)
Barbecue Sauce
Salsa/Pico de Gallo
Iceberg Lettuce
Arugula
Sliced Tomato
Sliced Avocado
Red Onions
Jalapeños
Pickles (Dill or Bread and Butter)
Cheddar, Swiss, Pepperjack, or Bleu Cheese
Bacon
Caramelized Onions
Sautéed Mushrooms
Roasted Red Pepper
And a total game-changer: Peanut Butter (A burger topped with peanut butter and bacon just might change your life)
Have fun!