Nutella-Stuffed Brown Butter Chocolate Chip Cookies with Sea Salt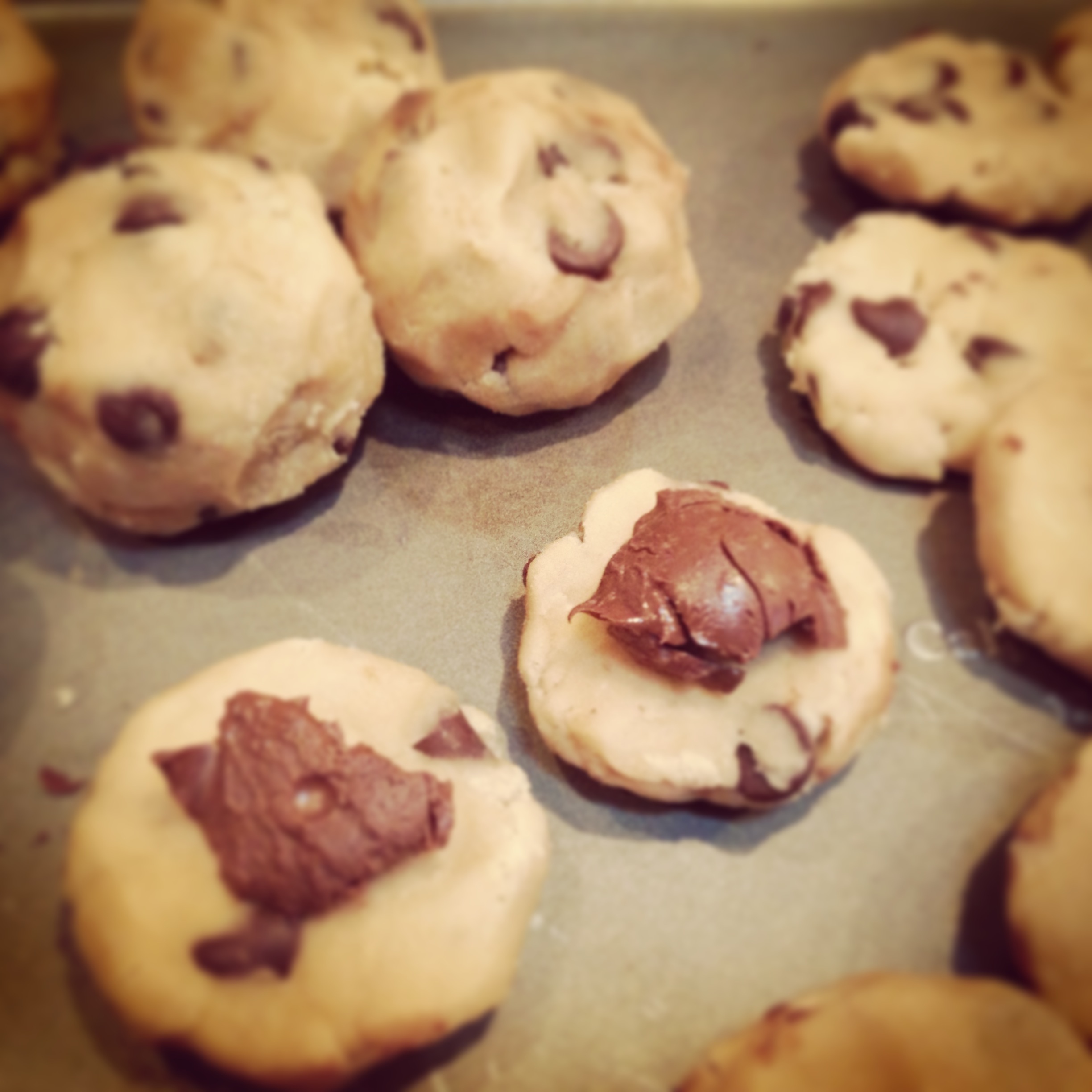 I present to you perfection, in the form of a cookie. (As if you couldn't already tell from the title) Soft, chewy, melt-in-your mouth chocolate chip cookies, nuanced with the warm flavor of browned butter and a swirl of soft Nutella in the middle, their sweetness balanced by a sprinkling of sea salt on top.  Just–yes. A thousand times, yes. I would tell you that these are the best cookies I have ever made, but even that would be an understatement.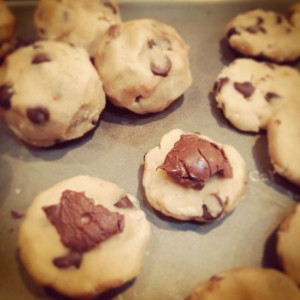 Nutella-Stuffed Brown Butter Chocolate Chip Cookies with Sea Salt
Ingredients
2¼ cup all-purpose flour
1¼ teaspoons baking soda
¼ teaspoon of salt
2 sticks (1 cup) unsalted butter, sliced
1¼ cup packed dark brown sugar
¼ cup granulated sugar
1 large egg plus 1 egg yolk
1½ teaspoons vanilla extract
1 tablespoon plain Greek yogurt
½ cup semi-sweet chocolate chips
½  cup milk chocolate chips
1 jar of Nutella, chilled in refrigerator
Coarse sea salt for sprinkling
Directions:
In a large bowl mix flour, baking soda, and salt until combined. In a saucepan over medium heat, brown butter and set aside to cool.*
In the bowl of a stand mixer with the paddle attachment, beat together butter and sugars until light and fluffy. Mix in egg, yolk, vanilla, and yogurt until incorporated. Gradually add the dry ingredients until combined. Fold in chocolate chips.
Place cookie dough in the refrigerator for 2 hours to let the flavors meld together.
Preheat the oven to 350 degrees F. Roll 1½ tablespoons of dough and flatten the dough to make a flat circle. Place 1 teaspoon of chilled Nutella in the middle then place another flat circle of cookie dough on top. Crimp edges to seal.
Place dough balls on cookie sheet, 2 inches apart and bake 9-11 minutes or until the edges turn golden brown.
Sprinkle with sea salt and let cool on wire racks.
*Further instructions on how to brown butter:
Heat a thick-bottomed skillet on medium heat. Add the sliced butter, (sliced so that the butter melts more evenly), whisking frequently. Continue to cook the butter.
Once melted, the butter will foam up a bit, then subside. Watch carefully as lightly browned specks begin to form at the bottom of the pan. Smell the butter; it should have a nutty aroma. Remove from heat and place on a cool surface to help stop the butter from cooking further and burning or turning black.
Carolyn Green believes in secret ingredients, striped aprons, and serving breakfast for dinner. A rising senior at the University of Notre Dame, Carolyn is a design and art history major who loves both tailgating and taking afternoon tea. Besides cooking, she enjoys running, traveling, and writing. Have a question, comment, or request? Send Carolyn a note at cgreen9@nd.edu.