Banana Breakfast Sandwiches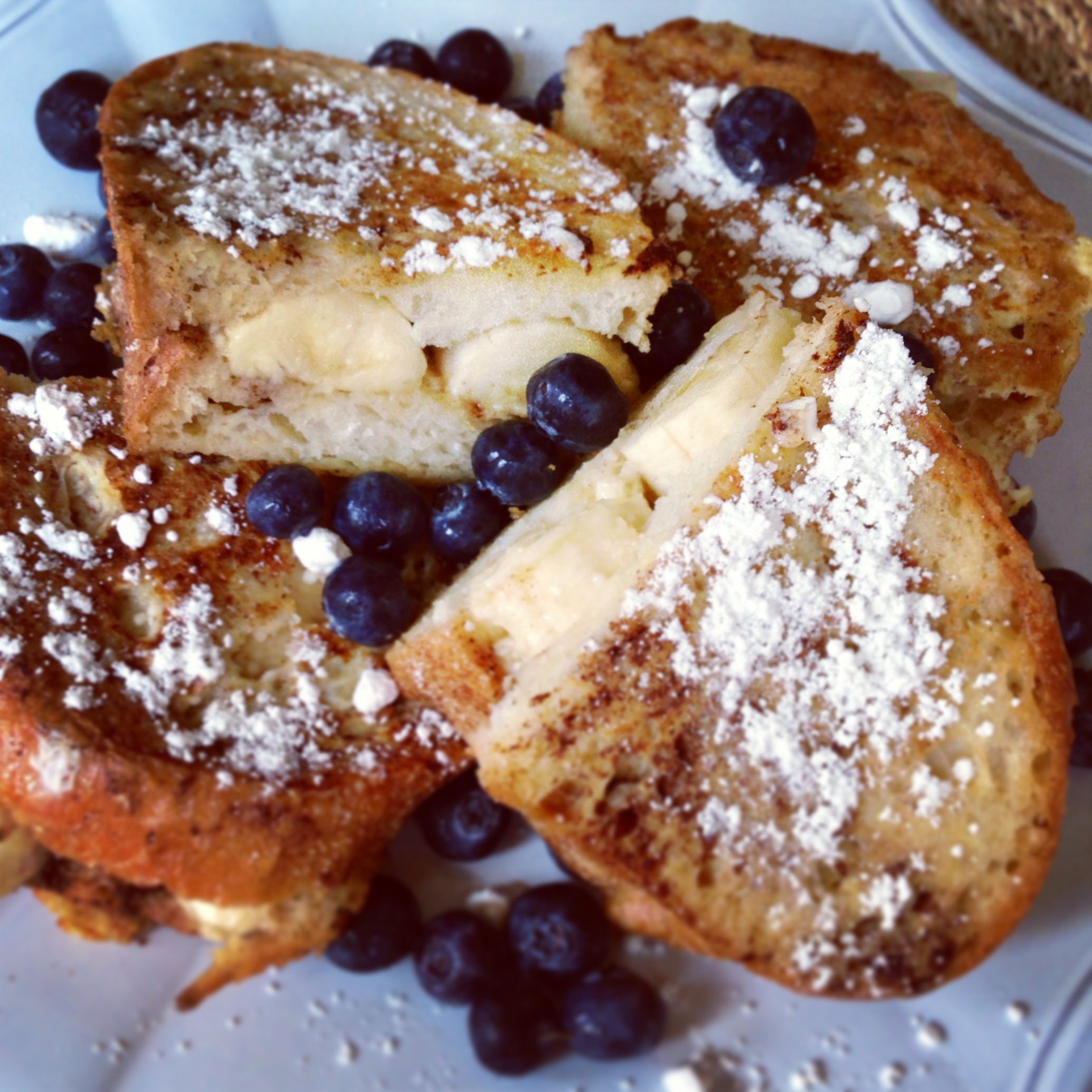 On a recent visit to my hometown of Chicago, Illinois, I spent a night at my grandparents' house in the suburbs. My grandfather is usually the master of all breakfast-related items (his scrambled eggs are impossibly light and fluffy), but I surprised them by taking over the kitchen one morning. An adaptation of French Toast, these beautiful banana breakfast sandwiches rely on the light flavor of fresh bananas, and a hint of cinnamon and vanilla. Finish the sandwiches with a dusting of powdered sugar and a handful of blueberries, and you have a delightful Sunday brunch.
Banana Breakfast Sandwiches
Serves 2-4
Ingredients:
2 bananas, cut in half lengthwise
4 slices French Bread
2 eggs
1/2 cup skim milk
1/2 teaspoon pure vanilla extract
1/2 teaspoon cinnamon
pinch of salt
Non-stick cooking spray
maple syrup
powdered sugar
1 cup blueberries
Directions:
1.  In a bowl, whisk together the eggs, milk, vanilla, cinnamon, and salt.
2.  Soak the French bread in the egg mixture for a few minutes, or until the bread is well saturated.
3.  Coat a pan with the cooking spray, and heat on the stove. Place two slices of bread in the pan, until they are slightly browned on the bottom.
4.  Turn the slices over, and arrange the bananas on top. Add the other slices of bread, and flip the sandwiches.
5.  Use another heavy pan, or the heel of your hand and a spatula, to press the sandwiches down, Panini-style.
6.  Cook until both sides of the sandwich are golden brown.
7.  Plate the sandwiches, and cut in half. Sprinkle the powdered sugar and blueberries on top. Serve with maple syrup on the side, but you may find the sandwiches are sweet enough on their own!