Seahawks Games at Markaritaville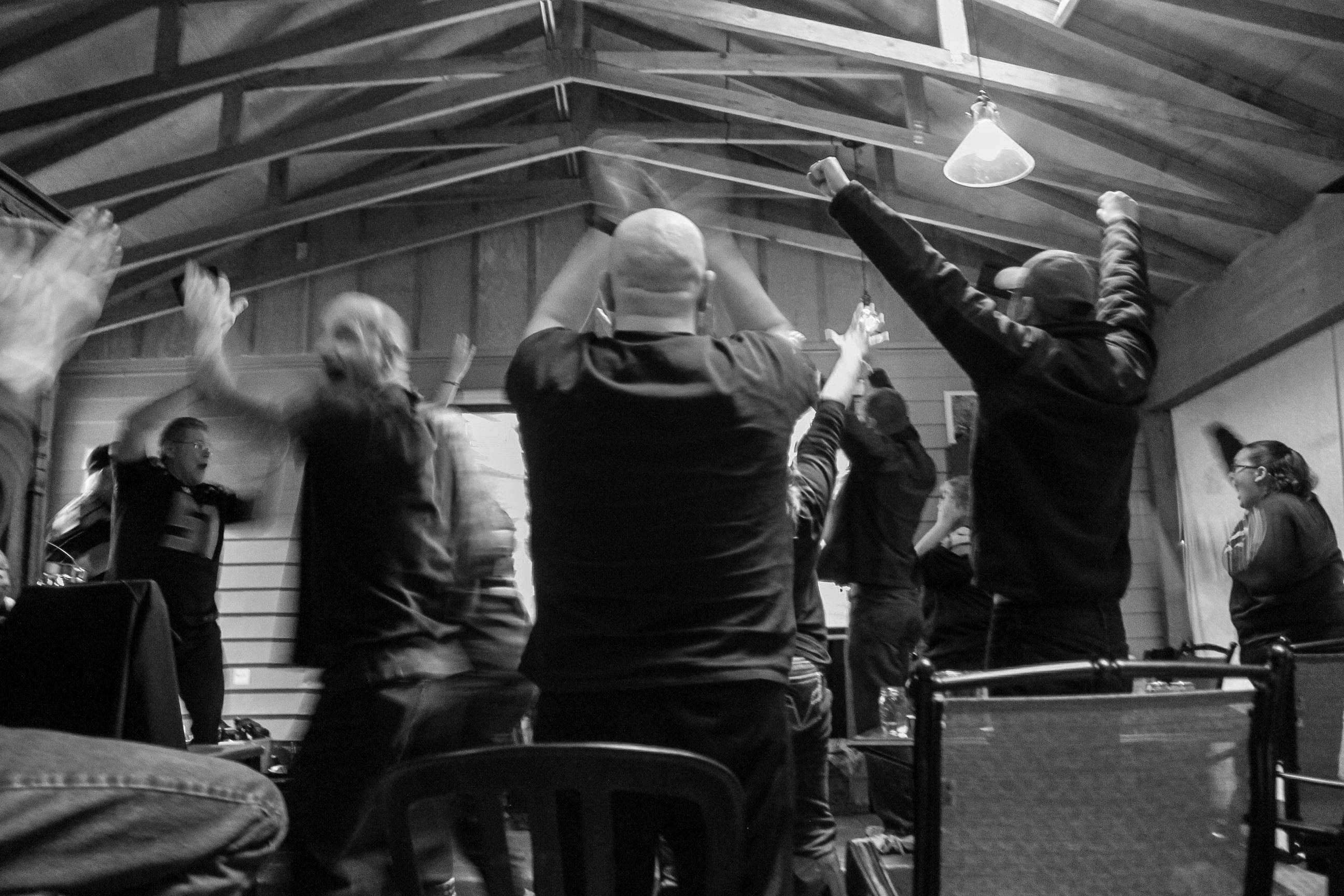 For the last two weekends, I've been cheering with my favorite Seahawks fans at Markaritaville. You haven't heard of Markaritaville?  Well, it's my favorite bar, comfortably located at my friends, Toni and Mark Bagnall's home.
Mark is a top-notch mixologist when he isn't busy working as a contractor.  And he can make an Italian Margarita that makes you want to dance on tables.  My friend, Cindy, suggested the name Mark-aritaville and the name stuck.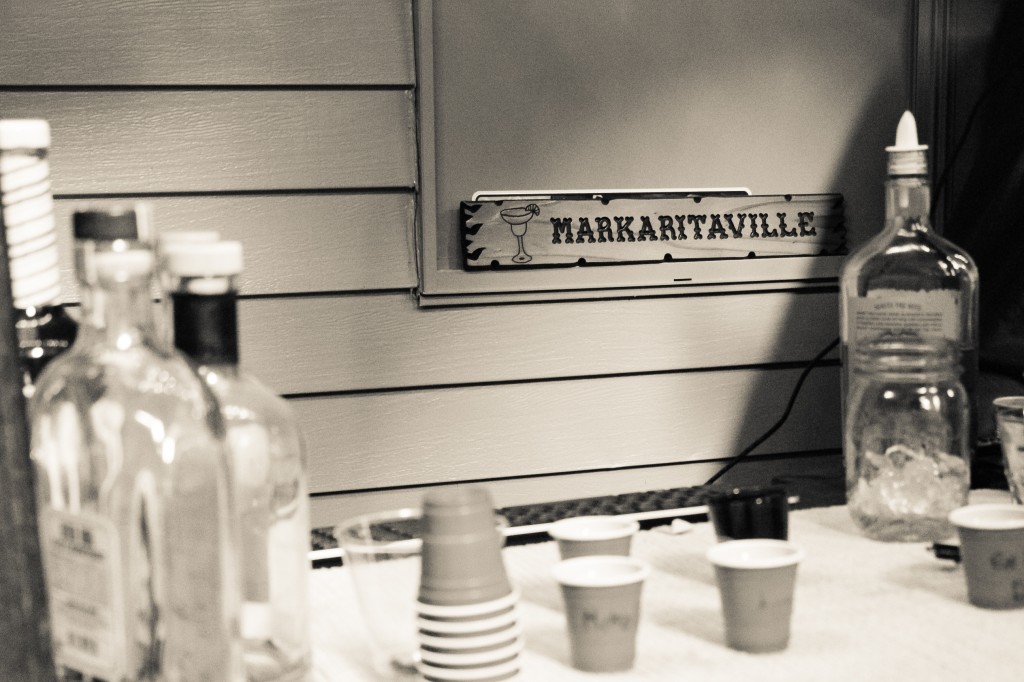 Now, not every ardent Seahawks fan converts their back patio into an enclosed party space complete with an antique carved bar, skylights, tv projector, and sound system enclosed with curtains, but fortunately they share the experience with up to 35 fans at a time.  Sometimes friends-of-friends will show up hoping to get a seat.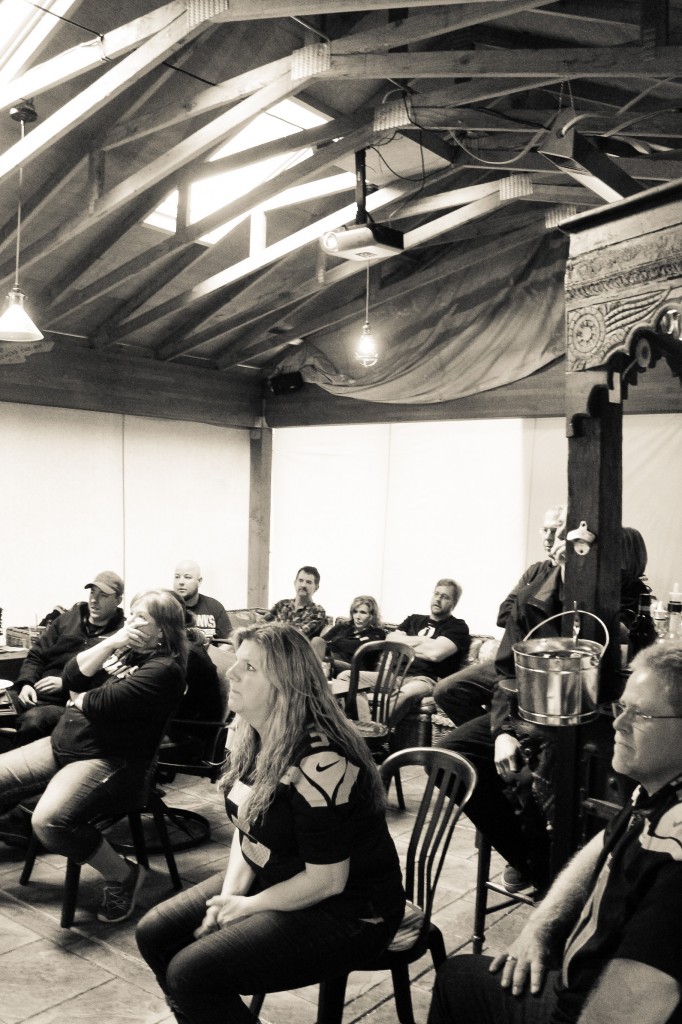 Toni leads the cheering during the games while Mark makes drinks and seamlessly runs the music during the ads. Every guest is given a plastic shot glass and shots of Fireball are taken after each Seahawks' touchdown.  This can make a great game downright intoxicating.
When I asked Toni for game day advice she said,
"Spend the first part of the day hydrating with water because you will need that good foundation of hydration to get you through the emotional ups and downs not to mention all the fireball shots you'll be taking when your team scores, and our team tends to score a lot so this can become a problem.

Also, wear your loose jeans because you will be consuming some or all of the following in a relatively short time…..wings, potato skins, nachos, chips and queso dip, sub sandwiches, cupcakes, cookies, veggies, beer, special team cocktails and so much more.

One more thing…..plan to spend the day with people you love and that love you back because you will need them to get through the game, win or lose."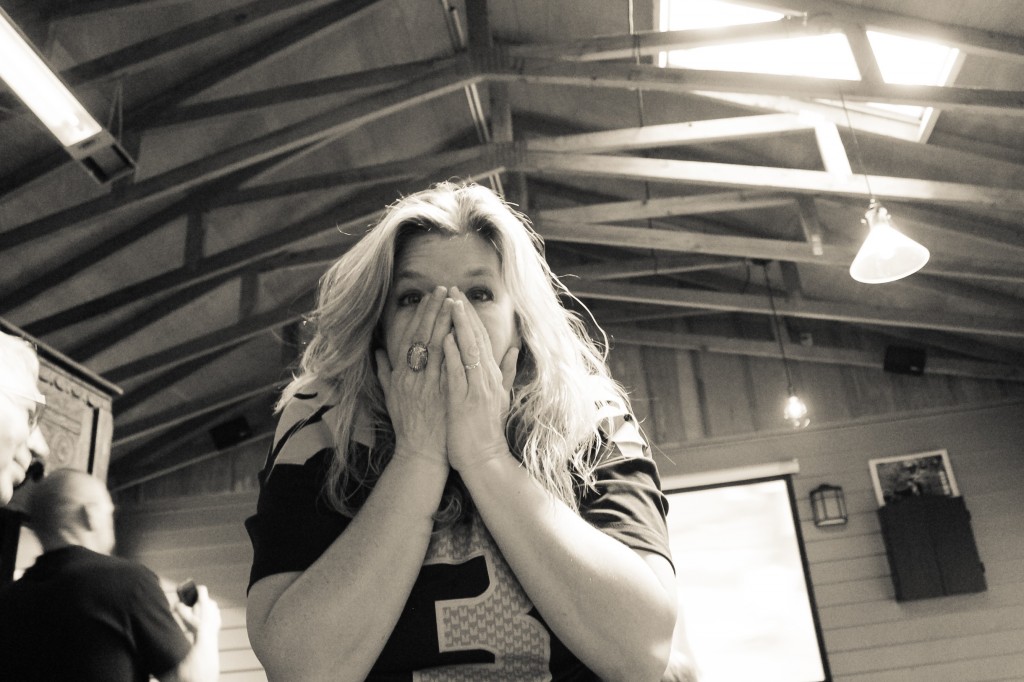 The NFC Championship Game started out slow for the Seahawks but turned out to be a real nail biter at the end. I snapped shots as the Seahawks made an incredible comeback.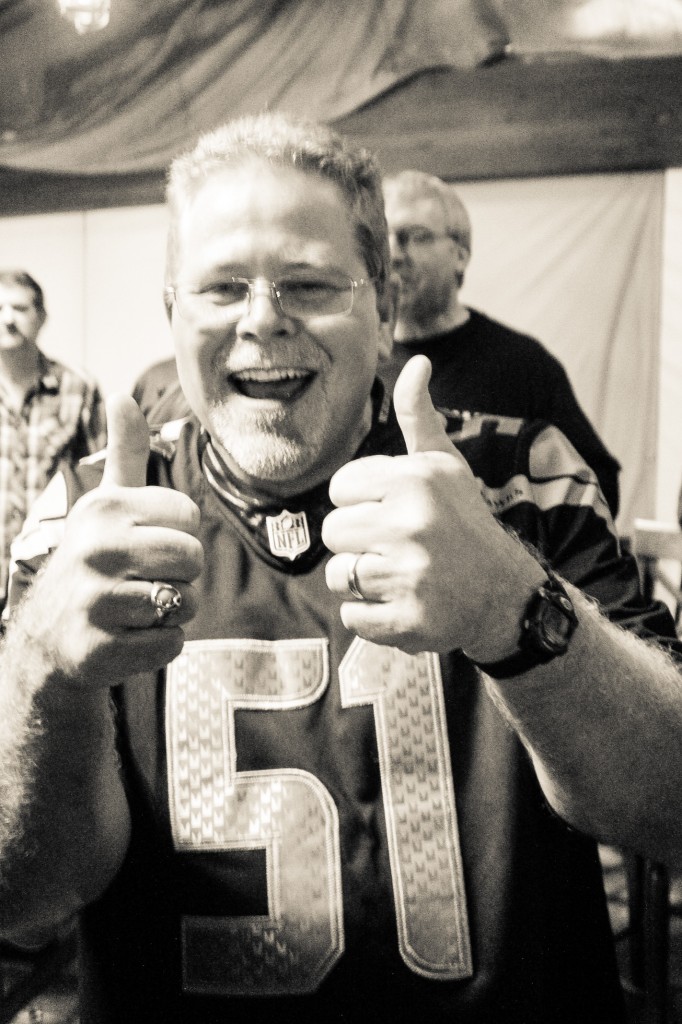 Now, I'm not a true football fan, but I love cheering on the local and my friends' favorite team at Markaritaville.  Toni and Mark have created a wonderful party space to watch their team. At the end of the game Toni said, "I really love my Seahawks;  they are a great team and wonderful men.  And I felt like I couldn't breathe through this game!"
Game Day Deviled Eggs
Now if you want to feel like a culinary mastermind on game day, whip up a batch of deviled eggs and time how quickly they disappear.  Mine took 10 minutes to go.  For my game day deviled eggs, I reach back to my grandma's old school version for the egg mixture, (that I so fondly remember stealing as a young kid before parties), but I still top them with a big square of bacon and some fried shallots. Feel free to omit the fried shallots and add a dusting of paprika on top.
6 hard-boiled eggs
¼ cup mayonnaise plus 1 T. —I use Bestfoods or homemade
1/2 teaspoon Dijon mustard
1/2 teaspoon yellow mustard
pinch of dried mustard
1 1/2 teaspoons of white wine vinegar or champagne vinegar
tiny pinch of cayenne powder
Salt
fresh ground black pepper
Bacon–each slice cut into fourths–make extra for samples
Shallot-sliced
Rice flour
Cornstarch
paprika (optional)
Ben, the Mad Chemist, steams his eggs for ten minutes for the perfect hard-boiled egg. You can even use fresh eggs and have the shells slip right off when you peel them. Just tap each end of the egg on the counter then roll it under your hand and watch the eggshell come off. It's a genius trick.
Cut the bacon into fourths and cook them over medium low heat until crisp. Cook a few extra pieces, just in case someone you love 'samples' a few pieces like My Pirate did. Slice up the shallot into thin slices and mix with several pinches of rice flour and cornstarch. Remove the bacon from the pan, turn the heat up to medium high. Fry the shallots in the oil until they are brown and crispy. Then scoop them out and drain on a paper towel.
Peel your hard-boiled eggs, cut them in half horizontally, and put the egg yolks into a bowl. In the bowl of a small food processor add the mayonnaise, mustards, white wine vinegar, red cayenne powder, pepper and salt. Pulse. Then add the egg yolks and pulse until the mixture is smooth. Taste and adjust the seasoning.
Place the egg white cups on a platter and cut a tiny sliver off the bottom of the egg whites to make them stand up straight. Pipe the egg mixture into the egg white cups. Garnish them with the bacon squares and the fried shallots. Serve.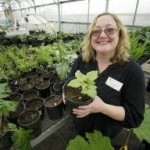 Hello! My name is Laura Heldreth and most days you can find me playing in my kitchen and vegetable garden.