Our Wednesday morning class series with students from the Boys and Girls Club at the Hazel Dell School and Community Garden is my very favorite part of being a Master Gardener. For the first hour of the class we do basic garden chores like harvesting potatoes, picking berries, weeding, and spreading mulch. Then, we move on to a lesson followed by a snack. I learn something new ever week.
For instance, did you know that everything that pours into a Clark County storm drain goes straight into the river? I didn't. I learned that and more from Tracy Sand, a Master Gardener and a former volunteer with the disbanded Water Shed Stewards. She led us through three hands on projects that included building a watershed with sand and glass stones in a small cookie sheet that we sprayed down with water. And by the end of the class, when the students asked to wash their hands, the small voice of a first grade girl called out, "Put your hands outside in the rain to rinse off. Don't waste water."
This week it is my turn to present and I'm teaming up with an art teacher to present beneficial insects in the garden.  Then we're going to give the same workshop for kids ages 4 through 9 on Saturday, August 9th at 9:30 am at Pacific Park in the Natural Demonstration Area. We going to collect beneficial insects, look at them through a magnifying lens, and learn how to draw them. I'd love to see you there.
To power up for a morning at the school garden, I pick several leaves of kale out of my victory garden and make a kale and egg scramble. If I'm in a hurry, I throw the scrambled eggs between two slices of whole grain bread and enjoy a scrambled egg sandwich on the go. Scrambled eggs with kale make you feel like a superhero. Now, do be careful and check your smile in the mirror before you go out because the kale can stick in your teeth. You want the world to laugh with you, not at you.
Scrambled Eggs with Kale
To fancy this recipe up, you could add some basil and parmesan cheese, but I never do.
3 eggs
1 to 2 small leaves of kale
splash of milk
salt, pepper, and red cayenne powder
olive oil
Remove the center rib in the kale leaf. Chop the kale into one to two-inch chunks. Place in miniature food processor, add a splash of milk, and process until the kale is pulverized.
Crack three eggs into a bowl and whisk together. Add a pinch of salt, red cayenne powder and a few grinds of black pepper. Add the kale mixture. Whisk together.
Pour a glug of olive oil into a small nonstick skillet and heat over medium high heat. When you can smell the warm olive oil pour in the green egg mixture. Stir the egg mixture until they form soft pillows off egg that no longer shine.   I push down a slice of toast in my toaster and when it pops up, the eggs are ready to eat. Enjoy.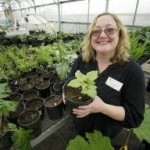 Hello! My name is Laura Heldreth and most days you can find me playing in my kitchen and vegetable garden.