Grow Your Own Herbs Workshop
Please join me at the Grow Your Own Herbs workshop at Pacific Park on August 17th at 10 am.  Eloyce O'Connor and Erin Harwood of  Garden Delights CSA and Herb Farm will share their herb growing tips and tricks.  Plus participants will receive free herb starts!  After the workshop, we'll get some fun hands on experience in the garden by deadheading and weeding in the herb demonstration garden.  Please dress appropriately.
I've attended two other Pacific Park workshops and I've laughed and learned at the same time.  The workshop is free. There is still room so register here!  I look forward to seeing you there.
P.S.  I'm making the refreshments and they are going to be yummy!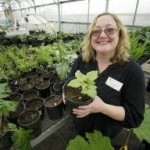 Laura Heldreth
Hello! My name is Laura Heldreth and most days you can find me playing in my kitchen and vegetable garden.
---