Plant Shopping and Society Garlic
Last Thursday, I took a short road trip with Marlena to Sauvie Island to go plant shopping.  First, we stopped at the Blue Heron Herbary that boasts over 100 different kinds of lavender.  (100 different ways for me to die, since I'm deathly allergic to lavender!)  When we arrived, we realized that they were now closed on Thursdays.  Being the intrepid explorer, I knocked on their door and asked if we could buy a few herbs and she said yes!  Apparently the owner is having some health problems, and sadly the gardens and herb selection reflected that.
Marlena and I both picked out some herbs to add to our collections.  She picked out the last golden marjoram.  It's a beauty.  And I was thrilled to find a variegated society garlic.  Isn't it pretty?  I also grow a plain society garlic.  Society garlic tastes just like biting into a fresh clove of garlic.  It's bold and bright and a little goes a long way.
I use society garlic in herb butters, salad dressings, and on roasted potatoes.  It's delicious.  I recommend trying it.  The flowers are beautiful too.  You can find society garlic at farmers markets and your local garden center.  Do you have a favorite way to use society garlic?  I'd love to hear it.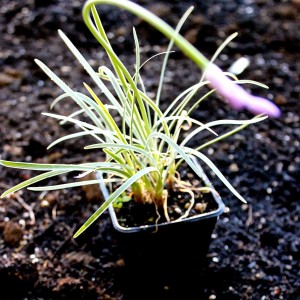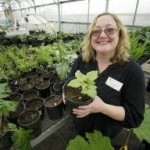 Laura Heldreth
Hello! My name is Laura Heldreth and most days you can find me playing in my kitchen and vegetable garden.
---