Quick and Easy Berry Buttermilk Cake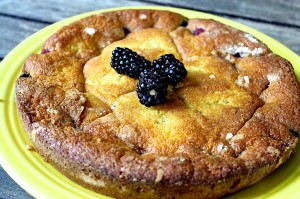 My favorite summertime cake is the Raspberry Buttermilk Cake recipe that I found four years ago in the June edition of Gourmet Magazine.  It's fun and easy to bake with fantastic results.  It takes a total of 45 minutes from start to plate; it only takes 15 minutes to put together, 20 minutes to bake, 10 minutes to cool, and then I serve it warm. I love to make this cake and share it!
Last night, I noticed some lonely berries hanging out in our fridge and decided to bake a cake with my new experimental lemon herb sugar.  I usually bake with Vanilla Sugar. I followed the same concept by adding spears of lemon grass and trimmings of lemon verbena into a small canning jar of sugar. I shook the jar once a day for a week and now the sugar smells bright with lemon and herbs.
In forty-five minutes, I was eating a slice of warm buttermilk cake studded with juicy berries with the lightest hint of lemon.  It was delicious.  I gave a bite to My Pirate (hubby) and we giggled like conspirators. I slid cake on two plates to share with my neighbors and delivered the cake with a smile.
You really need to try this cake!  I add whatever berries I have hanging out in my fridge and I've also added mango and peaches cut into bite sizes.  You can also add orange, lemon, and lime zest to the cake for added flavor.  Everyone needs a quick and easy summer cake recipe.  What is your favorite summer berry dessert?
Raspberry Butterrmilk Cake
Gourmet Magazine, June 2009
1 cup all purpose flour
1/2 tsp. baking powder
1/2 tsp. baking soda
1/2 tsp. kosher salt
1/2 stick unsalted butter, room temp
2/3 cup sugar plus 1 1/2 T. for sprinkling on top–I used lemon herb sugar
3/4 tsp. vanilla extract
1 large egg
1/2 cup well-shaken buttermilk–I used cultured Bulgarian buttermilk
1 1/2 to 2 cups berries–raspberries, blackberries, blueberries…
Preheat your oven to 400 degrees with the rack in the middle of the oven.  Butter and flour a 9 inch cake pan.
Whisk together the flour, baking soda, baking powder and salt in a bowl and set aside.
With your electric mixer set on medium high, beat the butter and sugar together until they are light and fluffy.  About two minutes.  Then add the vanilla and egg and mix well.
Turn the mixer to low speed and add a third of the flour mixture at a time followed by the buttermilk, finishing with the flour mixture.
Pour the batter into the prepared cake pan.  Smooth the batter and then top with the berries.  Sprinkle with 1 1/2 tablespoons of sugar.  Bake for 20 to 25 minutes, until a toothpick comes out clean.
Cool for ten minutes in the pan, then invert on a rack for another 10 minutes, then plate it up. Serve.
Lemon Herb Sugar
one cup sugar
3 spears of lemon grass
three sprigs of lemon verbena
Combine ingredients in a jar.  Shake daily for a week.  Enjoy.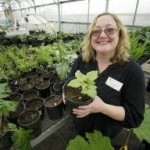 Hello! My name is Laura Heldreth and most days you can find me playing in my kitchen and vegetable garden.