Pass the Potatoes and Lobster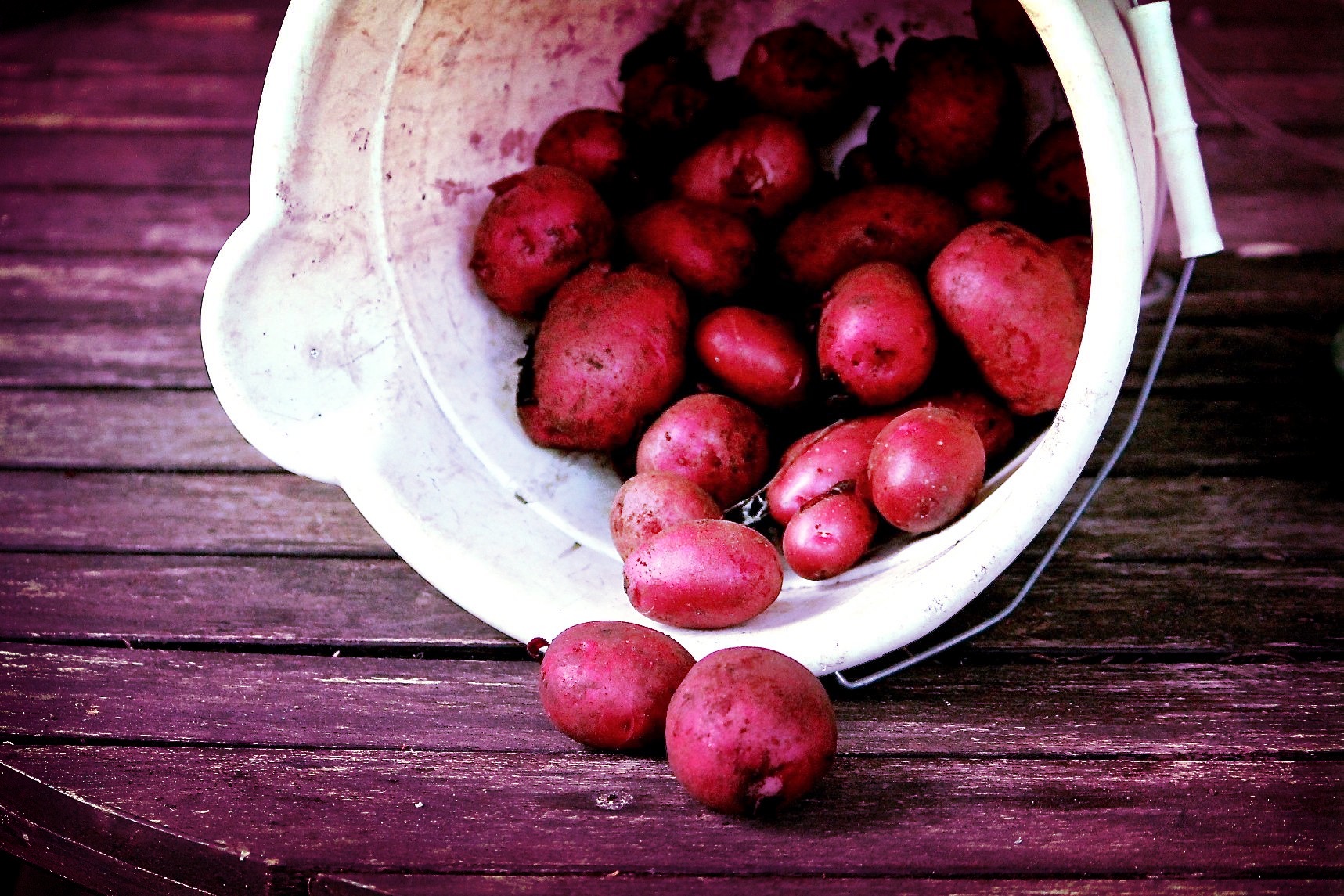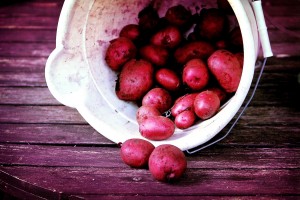 On Friday, I pretended that I was Ina Garten and splurged on two lobsters and made a batch of her Lobster and Potato Salad.  I did my best to be true to her recipe with one major exception.  Instead of using gold potatoes, I dug up some red potatoes out of my garden and used them instead.  I simply love homegrown potatoes and I'm sure that Ina would understand.
I made a double batch of the salad for a Posh Progressive Picnic with my band friends.  We all served on the Evergreen Marching Band Booster Board together seven years ago and somewhere between hauling props and serving chicken noodle soup to band kids in the pouring rain, we forged a lasting friendship.  I helped my friend host the main course at her home.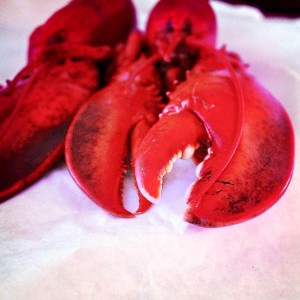 Have you ever attended a progressive dinner before?  It's an event where you travel to different homes to eat different courses.  Last night, we travelled to five different homes and had a blast.
The lobster and potato salad was easy to make and delicious.  Definitely posh.  The potatoes absorb the bright and acidic salad dressing that highlights the rich lobster flavor.  The ingredients combine into a tasty and colorful salad. I'm going to try it next time with Red Argentinean Shrimp ($9 at Trader Joe's) that taste sweet like lobster, when my fingerling potatoes are ready to harvest.  It's a repeater.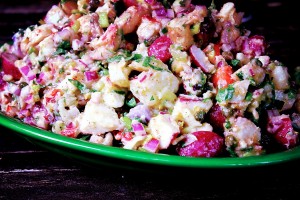 Lobster and Potato Salad
Ever-so-slightly tweaked from Ina Garten
1 ½ pounds small red potatoes or gold potatoes or fingerlings
2 teaspoons salt
1 teaspoon fresh ground black pepper
pinch of red cayenne powder
3 tablespoons champagne or white wine vinegar
½ teaspoon Dijon mustard
½ teaspoon minced garlic
½ cup good olive oil
1 egg yolk, preferably at room temperature
1 tablespoon dry vermouth or ¼ cup dry white wine
3 tablespoons drained capers—or cornichons
1 cup thinly sliced green onions
½ cup, 2 celery stalks, ¼ inch diced
½ cup red onion, fine dice
1 ½ pounds cooked lobster meat, cut into 1 inch dice
1 lemon—zested and juiced
3 tablespoons coarsely chopped parsley or tarragon
Boil the potatoes in salted water until tender.  Mine took 12 minutes, but the time will vary with the size.
Whisk together the vinegar, mustard, garlic, 1 tsp. salt, pepper, and egg yolk.  Then slowly pour the olive oil into the mixture while stirring with a whisk to make an emulsion.  Add the wine and capers.
Pour half of the dressing over the warm potatoes and stir gently.  Stir in the green onions, red onion, celery, lobster and dressing.  Add the lemon zest and lemon juice.  Taste and adjust seasonings.
Cover and refrigerate for at least one hour for the flavors to blend.  Serve at room temperature.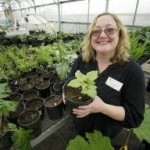 Laura Heldreth
Hello! My name is Laura Heldreth and most days you can find me playing in my kitchen and vegetable garden.
---