You Go, Hello Waffle Cart
My friend and fellow food-obsessive, Nichole, and I have been talking about visiting Hello Waffle Cart for weeks. We finally met up this Thursday to get our waffle-on. The cart was located in downtown Vancouver in the Sculpture Garden (9th and Broadway). The trees were filled with multi-color fall leaves, the sky was a slate grey, and an older man with a shopping cart was in the far corner of the Sculpture Garden playing Rod Stewart's Do Ya Think I'm Sexy at a respectful volume on a heavily duct-taped boom box.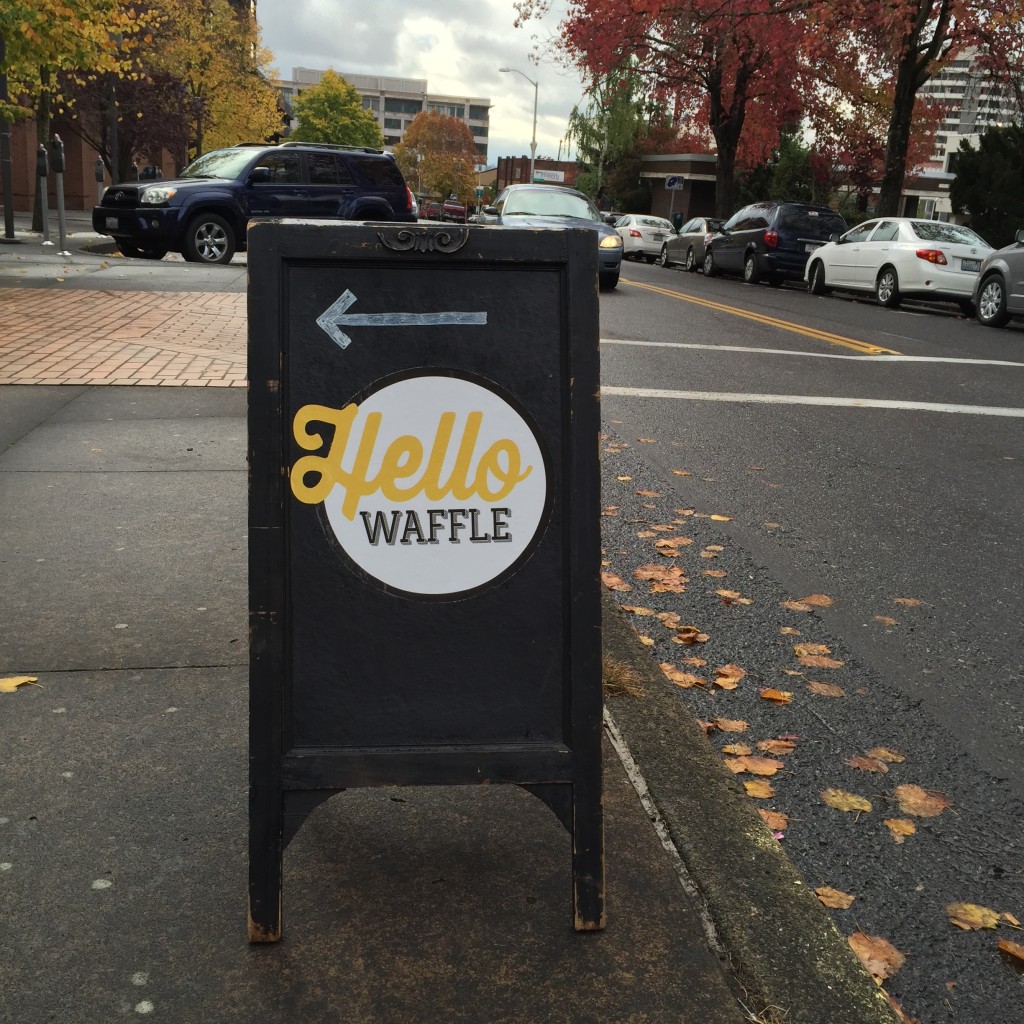 The menu for that day included nutella and bananas, pumpkin spice, caramel apple, maui sunshine, brie and prosciutto, beets and goat cheese, maple bacon banana. We decided on a sweet waffle (pumpkin pie spice) and a savory waffle (brie and proscuitto). The waffles are made with a yeasted dough — which means that yeast is added to the dough and the dough rises overnight. This makes a light, fluffy waffle with a nice chew to it. Each waffle is made to order in a special propane-powered waffle maker from Belgium. The waffles cook for one minute on each side and come out hot and fluffy.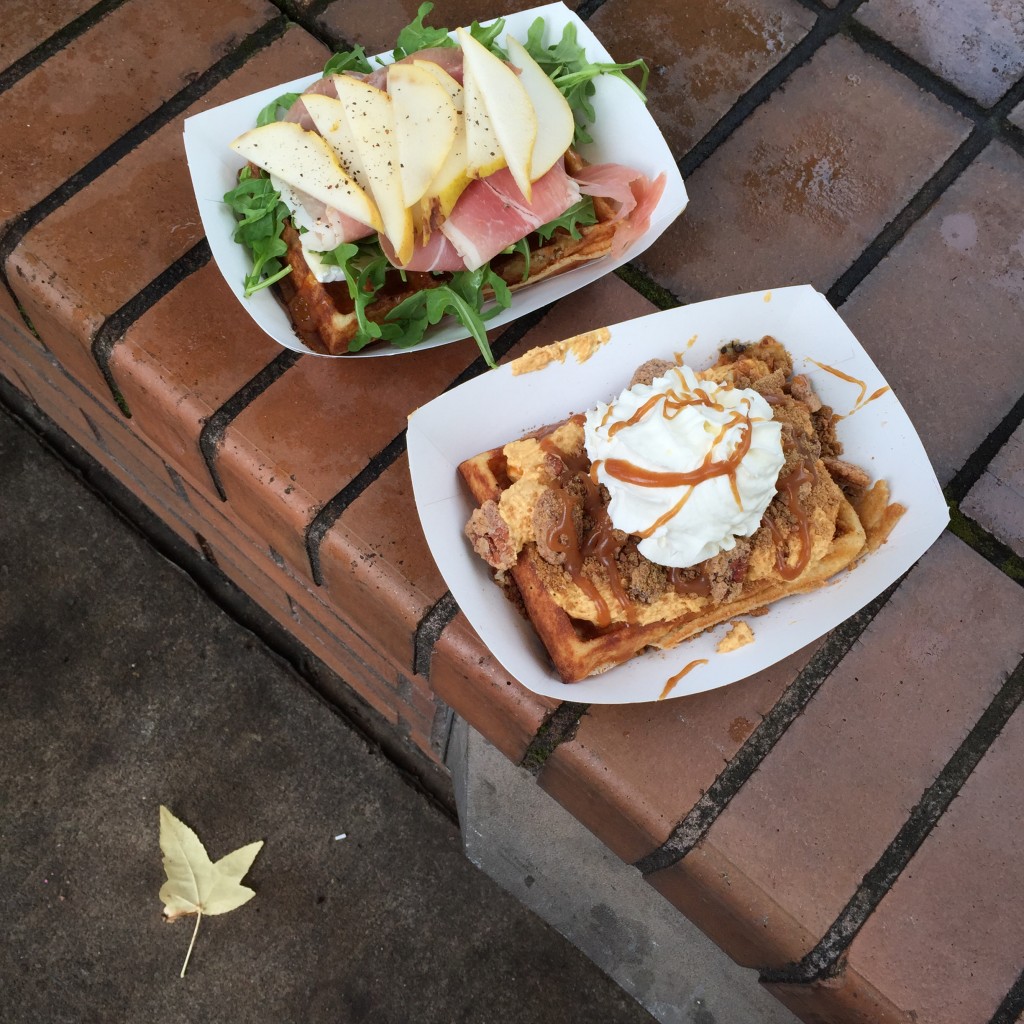 Waffle Cart owner and operator, Arika White, uses homemade toppings — yes, the candied pecans and the caramel sauce are homemade. This type of perfectionism and eye for detail are apparent when you taste the waffles — both of the waffles were a careful mix of savory and sweet. The brie and prosciutto waffle was topped with fresh D'Anjou pear sprinkled with pepper. Beneath the pear was a generous layer of prosciutto. The prosciutto added a nice salty and meatiness to the mix.  Then came a creamy layer of perfectly sliced brie and a sweet and fruity apricot preserve. This waffle was a well orchestrated combination of flavors.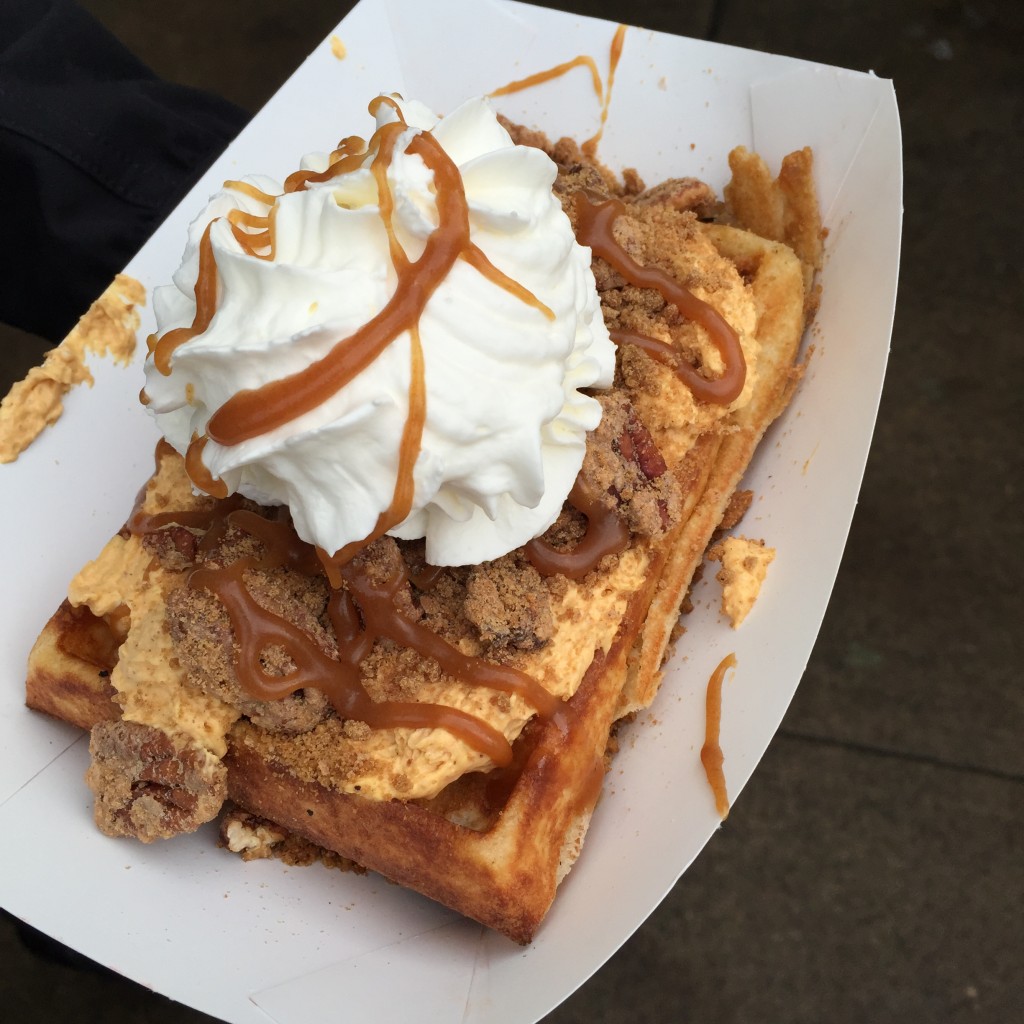 This pumpkin pie spice waffle was super crazy good. Yes, we have all had pumpkin pie flavored everything this season. I was expecting something good, something pumpkin pie-y; but, this was beyond your normal pumpkin pie food item experience. I expected this to be super sweet with a very pronounced pumpkin pie spice flavor.  What I got was something beyond my expectations.
This waffle, like the brie and prosciutto, is a careful mix of sweet and savory. The pumpkin is real pumpkin and the subtle spicing emphasizes its squashness. The pumpkin pie spice isn't aggressively added and contains higher quality spices than the average pumpkin pie spice. The pumpkin pie filling on the waffle is made of pureed pumpkin whipped repeatedly with the cream cheese with a bit of pumpkin pie spice to create a creamy pumpkin pie topping with a mousse-like consistency. The candied pecans and brown sugar topping are homemade and add a nuttiness and crunch. The whipped cream is creamy and fresh –not overly sweet. The caramel sauce is carefully applied and adds a touch of sweetness. Nichole and I both prefer savory to sweet; but, this pumpkin spice waffle was our favorite because it wasn't overly sweet. It reminded me of the subtle sweetness that you find in a well-made pumpkin empanada.
After my visit, I talked to Arika about her waffle cart. She explained how she was a baker with a brick and mortar business with many employees. She decided to get out of the bakery and open the waffle cart because she is a perfectionist and she wanted to make sure that each product that she served to the public was perfect. She also likes to know her customers — she enjoys chatting with them and creating a sense of community that you get when you feed someone and make them happy on a regular basis. All this care, attention to detail, and love for her customers comes through in her waffles. You go, Arika! Thank you for bringing joy to us one waffle at a time.
Hello Waffle Cart posts a weekly menu and a list of daily locations on their Facebook page and on Twitter @hellowafflecart.