The Vancouver Farmers Market Blooms Again with Old Favorites & New Surprises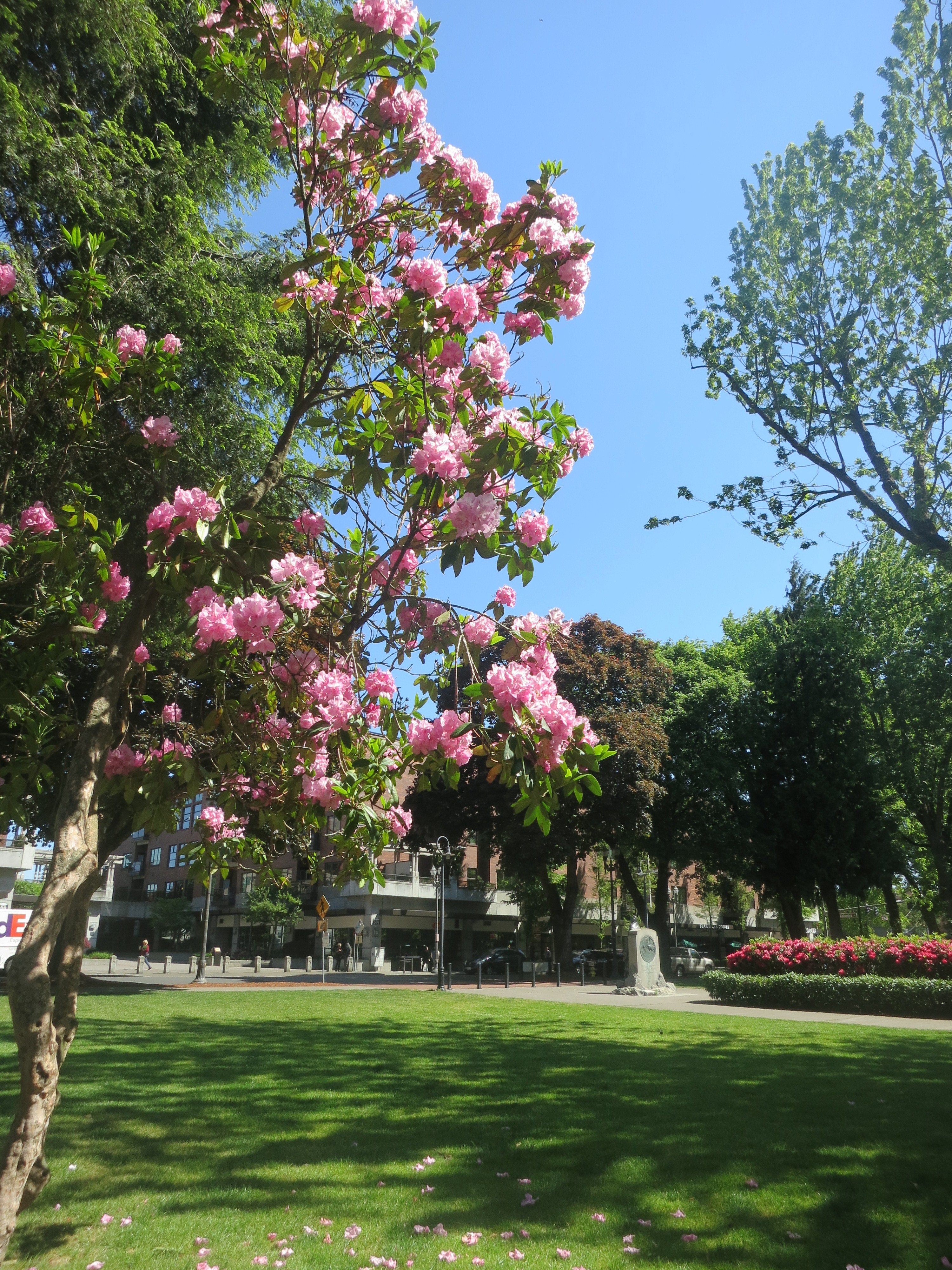 Spring has descended on Esther Short Park in downtown Vancouver. The flowers are in bloom, the water structure is flowing, and the Vancouver Farmers Market is open for business. The Vancouver Farmers Market has all the usual farmers market staples — fresh produce from local farms and beautiful flower bouquets.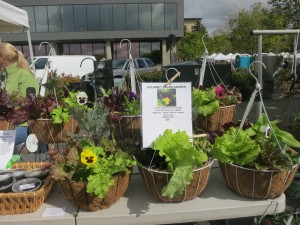 In addition, there are unique items like salad baskets sold by Melissa Rodewald from Century Farm & Nursery ($30 per basket) of La Center. The baskets contain salad vegetables, herbs, and edible flowers. You just trim some of these plants off, add a bit of olive oil, vinegar, salt and pepper to create a perfect salad. Melissa started growing vegetables on the farm to feed her family and then decided to continue growing vegetables to feed other people's families. She does not use any synthetic pesticides or fertilizers. She also offers a variety of small plants so you can start your own edible garden (4 plants for $10).
Fuller Foods has a table from which they sell their Seriously Cheesy Puffs. Cheesy Puffs are made in small batches with all natural ingredients in Portland. To make the puffs — they extude and bake non-GMO corn grits from Bob's Red mill then tumble them with natural safflower oil and seasoners.
The result is Pirate's Booty for growns up or for kids with sophisticated palates. They sell three flavors —  sriracha and cheddar, blue cheese jalapeño, and maple bacon ($4/bag). The sriracha and cheddar and blue cheese jalapeño flavors feature a nice mix of cheesy and spicy. The maple bacon are crazy addictive if you, like me, crave sweet and salty snacks.
The Vancouver Farmers Market also features great local food and drink.  The Mighty Bowl food truck serves up  brown rice and black bean bowls with fresh avocado, cilantro, cheddar cheese and a variety of homemade sauces including their tangy house sauce, a spicy chipotle sauce, and a sweet and mild peanut sauce ($7 for a regular bowl, $7.50 for a large bowl). Sabor Mexicano offers a variety of steamy tamales ($4/tamale) and various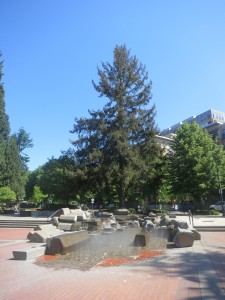 fresh salsas. I tried their green chile and cheese tamale. It was the perfect combination of earthy (the fluffy corn masa), creamy (the melted cheese), and tangy (the green chiles).
And, Torque coffee roasters have a small kiosk where they serve fresh brewed coffee. I indulged in a cup ($2.50 per cup).  Their coffee is rich and full-bodied; so good, that I don't add milk or sugar.  I just like to savor the pure taste of their coffee which is roasted at their nearby storefront (501 Columbia Street).
The Vancouver Farmers Market has some additional benefits like free street parking (by the way —
parking in downtown Vancouver is always free on Saturday and Sunday). And, many family-friendly activities — a large play structure, a water structure to splash in, face painting, and balloon animals.
The Vancouver Farmers Market is open March 21st – November 1st on Saturdays from 9am- 3pm and Sundays from 10 am – 3 pm.  It is located at 6th & Esther Street in downtown Vancouver.