The Nomad — Perfection on a Bun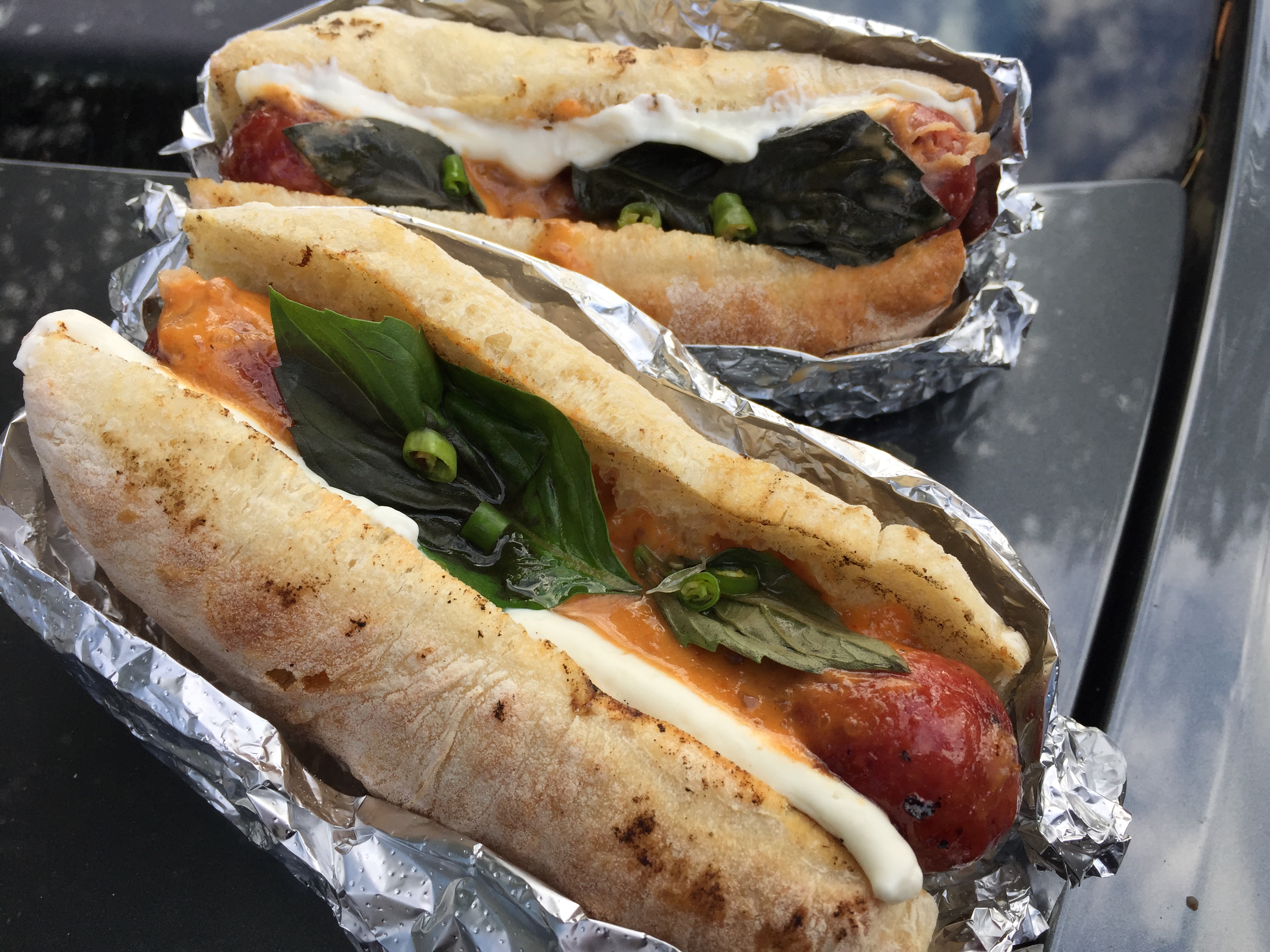 Good food doesn't just happen. It's the result of a conscious effort by someone driven to make something perfect.
Gabriel Woodhead, owner and operator of The Nomad Hot Dogs, doesn't take shortcuts. Every component of his specialty dogs are locally sourced and the highest quality. The buns are freshly made and delivered by Sugar and Salt Bakery. The hot dogs are high quality beef and pork sausages from Top Choice Meat Market. Fresh corn tortillas (for a gluten free experience) are made fresh every morning at Fiesta Mexicana Imports. Shortly after opening The Nomad, Gabriel decided he could have better condiments by making them himself or sourcing them from local businesses that use healthy ingredients. He always has creative homemade pickles and relishes to top the gourmet dogs and specialty dogs — pickled watermelon radishes with black sesame seeds and pickled purple cauliflower are some of his past creations. He is such a perfectionist that even when one of his specialty dogs is successful (i.e. the Buffalo Dog) Gabriel revises it to make it better (The NEW Buffalo Dog).
On Wednesday, Friday, and Saturday, The Nomad operates in a parking lot on Grand Avenue and Evergreen from 11 am – 2 pm. Thursday hours are 11:30 am – 1:30 pm in the same spot. Thursday nights this food cart is at Fortside Brewery from 5-8pm. The daily menu includes a gourmet dog (hot dog, bun, and assortment of condiments, relishes, and homemade pickles) and one specialty dog per day (two on Thursday – one for lunch and one for dinner). The specialty dog is the result of Gabriel's imagination and love for food.
Some past specialty dogs include: the Jamaican Jerk dog (homemade jerk sauce, fresh mango, and fresh cilantro), the Banh Mi Dog (homemade do chua – daikon and carrot pickle, pork pate from Tan Tan Cafe, mayo, fresh cilantro), and the Kimchi Dog (kimchi, hoisin sauce, roasted seaweed/sesame seeds).
There are also past winners from The Nomad's Weird & Worldly contest where customers compete to get a winning hot dog named after them. A past winner was the Bethany Emerson Dog which has brie, homemade garlic mustard, green apple and honey.
Most of the specialty dogs also include a swirl of cream cheese — inspired by Seattle-style hot dogs. I have been pursuing the Kimchi Dog for months; but, it always seems to appear on a day that I can't make it to The Nomad. The specialty dog for the day I made my visit was the Thai Curry Dog.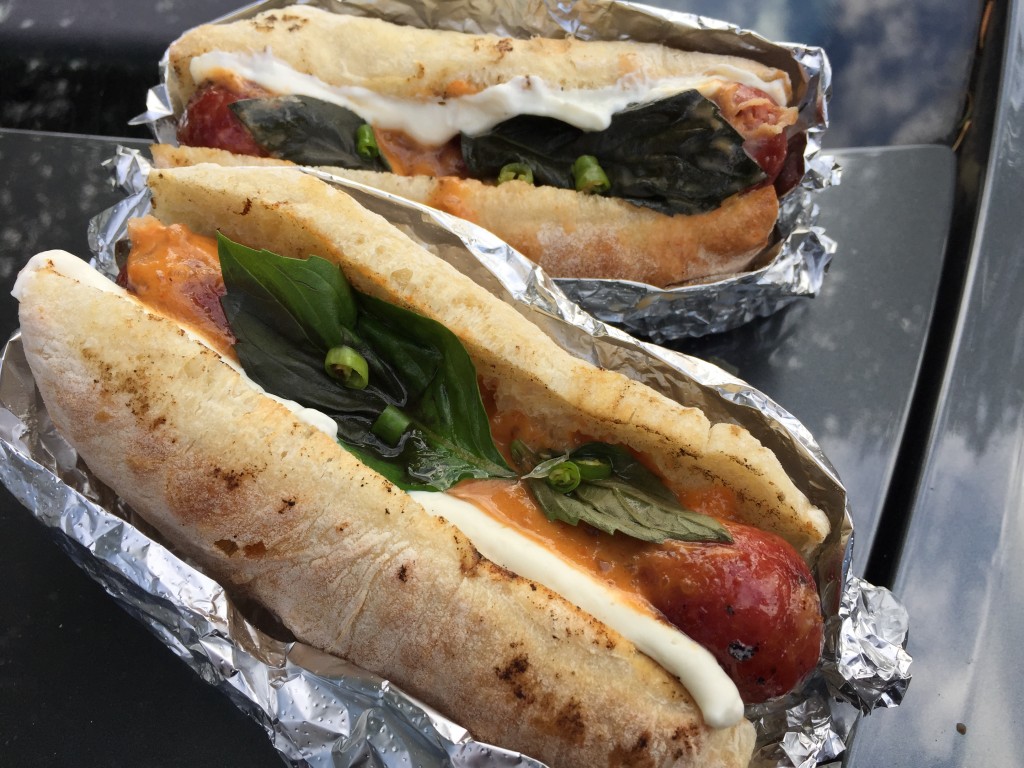 This hot dog is not a mere ballpark hot dog – it is more of a sausage made of high quality beef and pork. It is meaty and thick — it is flavorful; but, not overly spiced. The casing has a nice snap to it. The bun is a ciabatta bun — it has a good chewiness to it and is filled with tiny air pockets that soak of the sauce, condiments, and hot dog juices. There is a hint of sourdough to the bun. The red panang curry is made by Ginger Pop — it is spicy, creamy, and coconut-y. Gabriel's homemade hot sauce has thai chiles, fish sauce, garlic, and lime — it is spicy, salty, citrus-y and adds a nice finish to the dog. Cream cheese was squeezed out of a large silver contraption making a perfect strip on the side of the bun. Fresh basil leaves were placed on top.
Each bite was the perfect mix of flavor.  I hate to even call it a hot dog — the word hot dog brings to mind baseball games and backyard bar-b-ques. I am not a hot dog snob — I like a Nathan's hot dog, I like a Ballpark Frank; but, this is something entirely different. I can only say that you need to try it to understand.
I highly recommend you head to The Nomad as soon as possible.  And, I will continue my pursuit of the elusive Kimchi Dog.
You can follow The Nomad Hot Dogs on Facebook or on Twitter @thenomadhotdogs.  The Nomad is located in the parking lot near Paper Tiger Coffee Roasters (703 Grand Blvd, Vancouver).  The hours are Wednesday, Friday, and Saturday 11am – 2pm.  On Thursdays, the cart is open from 11:30-1:30 near Paper Tiger and 5-8 pm at Fortside Brewing Company.