Slow Your Roll at Low Bar
It is a Thursday afternoon and I am at the Low Bar in downtown Vancouver. Johnny Cash is singing about a man that goes to his grave for a crime he didn't commit because he can't reveal his alibi — he was in the arms of his best friend's wife. I am drinking a cocktail with bourbon called a Kate Hetfield. Despite Mr. Cash's song of woe, I am feeling no pain.
I haven't had bourbon in awhile and I forgot how smooth and smokey it can be with just a hint of sweetness. This particular bourbon is Angel's Envy port barrel aged bourbon. It tastes like burnt toast and bitter chocolate with just a splash of maple syrup. It is made in Louisville, Kentucky by a group of self-described perfectionists and it is miraculous. For the Kate Hetfield, some fresh cherries are muddled in the bourbon, an orange peel is dropped in, aromatic bitters are added, and then a splash of soda water for some effervescence. The Kate Hetfield is smokey, boozy, fruity, and bright — soda pop for big girls (and boys).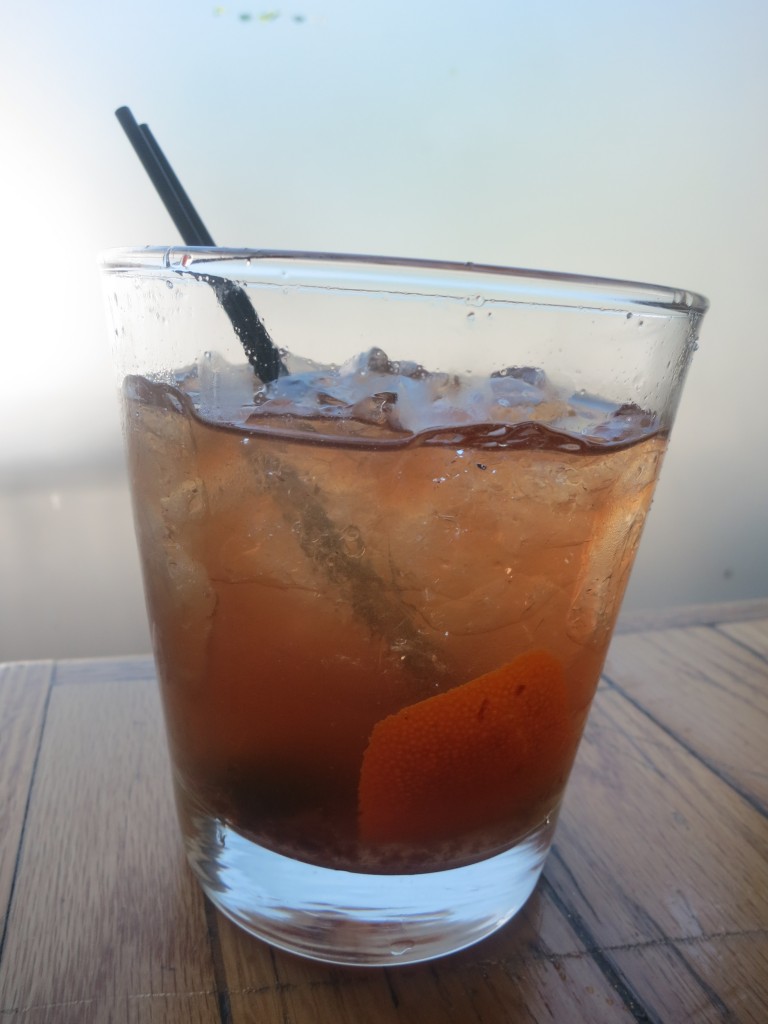 Yes, sadly, the afternoon cocktail has gone out of style. There probably was a good reason for that — people got carried away. Nonetheless, I think it is a good custom to occasionally indulge in and there is no better place than Low Bar. The vibe is dive bar with a cool haircut and a chic pair of jeans — comfortable but cutting edge. A real dive bar doesn't have a stylish website — social media isn't the main concern, the main concern at a true dive bar is watering down the drinks and sufficient security (for more information see the film Roadhouse). I like this nouveau dive bar concept. It is taking something that is an American legend; but, making it comfortable. You don't get the sense that a fight is going to break out or someone is going to steal your wallet.
A couple of other women walked in for lunch. Then a group of guys arrived talking loudly and laughing. The other patrons were two guys with expensive cuffed jeans, fashionable glasses, and Apple laptops sitting each by themselves working. The room was dimly lit and covered in old wood. There were a couple of tables by the window. Then, long tables throughout the main area and then some bar stools at the bar. I was lucky enough to get a window seat. There is something fun about being in a dimly lit bar in the middle of the day looking out into the sun and all those other people who aren't sipping a superior cocktail. It feels like skipping school.
The lunch menu is short and to the point — burgers, sandwiches, salads. But, don't be deceived because here the simple and familiar can be twisted into something new and surprising. I was initially drawn to their grilled cheese sandwich; but, the special was fried green tomatoes. The fried green tomatoes came as an appetizer or on a BLT ($11). I felt there really was no choice. I have never had a fried green tomato BLT and I find it hard to resist an offer of bacon. The sandwich came with a salad or potato wedges called jojos — I got the jojos.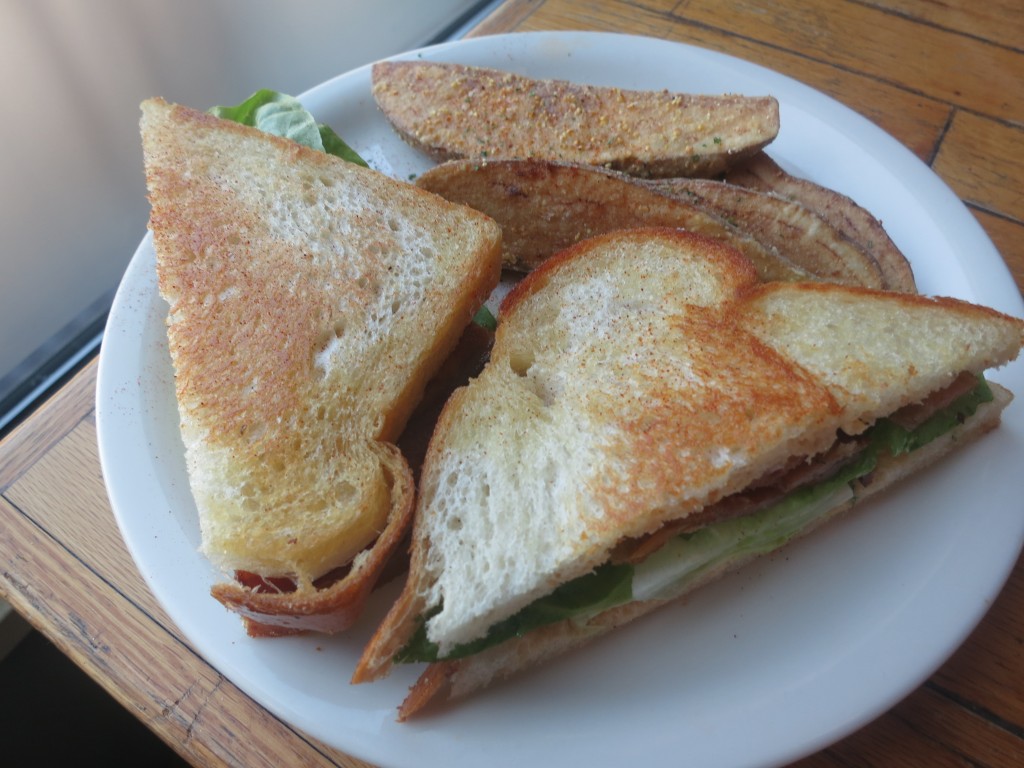 The bacon was crisp, chewy, and meaty. The crisp romaine lettuce was fresh and crunchy. The white bread was soft in the middle and crisp and buttery at the crust with a bit of paprika sprinkled on top for some spice. The fried green tomatoes were lightly breaded and tangy. The jojos were thick potato wedges breaded in flour and corn meal and then fried. The flour and corn meal gave them a nice crunchy texture on the outside. On the inside, the jojos were light and fluffy.  This is what makes Low Bar fun — they can take basic pub grub and turn it into something better. The thinking seems to be give the people what they want but make it better than they expect it be.
After lunch, I strolled into Most Everything Vintage next store. Having a cocktail in the afternoon made me feel the need to find something stylish and unique. Most Everything Vintage has clothing, accessories, locally made candles all carefully organized and curated. I got myself a lady bug necklace and discussed broaches with the owner. She had a lot of good ideas of how to wear a broach and I think I will have to go back soon for something to spice up my collection of drab cardigans.
Low Bar is located at 809 Washington Street in Vancouver.  Their hours are Monday through Sunday from 11am to 2 am.  
Most Everything Vintage is located at 815 Washington Street (look for the Owl on the door) in Vancouver.  Their hours are Tuesday through Saturday 11am – 6pm.