Paper Tiger + Rosycakes = The Perfect Breakfast
It's Wednesday morning, it has been raining so much the last few days that I am ready to build an ark and start rounding the animals up two by two. I have been trying to eat healthy and I made some clean eating muffins.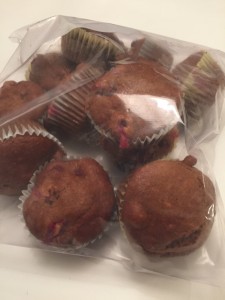 They taste as good as they look. I couldn't even be bothered to open the ziploc bag this morning. I would have my son invite some friends over after school so they can throw them at each other; but, they may break a window or put an eye out. Anyway, I needed something better to eat this morning to lighten up my spirits and take on the day. So, I decided to treat myself to my new favorite breakfast — a cup of house coffee from Paper Tiger Coffee Roasters and a cinnamon roll from Rosycakes Bakery. I first stopped at the bakery.
Rosycakes is a recently-opened bakery located on Grand Avenue and Evergreen. It is owned and run by the Williams family and everything is made fresh, from scratch, everyday. Rosie Williams, the matriarch of the family, started making wedding and birthday cakes in her home in 2012. The business grew and her daughter Kimberly joined her in making the cakes. In 2015, they noticed that a storefront was opened in their neighborhood and they decided to open a storefront bakery. Rosie's husband, Terry, a recently-retired physician, helps with inventory and running the business. He is often in front by the register, chatting up customers.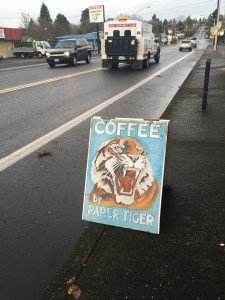 Now that we are in the Christmas season, there are a variety of Christmas cookies — little gingerbread men and women in cute red and white outfits, Santa cookies, and cookies that look like ornaments.  Rosie said that she loves giving the gingerbread people different outfits.  As we were talking, she was putting the final touches on her Star of David cookies for Hanukkah.  Regardless of the season, Rosycakes always seems to have small loaves of homemade breads made of fruit and nuts.  And, there are always their sumptuous cinnamon rolls ($4/roll).  The cinnamon roll is made of a rich pillow of dough wrapped around cinnamon, sugar, and butter.  It is topped with the perfect swipe of cream cheese frosting. The cinnamon rolls are made according to an old family recipe passed on from Rosie's mother who worked at the capitol building in Salem in the 1950s.  This recipe was used to make cinnamon rolls in the capitol building's cafeteria.
Next door to Rosycakes is the Paper Tiger.  The Paper Tiger is owned by Sue and Kenny Fletcher.  Kenny roasts all the coffee in house five days a week. The house coffee ($1.50) is rich, balanced, and full-bodied — a batch of it is made in a french press several times a day.  The interior of Paper Tiger is no-nonsense, the floor is a well worn wood and the tables and chairs are sturdy.  It is a small space with a neighborhood feel to it.  The former owner of the Paper Tiger passed over several other potential owners in favor of Kenny; because, he recognized that Kenny was an excellent coffee roaster with a friendly personality.  Everyone that comes in is greeted like a long lost friend.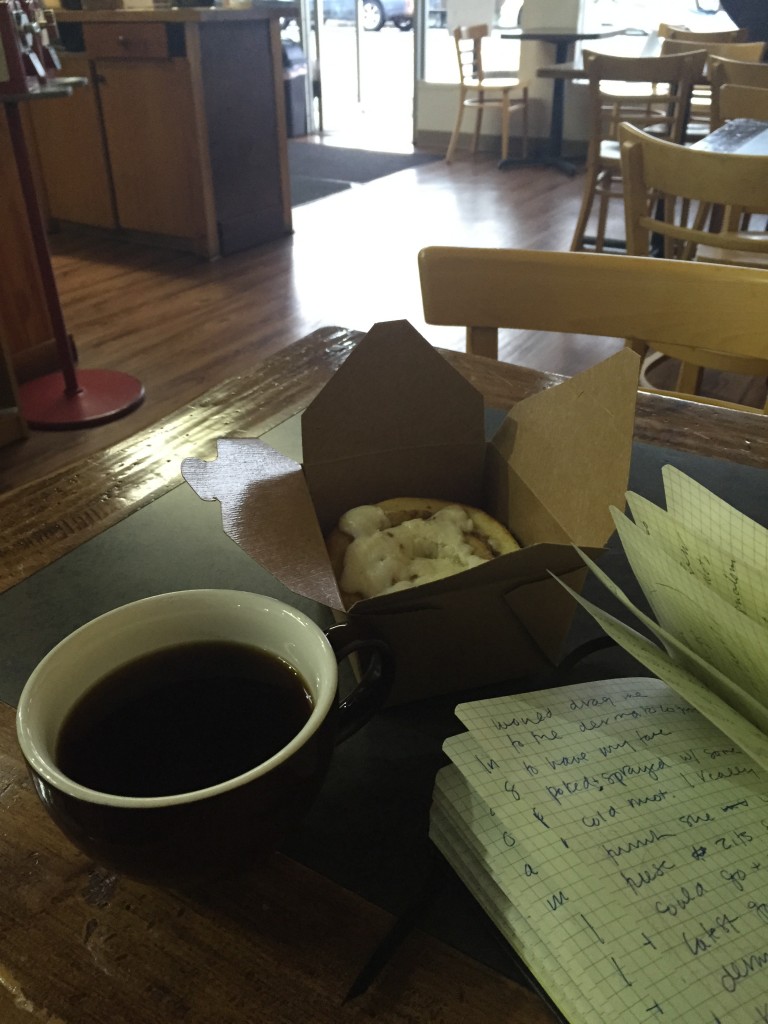 While I was hanging out, a teacher and student from the School for the Blind strolled in to say hi and the teacher grabbed a cup of coffee. Kenny teaches kids from the School for the Blind to roast coffee for their school coffee shop and to raise money for their sports teams. A few other guys stopped by to chat and grab coffee to go. Another woman walked in, sat down, and told Kenny not to bother to get up — she could help herself.
The music you will hear at Paper Tiger will depend on the barista. If you see a tall man, with a shaved head, who looks like he belongs on a motorcycle — that is Kenny. He will be playing something that sounds like there should be a mosh pit — Social Distortion, The Pogues, The Dropkick Murphys, played at a low coffeeshop volume. The music made me miss my well-worn Doc Marten boots that I passed on to my little sister and my restless youth spent loitering around suburban Detroit; so, I was digging it. If you like mellow music, the other baristas play more eclectic and gentler tunes.
The term Paper Tiger means a person or thing that appears threatening but is ineffectual and unable to withstand challenges. I would say that Paper Tiger's coffee could withstand any coffee challenge. This is coffee you drink black and wish that your mug never runs dry. But, Paper Tiger does sounds cooler than just Tiger or Tiger Tiger.
Rosycakes Bakery is located at 701 Grand Boulevard in Vancouver.  Their hours are Tuesday – Friday from 7:00am – 3:30pm, and Saturday from 8:00 am – 3:00 pm.  Call or email to special order birthday or wedding cakes.
Paper Tiger Coffee Roasters is located at 703 Grand Boulevard in Vancouver.  Their hours are Monday – Friday from 6:30am – 5:00 pm and Saturday and Sunday from 7:30am – 2:00 pm.