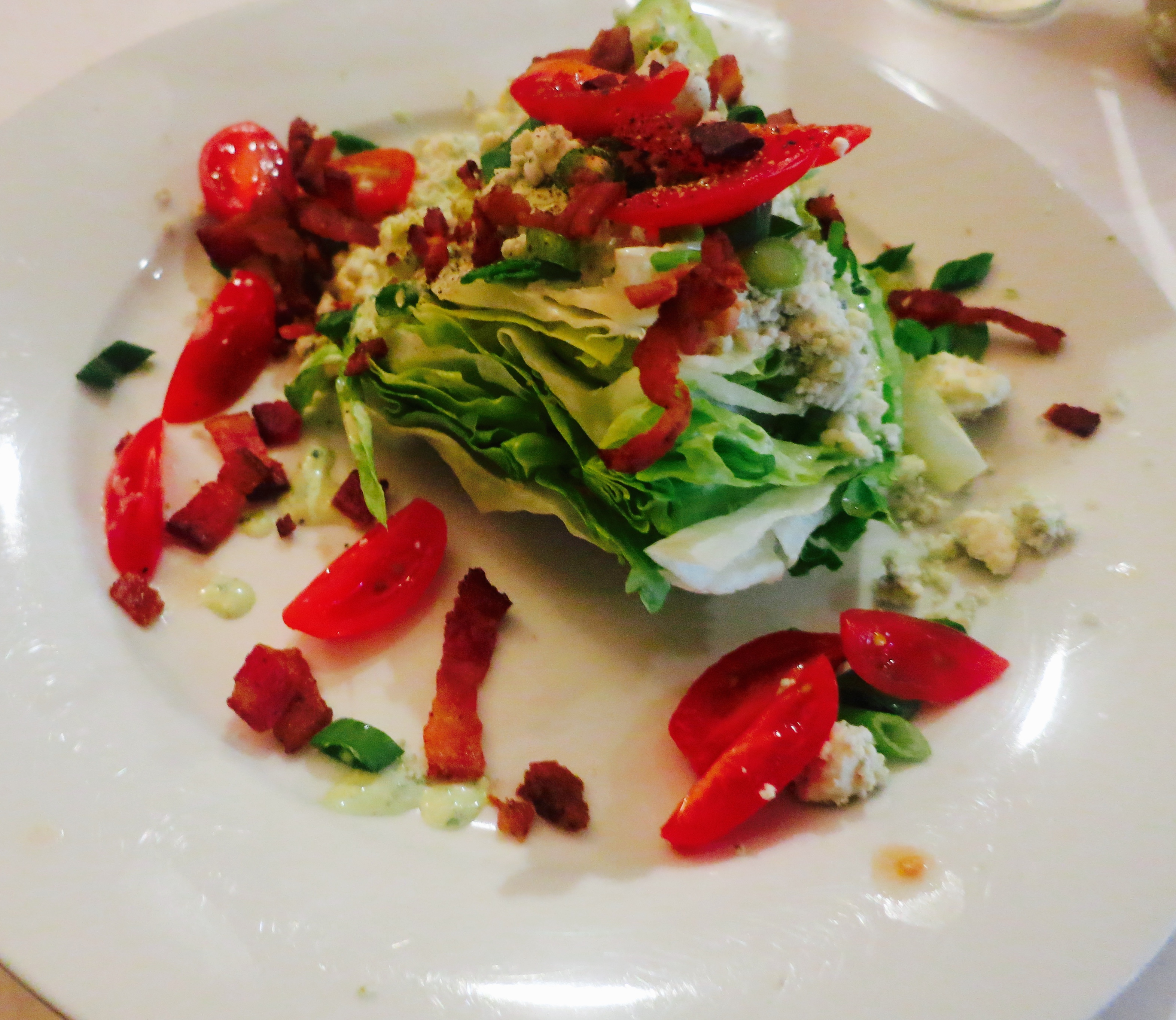 MY WEDGE SALAD JOURNEY — The Good, The Bad, and The Underdressed
The wedge salad is making a comeback in Vancouver.  Or, maybe it just never left.  I consider the wedge salad to be a clever ruse to make someone who wouldn't normally eat a salad as a meal — eat a salad for a meal. It is a BLT in a bowl.  It is a chunk of green consumed before you tuck into your porterhouse. A proper foodie should shun the wedge; but, I am not a proper anything and I will not shun the wedge. The following is a summary of my wedge salad journey through some of the finer establishments in and around downtown Vancouver.
A Brief History
To judge the wedge, it is important to explore this salad's origins. Food historians are puzzled by who the first person to cut iceberg lettuce and toss chopped tomatoes and creamy dressing on top. Iceberg lettuce appeared over 100 years ago as a different tasting, sweeter head of lettuce and it was known as crisphead lettuce. In the 1920s, this lettuce was renamed iceberg lettuce because it travelled well packed in ice. The wedge salad was all the rage in the 1950s and 1960s. In the late 80s the wedge was pushed aside for lighter and more French-inspired salads made of mesclun, arugula, microgreens and splashed with a light vinaigrette. There are variations in toppings (some add hardboiled egg) and a debate over whether to chop the lettuce into quarters or to separate the leaves. These are all a matter of taste. As with any classic that has only a few components, each part of the salad has potential to elevate the dish or make it just ho-hum. In addition, riffing on a classic allows each chef to make their mark. Let's see how three local eateries make this classic.
Wedge 1:  Frontier Public House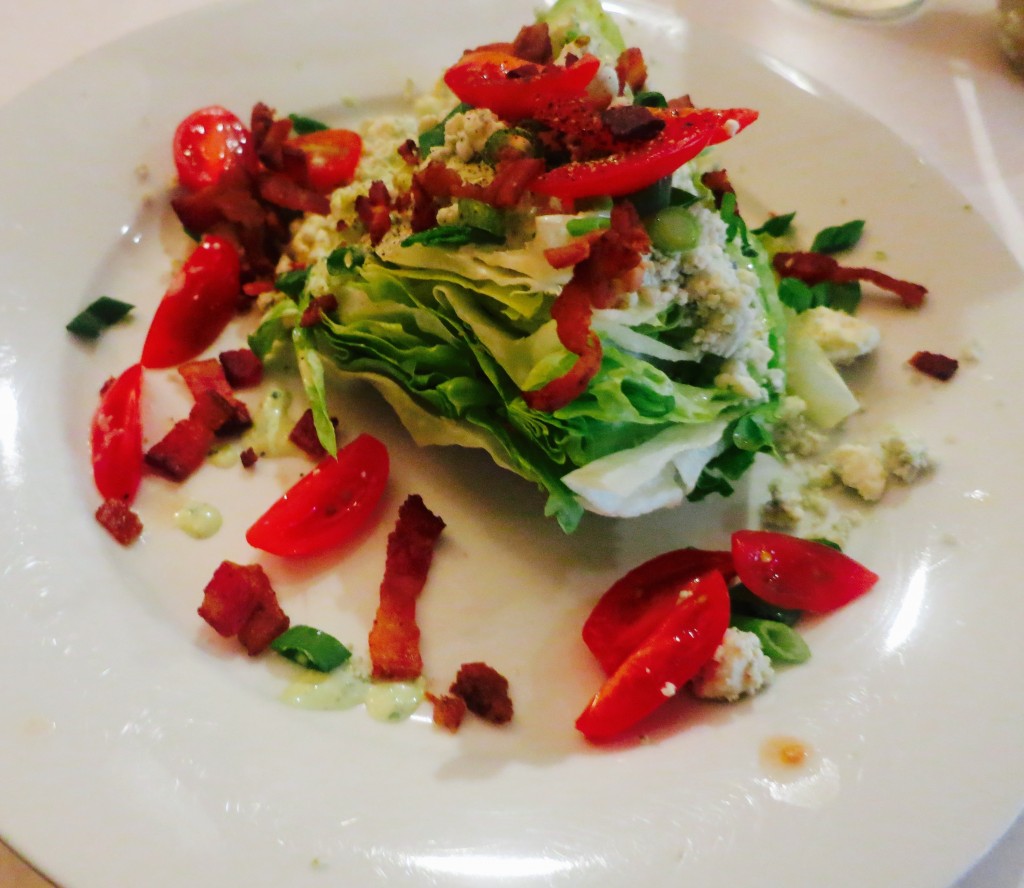 I went to Frontier Public House with my Book Club friends for our every other month happy hour. Every other month, we set aside the pretense that we have to read a book and just get together and drink. This time, we met at Frontier Public House.  This establishment is a bit off the beaten track; but, worth making an effort to find. I would describe the decor as Barbie's hunting lodge — outdoorsy with a girly touch.  The walls have cute deer painted on them and pretty white antlers are mounted near the ceiling. The interior is rustic with a touch of whimsy.  The noise level is moderate so this is a comfortable place for people to meet, drink, eat, and chat.  Their wedge salad was elegantly presented — a nicely portioned wedge of iceberg lettuce chunks of blue cheese inserted into the wedge and sprinkled on top. The dressing had a fresh buttermilk ranch favor spiked with a bit of fresh herbs (the dill stood out) — creamy; but, also light and refreshing. Paprika is sprinkled on top to give it a bit of smokey heat. The iceberg lettuce was crisp and fresh — nicely complemented by sweet cherry tomatoes. The bacon was a high quality meaty bacon cut into little batons. The fresh chopped scallions added a fresh oniony flavor to the salad. This salad was properly portioned and the toppings to lettuce ratio was perfect. Every bite of this salad included a delightful mix of crisp, creamy, herby, and meaty.
Wedge 2: Luxe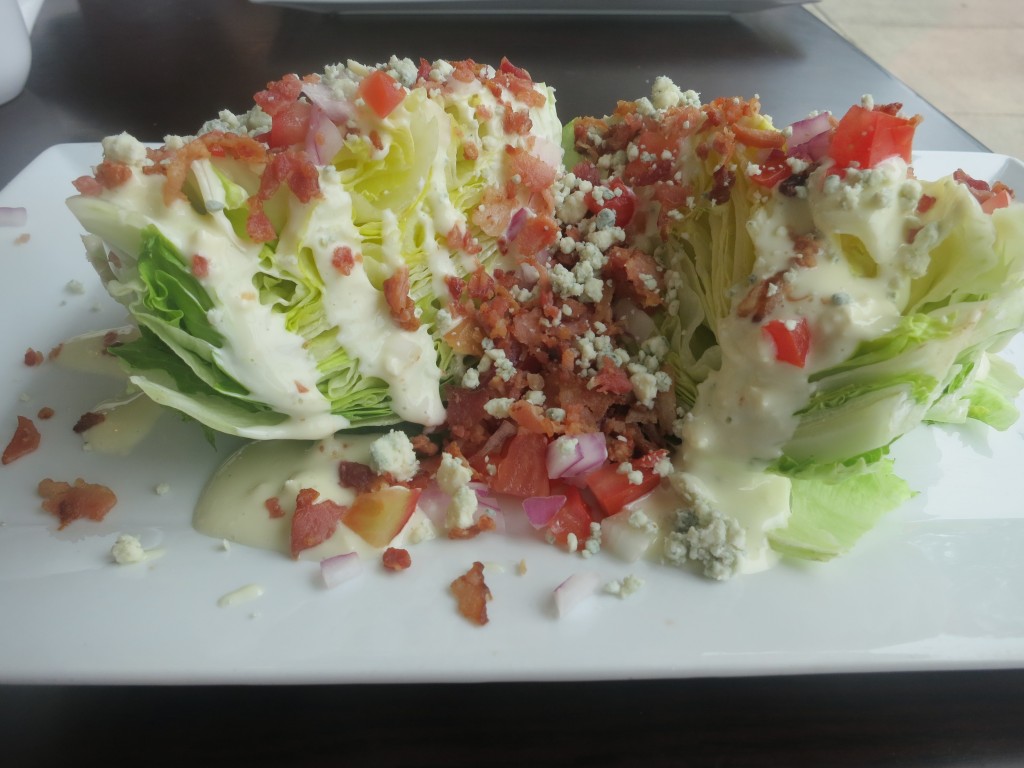 I went to Luxe one afternoon with my daughter as a grown up treat. Luxe is a popular lunch time spot in downtown Vancouver. The decor is sleek and modern — plum, dark grey, and black dominate the room which winds around the windowed exterior. The tables are dark wood and the chairs and stools are cozy and upholstered with a dark grey. The vibe is modern coffee house. This is a comfortable, well-lit spot to take a lunch break, grab a cup of coffee,  or avail yourself of their happy hour specials. The Luxe wedge salad is comprised of two huge mountains of iceberg lettuce. The dressing drizzled over these mounds is thick, mayo-y and sweet. Tiny blue cheese crumbles, bacon bit-y bacon, and small cubes of tomato and purple onion are sprinkled over the top. The lettuce to dressing ratio was a bit off for my taste. At the end of the meal, there are too many forkfuls of bare iceberg lettuce. The bacon did not taste like real bacon — it had a bacon bit taste and feel to it. I also found the dressing too thick and sweet. The salad was generously portioned (definitely enough for a meal); but, the toppings and dressing were lacking in quality and creativity.
Wedge 3:  Low Bar
Sitting in the window at Low Bar with a bourbon-based cocktail is one of my favorite pastimes. Nonetheless, the night that I was on my wedge mission I was determined to be objective. In other words, I didn't drink my cocktail until after I had carefully sampled my salad while trying not to give extra points for the cute vintage fake fire place with its glowing log behind me. The Low Bar wedge is a nice sized wedge of iceberg lettuce covered in a creamy buttermilk dressing. Crumbles of blue cheese are strewn over the top and around the sides. But, instead of just the standard toppings the chef at Low Bar has added some nice innovations — instead of bacon there are crispy fried onions, paprika is added (for a little kick), and fresh cilantro cut into tiny strips adds an fresh herb-y flavor to the salad. The produce (lettuce and tomatoes) were fresh and crisp. The dressing was creamy and not too thick. I also liked that the chef made some unique innovations on this dish. Instead of just walking through this and doing what the diner would expect the chef added twists that elevated this dish to something new and interesting. This innovative take on a classic is what makes Low Bar special and makes it interesting to return repeatedly.
And The Winner Is …..
Frontier Public House. I liked this wedge the best because I found the presentation to be elegant. The lettuce to dressing and topping ratio was just right. In addition, each element of the salad was high-quality and perfectly executed. The lettuce and tomatoes were fresh — they tasted like the farmer had just picked them that day. The bacon was real, high quality bacon, carefully crisped and sliced into perfectly portioned batons. The dressing had real buttermilk and herbs and wasn't overly thick and mayo-y and was nicely accented by a dusting of paprika and fresh chopped scallions. This is a wedge at its best. Nonetheless, the Low Bar wedge is a close second. The dressing and produce were fresh. The lettuce to dressing and topping ratio were good. I also like that the chef added some innovations — crispy fried onions, paprika, fresh cilantro.
We get children to eat carrots and broccoli by dipping them in ranch — we get salad-phobes to eat salad by using the least threatening type of lettuce, smothering it in a creamy cheesy dressing, and then putting bacon all over it. I get it. I was once talked into a 21 day cleanse. Several years later, I am still apologizing for my bad behavior while deprived of caffeine, alcohol, and carbohydrates. I love a wedge; but, if you try to feed me any other salad and call it dinner I can't be responsible for my behavior. And, noting the abundance of wedge salads in Vancouver — I don't think I am alone.
Frontier Public House is located at 4909 NE Hazel Dell Avenue in Vancouver.  
Luxe is located at 700 Washington Street #103 in Vancouver.
Low Bar is located at 809 Washington Street in Vancouver.
You can follow the VancouvEATER on Twitter @VancouvEATER.  You can also email me comments, questions, and restaurant recommendations at vancouveater@gmail.com.