Kid Friendly Eats in Vancouver
The Summer Interns
It is summer and my kids are home all day; so, the Vancouveater had to shift gears from bars to kid friendly venues. Since my children would be coming along I thought I might treat this as a summer internship for them. I could get some help and pass on some of my knowledge as a food blogger. I interviewed them for the position.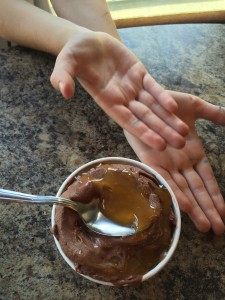 My son offered that he was good at first drafts, got a B in English, and wanted his hands to be internationally famous.
My daughter passed the interview process by smiling and looking cute; but, was soon let go for repeatedly mentioning bodily functions and placing stuffed animals in the all the photos. I explained that we need to be professional — the VancouvEATER has high standards and expects interns to live up to those standards.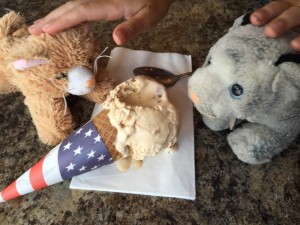 She pretended I wasn't talking to her; so, I was forced to let her go. I told her she could apply for an internship next summer if she worked on impulse control.
In preparation for this article, I polled my friends on Facebook, strolled around uptown and downtown Vancouver, and searched on the internet. Many of my friends suggested The Blind Onion; so, I decided to review it. Woody's Tacos was also mentioned; but I had just reviewed Woody's Tacos. Since it is summer, I decided to add an ice cream place. Ice Cream Renaissance looked cute and the website said that they made their own ice cream, so I decided to check it out.
Ice Cream Renaissance
Ice Cream Renaissance was opened in 2001. It is locally owned. They make all the ice cream in the back of the shop using locally sourced natural ingredients. They do not use preservatives or artificial flavoring in their dairy ice creams. In addition to their traditional dairy-based ice cream, they offer vegan, dairy-free, sugar-free, and gluten-free ice creams. The shop is located in Vancouver's uptown village.  The music is mellow, the space is welcoming. There are two window seats and a couple of arm chairs by the fire place. The other spots are tables and chairs. Art work by local artist, David J. Sorrell, fills the room with uplifting statements like, "keep dreaming," and, "be courageous."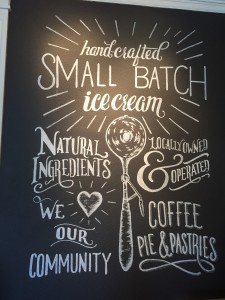 The server was very friendly and patient while the kids decided what to order. They had the basic flavors like vanilla and chocolate, only improved — the vanilla ice cream is a vanilla honey ice cream, the chocolate ice cream comes in two types (old fashioned milk chocolate or bitter-sweet chocolate love). They had a seasonal menu of marionberry, strawberries and cream, coconut luau. They also had a couple of vegan options — mint chip and vanilla bean. And, a variety of toppings — sprinkles, chocolate sauce, butterscotch sauce, caramel sauce. My son chose the vegan mint chip ice cream with butterscotch topping in a cup. My daughter had cookies and cream ice cream with rainbow sprinkles in a waffle bowl. I had peanut butter blitz in an ice cream cone.  A scoop of ice cream is $3.50 and the waffle bowl upgrade was $1.
The Vegan Mint Chip with butterscotch in a sugar cone was fresh, minty, and surprisingly creamy for a vegan ice cream. There were bits of chocolate in it and it had a touch of coconut flavor. My guess is that they make it with coconut milk. The butterscotch was an unusual pairing with the mint chip; but, it was rich and butterscotch-y and tasted good with the cool minty flavor of the mint chip.
The cookies and cream with rainbow sprinkles in a waffle bowl was very good. The cookies and cream ice cream was creamy with nice chunks of crushed oreo cookies. The rainbow sprinkles added a nice texture to the ice cream. The waffle bowl was tasty and fresh. My kids wolfed down their ice cream immediately. Fortunately, there were a variety of board games and books to entertain them while I ate.
I had the peanut butter blitz —  peanut butter ice cream with peanut butter chunks. The ice cream was rich and tasted like real peanut butter. The peanut butter chunks added a contrasting texture to the ice cream. The cone was fresh and tasty  Overall, the ice cream, cones, and toppings were fresh. The ice cream tastes like it is freshly made with high-quality ingredients. The flavors were well thought out. My son and I were very surprised by the creaminess of the mint chip. If it didn't say that it was vegan on the sign I would never have guessed that this was vegan ice cream — it was so creamy and rich.
When I polled my friends about kid-friendly restaurants that are review worthy — independently-owned, local places, where they cook real food — I was repeatedly told about The Blind Onion. The Blind Onion is located on Mill Plain & Grand next to a convenience store and a taxi cab company. It isn't a fancy place; but, it is fun and it is kid friendly. Kids can draw a picture of The Blind Onion (aka Fred), play board games, watch sports events on tv, and eat gooey pizza that is made to order. The music is from the 1980s (Madonna, Bryan Adams, and Bon Jovi were all represented during my visit) and the pizza is from the 1990s (more about this in a moment).  They also have a great selection of local beer on tap.
I was there early in the evening on a weekday. There were some other people there — a few couples in the main area and a couple other families on the side where I was sitting with my kids. My kids liked the free tattoos and stickers featuring Fred, the Blind Onion.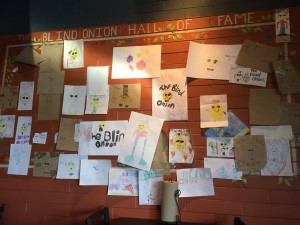 They also drew some pictures of Fred to add to the Hall of Fame on the wall. This is a fun, loud, family place. It's a little gritty. The tables each have a paper towel roll and set of shakers containing parmesan cheese, dried oregano, and crushed red pepper flakes. There is also honey; which, I never thought of putting on my pizza but might be a nice addition. You order at the counter and then the food is brought out to your table. The guys working there were nice and helpful. I wanted to try a variety of menu items so we ordered the Italian chop salad, cheesy garlic bread, and a large cheese pizza.
Italian chop salad ($8.25). This salad is a generous portion. I think it could serve 3 or 4 as a side to their pizza. The romaine lettuce, yellow peppers and red peppers were fresh and crunchy, and the peppers added a sweetness to the salad. The black olives were a nice addition. The salami was chopped into bite-sized pieces and added a saltiness and meatiness to the pizza. I also liked the oregano sprinkled on top.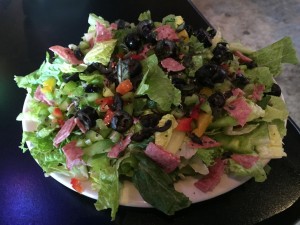 The base of the salad was freshly made, well balanced, nice. But, the dressing is a different story. I had the Italian dressing — it was a bland, food service, pre-made dressing. It was so sad; because, this salad came so close to being great. It doesn't take much to combine oil, vinegar, mustard, salt and pepper. A real homemade dressing would make this a great salad and wouldn't take much effort.
Cheesy garlic bread ($4.75). The cheesy garlic bread was awesome. This is french bread, slathered with garlic butter, topped with mozzarella cheese, and sprinkled with dry oregano. The bottom of the french bread is golden as if it was slathered in butter before baking. This was so good that my son and I were fighting over it. I got distracted by my beer (I had a Loowit Vidalia — a really nice summer beer) and he ate most of cheesy garlic bread while I was enjoying my beer.
Cheese pizza ($17.50). We got a large cheese pizza. I am afraid to say it; but, the pizza isn't very good. I know that my friends and so many people in Vancouver who love this place will be ticked at me; but, I need to call it as I eat it. This isn't pizza made from someone who studied with the masters in Naples, Italy. This isn't pizza made by a Food Network devotee.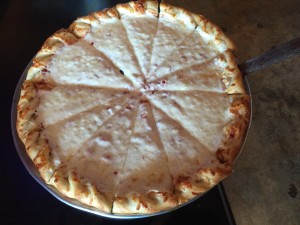 This isn't Chicago deep dish and it isn't California thin crust. This is dorm room pizza, this is sports pizza, this is the pizza I made at my college job (circa 1993), this is pizza destined to become couch pizza. I get it. Pizza isn't fancy and shouldn't be fancy; but, it needs to have some flavor. It could be argued that toppings would improve the pizza. I have given this idea some thought; however, the basis for all other pizzas is the cheese pizza. If the base of the pizza isn't done right a bunch of toppings are not going to help. The crust was puffy, chewy, doughy. It didn't have much flavor but it was properly cooked in the pizza oven and had a nice texture. The sauce was sweet but lacked any balancing spice or salt. The cheese was just a huge flavorless blob of white stuff. This pizza needs a makeover. I liked the 1990s. I still bring out the Nirvana CDs and look longingly at the Doc Marten store in Portland; but, I have moved on and this pizza needs to be updated. It doesn't have to be Italian, or deep-dish Chicago style, or thin-crust California pizza.  Pizza isn't meant to be fancy food; but, it does need to taste better than Domino's pizza if you want people to show up and spend $17.50 on a large cheese pizza.
Ice Cream Renaissance is located at 1925 Main Street in Vancouver.  They are open: Sunday – Thursday, 12:00 pm – 10:00 pm; Friday – Saturday, 12:00 pm – 11:00 pm.  
The Blind Onion is located at 2900 E. Mill Plain Boulevard in Vancouver.  They are open: Monday – Friday, 10:30 am – 10:00 pm; Saturday from 12:00 pm to 10:00 pm; Sunday from 3:00 pm – 9:00 pm.  The link in this blog post is to their Portland store — the menu is the same as the Vancouver store.