Artisan Alley — Woody's Tacos and Treat Bakery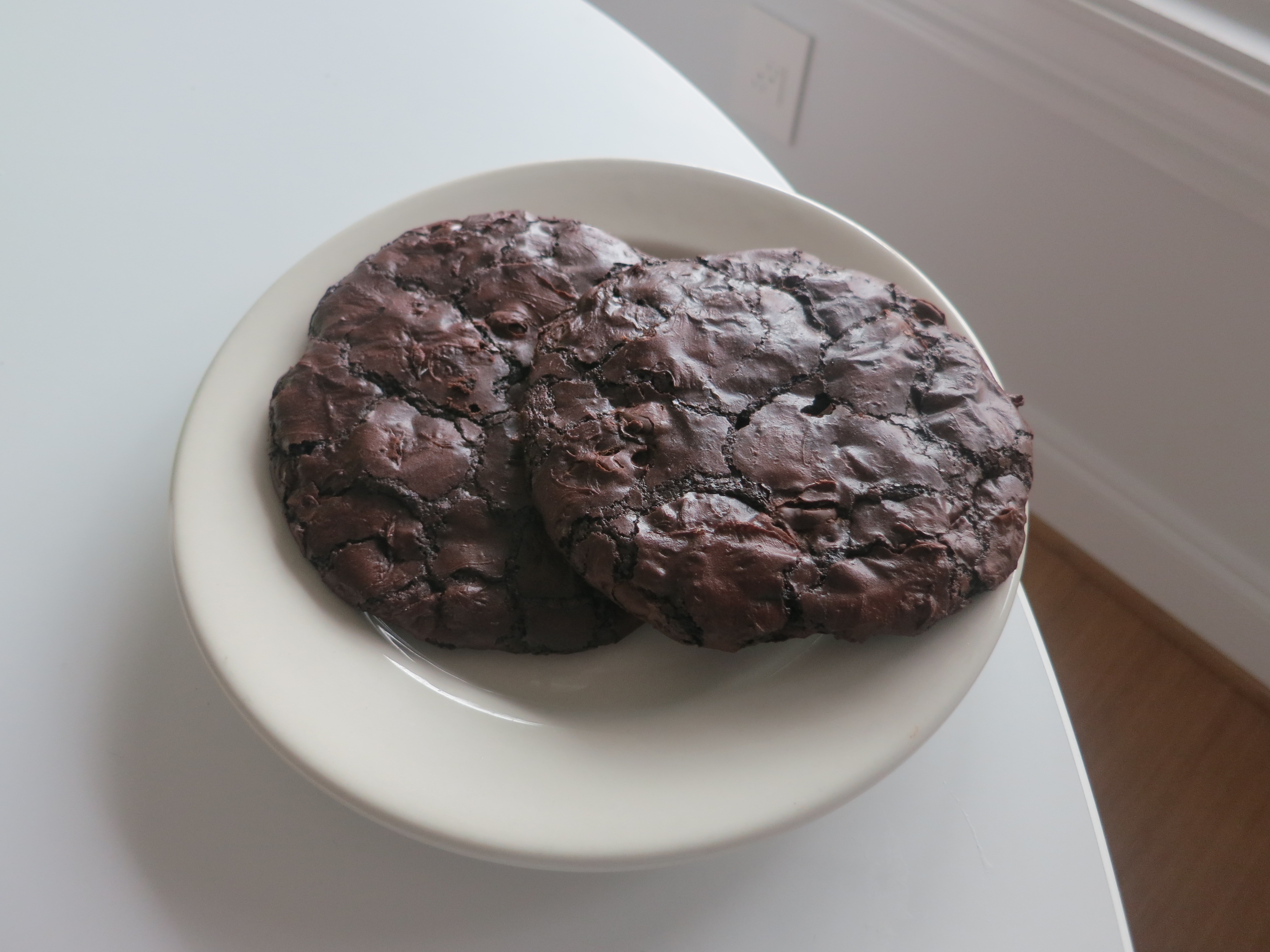 Evergreen between Columbia Street and Washington Street is my happy place. This is the stretch of downtown Vancouver you will find if you like to wander, or if you're like me, you bug everyone you know about their favorite places to eat in Vancouver and they say Woody's Tacos.
Woody's Tacos
I found out about Woody's Tacos from a friend who is a nutritionist. I was explaining to her that I was looking for a healthy dining option where I can bring my kids. There are good dining options in downtown Vancouver but they all seem to be bars, brew pubs, places for grown ups to drink. Woody's Tacos is more a G-rated affair.
It has an unusual set up. You order at the register in the bar area.  There is usually a long line. It moves fast. On my last visit, the owner was there taking orders and checking the food. This is always a good sign.  There are two spots to dine — the bar area where you order and the atrium just outside. The bar area is the perfect place to hang out with yourself and maybe a friend or two and get a beer and a taco. If you are with a larger group, or children, or just want some space, the atrium is an excellent option. The atrium has a fountain and artwork spills from the art gallery that is attached. Even when it is crowded the sound is muffled. It is peaceful and also a great place to dine with little ones who are free to move around.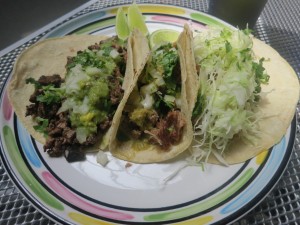 The thing that brings me to Woody's Tacos again and again are the tacos.  There are not many elements to make a perfect taco (tortilla, meat/veggie, salsa, cilantro, onion) but each needs to be perfect. There is no room for error. First, you need a fresh corn tortilla. When I say fresh, I mean a corn tortilla that was pressed and grilled that day. Woody's scores high marks in this category. The corn tortillas are pliable — they don't break when you stretch them around the taco fillings.  They are flexible and bend easily around the filling. They also have a good texture — your teeth sink into them and they have a slight chewiness.
The next issue is the filling. First, there is the protein (meat, fish, shrimp) or veggies. I tried the fish tacos, the carnitas taco, and the carne asada taco. I had the carnitas and the carne asada with the tomatillo avocado salsa. The carnitas had the proper slow cooked fall apartness and crispiness from the frying pan. The carne asada had a nice meaty flavor and the proper chewiness. Then there is the salsa. On both tacos, I had the roasted tomatillo avocado and green chile salsa. I ordered the hot salsa on the carne asada but it came with the tomatillo. This is a minor snag — all things considered. The tomatillo avocado salsa had a bright tanginess and a bit of spiciness that was a perfect contrast to the meatiness of the carne asada and the porkiness of the carnitas. The purpose of the salsa is to add a light note to the meaty greasiness of the meat. This salsa ably served its purpose. All the tacos also have chopped onions and cilantro. These toppings were fresh and added the right accents.
The carnitas and carne aside tacos were good ($2.99 each) . They were righteous tacos that rival any California or Mexican taco. But, the star of the show is the fish taco ($3.29). Not the healthiest choice but definitely the tastiest. The breaded and fried fish is fresh — the breading is light. The lime crema is creamy and tangy and bright. The cabbage, cilantro, onions, and chopped tomatoes are fresh and add a good amount of crunch and freshness. The fish taco is one of those things you wish would never end. I recommend that you slowly savor every bite or order more than one.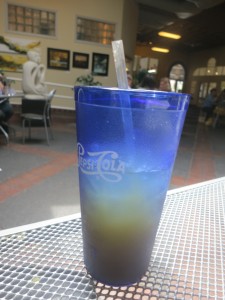 Beverages include beer, soda, and aqua frescas. The agua fresas ($2.50) are freshly made and vary from visit to visit. The day I was there strawberry or pineapple were available. I chose pineapple. The pineapple was fresh, the aqua fresca was sweet but not cloying — it was a perfect balance between sweet, tart, and refreshing.
On Woody's Taco's website there is a lot of information about the owner's travels in Mexico. You can tell his experience in Mexico was life-changing and he was truly inspired by the food there and he has worked hard to recreate that experience for us.  This isn't easy food to make, but is is easy to appreciate it.
Treat Bakery
You walk into Treat Bakery and you think, this is perfection. Someone worked hard to make sure everything is just so. You expect Martha Stewart to appear freshly coiffed and carefully dressed. But the owner is in fact, Stephanie McNees, a native Vancouverite. And, Stephanie is no less a perfectionist than Ms. Stewart. She opened Treat five years ago after moving back home to Vancouver from Washington, DC.  During her time in DC as a political staffer, Stephanie discovered she liked to bake and was good at it.  She also experienced world-class bakeries while traveling for work which informed and inspired her baking.
Stephanie started Treat as a cupcake shop during the cupcake craze several years ago. Now, she bakes a variety of cutting edge baked good and seasonal treats. She keeps track of what is going on at the best bakeries around the country (she mentioned Craftsman and Wolves in San Francisco as an ongoing inspiration) and she keeps track of the best baking products available. Stephanie was excited about a new Valrohna product called caramelia that tastes like caramel and chocolate. She plans to use it in her Father's Day cakes.
I have visited Treat many times. I am often drawn in by their cute festive frosted sugar cookies (bunnies for Easter, shamrocks for St. Patrick's Day). When I arrived on this visit raspberry jammers ($1.50) and strawberry rhubarb galettes ($4.00) had just come out of the oven. Baker Ian Bader was carefully shaping more strawberry rhubarb galettes on a long baking sheet.  The perfume of the fresh strawberries and rhubarb filled the store — I needed a raspberry galette immediately!  I also got a frosted sugar cookie with sprinkles ($2.75) , some raspberry jammers, a cheesecake brownie ($3.00), and some brookies (brownie + cookie = brookie) ($2.50).
I brought this box of loot home and realized there was too much for just one person — even the VancouvEATER has her limits. So, I invited a friend over to help sample. My favorite was the strawberry rubarb galette. Fresh strawberries and rubarb placed in a flawless pie crust sprinkled with just the right amount of brown sugar. The galette was a nice size (about the size of my hand) — easy to serve and just right for one hungry person or two moderate eaters. My friend liked the raspberry jammers. The crust was flaky like pie crust not the shortbread you would expect. The jam was fresh and the crumble added a nice texture.
When my kids got home from school, they voted on their favorites. My son liked the cheesecake and chocolate brownie. The cheesecake was creamy and tart and melded perfectly with the rich chocolate. The cheesecake brownie was gooey — taken out of the oven just before it firmed — perfect. My daughter is a huge brookie fan, but she was also won over by the vanilla frosted cookie with sprinkles. She spent a lot of time sampling each and couldn't come to a decision regarding her favorite.  The vanilla cookie was crisp and flakey and tasted like real vanilla. It also had just a pinch of salt to accent the sweet. The frosting was rich and creamy. This was very sweet compared to the other baked goods, so if you like sugary, this is your cookie.  The brookie was chewy, gooey, and chocolatey but not as dense as a brownie. It is the perfect marriage of a rich brownie and a light crisp cookie.
The thing that stands out about both Woody's Tacos and Treat Bakery is that you get the strong feeling that someone really cares about the food they are serving. They are working hard to make sure their food meets the high standard they have set based on their travels. This is food they fell in love with and they want us to experience it without leaving Vancouver.
Woody's Tacos is located at  210 W. Evergreen Boulevard in Vancouver.  Their hours are Monday – Saturday from 11:00am – 9:00 pm.  They have a Happy Hour from 3:00 pm – 6:00 pm.  They are closed on Sunday.
Treat Bakery is located at 210 W. Evergreen Boulevard #600.  Their hours are Monday – Friday from 7:00 am – 4:00 pm and Saturday from 9:00 am – 4:00 pm.