Portland State fires Nigel Burton after 3-9 season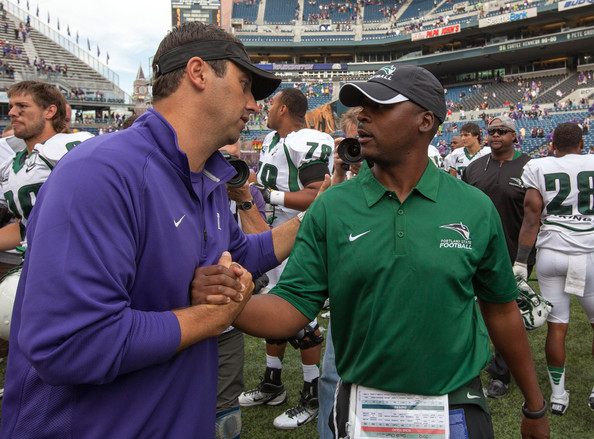 Portland State is making a change at head coach, firing Nigel Burton after the Vikings went 3-9 this season.
Three players from Clark County were on the Vikings roster this season — Junior quarterback Kieran McDonagh (Skyview), redshirt freshman linebacker John Norcross (Camas) and junior linebacker Brandon Brody-Heim (Union).
Here is the release from Portland State:
Portland State University announced Wednesday that Head Football Coach Nigel Burton's contract is being terminated. During Burton's five years at PSU, the Vikings posted 21 wins to 36 losses, including a 3-9 record this season.
"We appreciate what Coach Burton has done for the program," said Interim Athletic Director Valerie Cleary, "but we believe new leadership gives our talented players a chance to make a fresh start."
Cleary and President Wim Wiewel informed Burton of the decision on Wednesday morning. Burton was hired to replace Jerry Glanville in 2009. Prior to coming to PSU, Burton was a defensive coordinator at University of Nevada.
"Coach Burton had a good second year, and he was very successful at recruiting players from Oregon and Washington, and has two former players now playing in the NFL," Cleary said. "We have great student-athletes and staff. They deserve the chance to be successful."
PSU Vikings Offensive Coordinator Bruce Barnum has been named the interim head coach. A native of Vancouver, Barnum has been the OC for the past five seasons.
Burton has one year left on a three-and-a-half year contract. PSU will pay him the remainder of his contract at $187,500. Under the terms of his contract, if Burton is hired elsewhere next year, he will receive less than that amount and would be paid the difference between his contract payout and a new salary.
"I want to thank our alumni and fans and remind them that it's an exciting time for all of PSU Athletics," Wiewel said. "We'll soon be hiring a new athletic director who will decide on a permanent head coach and start construction on our new Viking Pavilion Athletic and educational building."