Preview: Eastern Washington at Washington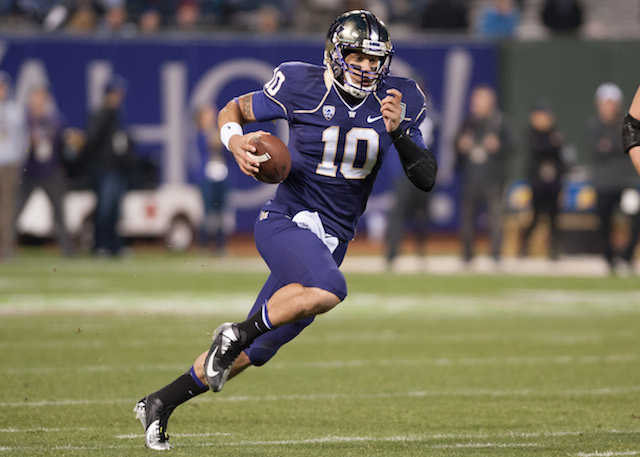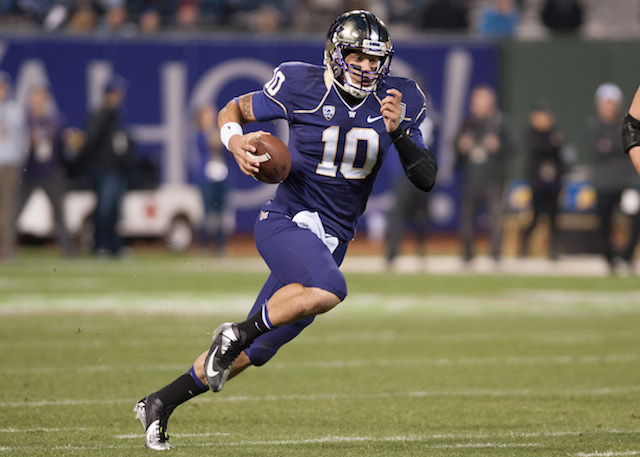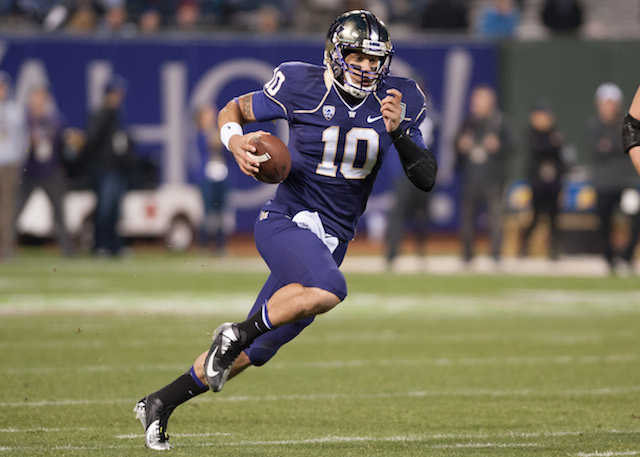 The state's best small-college team takes on the state's most prominent Saturday in Seattle.
It also marks the first home game of the Chris Petersen era for Washington, the first of four consecutive games by Montlake.
Husky fans will also see the debut of Cyler Miles as the first-string quarterback. After serving a one-game suspension, Miles was handed the keys to the offense after a Jeff Lindquist's lackluster showing (10-for-26, 162 yards) in last week's 17-16 win over Hawaii.
With new starters at nearly every skill position, some hiccups were expected on opening week. But that lack of firepower almost cost the Huskies, who punted on eight of nine second-half possessions. One bright spot — Sophomore John Ross showed his big-play ability with a 91-yard touchdown pass, a 20-yard TD on a reverse and a 40 yard kickoff return.
With Miles, UW now has a quarterback who can run. That extra assignment for the defense could allow more space for running backs LaVon Coleman and Dwayne Washington, who combined for 116 yards on 29 carries last week.
On defense, Washington's experienced defensive front surprisingly allowed 217 rushing yards to a Hawaii team that averaged 114.3 yards per game last season. Three true freshmen saw action in the defensive backfield, including Budda Baker, Darren Gardenhire and Naijiel Hale.
Eastern Washington almost knocked off UW the only time the teams have met, a 30-27 Husky win in 2011. The Eagles, ranked No. 2 in the FCS, have the weapons to knock off a Pac-12 opponent for the second consecutive season.
It all starts with quarterback Vernon Adams, who is among the top FCS players in the country. He was nearly perfect in last week's 41-9 trouncing of Montana Western, completing 28 of 31 passes for 370 yards and five touchdowns.
Adams' top receiving weapon, Cooper Kupp, will be back in action after resting a sore ankle last week.
Eastern Washington at Washington
When: 12 p.m. Saturday at Husky Stadium, Seattle
TV, radio: Pac-12 Network, AM-1550
Records: EWU (2-0), UW (1-0)
Key to game: When Adams gets in a rhythm, Eastern Washington's offense is capable of producing some impressive numbers. The strength of Washington's defense is in senior linemen Hau'oli Kikaha and Danny Shelton, who had two sacks and a career-high 12 tackles at Hawaii. UW will win if that defensive front can pressure and contain Adams.
Local angle: Eastern Washington kicker Roldan Alcobendas, a redshirt freshman from Camas, has made 13 of 14 extra points this season. He has not attempted a field goal. T.J. Boatright, a junior from Union, made his first start at center last week.
Quotable: "It's a different swagger when he's out there. He's another Keith Price. He's changing plays, he's reading coverages, he's faking the defense out with this, that. It's amazing to see him do. When he rolls out, he's still looking down the field, keeping his arm square. If he has to run, you know he can run. He's making everybody else play better." UW receiver Jaydon Mickens on Cyler Miles.
Prediction: Washington 28-24