Weekend roundup: How Clark County players fared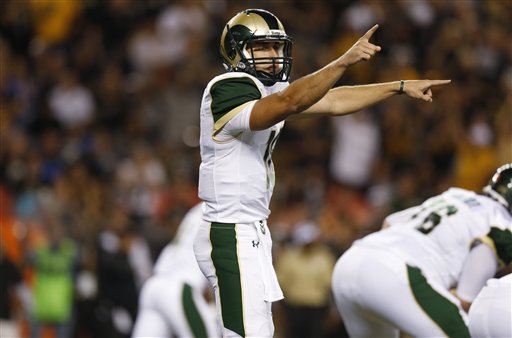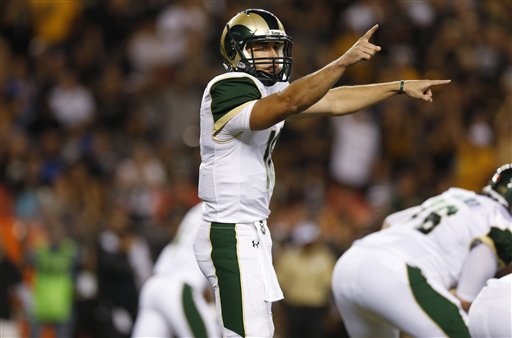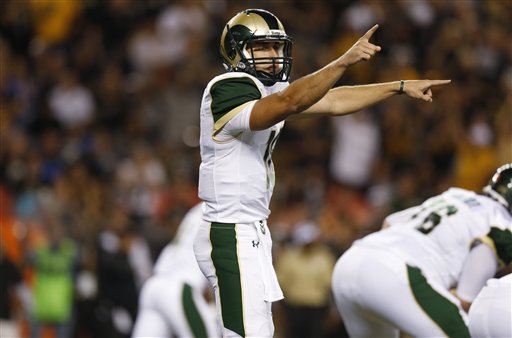 From a senior quarterback leading Colorado State to victory to a freshman kicker making his debut for Washington State, the opening weekend of college football was busy for Clark County athletes.
Each week, Tailgate Talk will publish a list of each local player whose college teams were in action.
* — has used redshirt year
Colorado State
Garrett Grayson, Heritage, Sr. QB — Grayson completed 13 of 23 passes for 134 yards and one touchdown in the Rams' 31-17 win over Colorado on Friday.
Eastern Washington
Roldan Alcobendas, Camas, Fr.* K — Made five of six extra points in Eastern's 41-9 win over Montana Western on Saturday.
T.J. Boatright, Union, Jr.* OL — Made his first career start at center for the Eagles, which tallied 598 yards of total offense.
Zach Eagle, Camas, Fr. WR — Did not play
Reilly Hennesey, Camas, Fr. QB — Did not play
William Lopez, Skyview, Fr.* TE — Did not play
Idaho
Buck Cowan, Union, So., WR —Idaho's game at Florida was suspended after one play because of lightning and torrential rain.
Idaho State
CJ Hatchett, Heritage, Jr.* WR — Played but did not make a catch in the Bengals' 56-14 loss to Utah.
Montana
Ellis Henderson, Skyview, Jr. WR — Had five receptions for 48 yards in the Grizzlies' 17-12 loss to Wyoming.
Mitch Saylor, Union, Sr. TE — Had two catches for 20 yards.
Addison Owen, Camas, Jr.* DE — Played, but did not record a tackle.
Ryan Johnson, Mountain View, So.* DE — Did not play.
Montana State
Odin Coe, Camas, Jr. DE — Had two tackles in the Bobcats' 37-10 loss to Arkansas State.
Oklahoma
Jed Barnett, Union, Sr. P — Had one punt for 43 yards, which was not returned, in the Sooners' 48-16 win over Louisiana Tech.
Oregon State
Drew Clarkson, Camas, Fr. OL — Did not play.
Portland State
Brandon Brody-Heim, Union, Jr. LB — Had four tackles, including half a sack, one tackle for loss and one pass broken up in the Vikings' 29-14 loss to Oregon State.
Kieran McDonagh, Skyview, Jr. QB — Completed 7 of 16 passes for 52 yards and one interception. He also caught one pass for six yards and rushed for minus-10 yards on two carries.
John Norcross, Camas, Fr.* LB — Did not play.
Southern Oregon
Austin Dodge, Skyview, Sr., QB — Completed 23 of 37 passes for 321 yards and four touchdowns in the Raiders' 51-14 win over Menlo. He also rushed for 24 yards on six carries. He gave way to SOU's backup QB midway through the third quarter.
Dylan Bratlie, Skyvew, Jr. OL — Did not play.
Antonio Pulido, Heritage, Fr. DL — Did not play.
Max Proudfit, Union, Jr. OL — Did not play.
Washington State
Erik Powell, Seton Catholic, Fr.*, K — Powell made all five of his extra points and a field goal from 22 yards in WSU's 41-38 loss to Rutgers. He missed a 50-yarder that hit the upright on the final play of the first half.
Parker Henry, Skyview, So.* LB — Did not play.
Did I miss anybody who played this weekend? Email micah.rice@columbian.com or tweet @Col_mrice