Pac-12 Media Day Coachspeak Bingo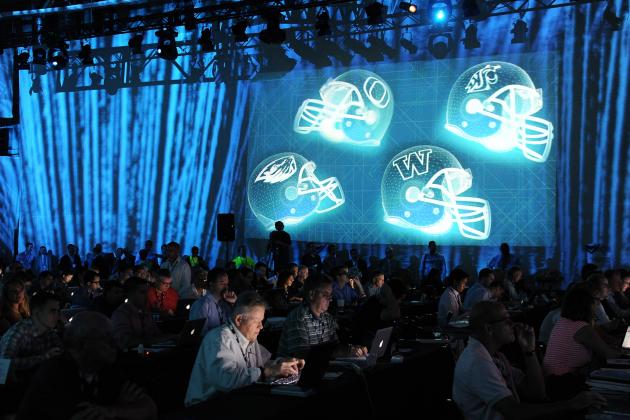 It all begins tomorrow. Pac-12 Media Day is a two-day extravaganza of characters and cliches to get us ready for the football season, which is still more than a month away.
As promised, here is a game to help survive the blizzard to quotes that sound impressive but actually don't say much.
Coachspeak bingo includes phrases that coaches almost always say. But in a twist, we're including some phrases we HOPE each coach of a Northwest Pac-12 team actually says.
New Washington coach Chris Petersen will probably talk about how excited he is to coach his first game for the Huskies. But we hope he drops a line such as "I actually have proved I can beat Oregon."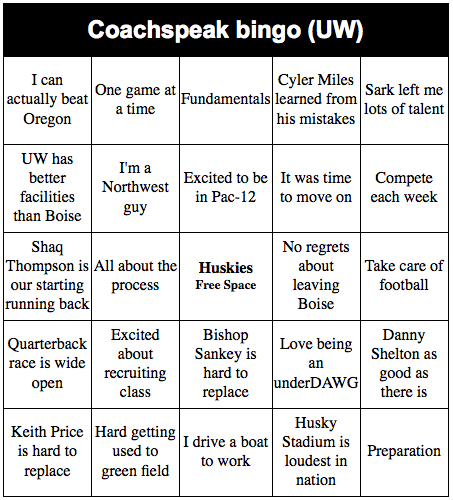 Expect the unexpected when WSU coach Mike Leach has the mic. He's one of the most refreshing coaches in college football. Along with references to pirates and Geronimo, we hope Leach drops a bomb like, oh, we're not going to run the ball at all this season.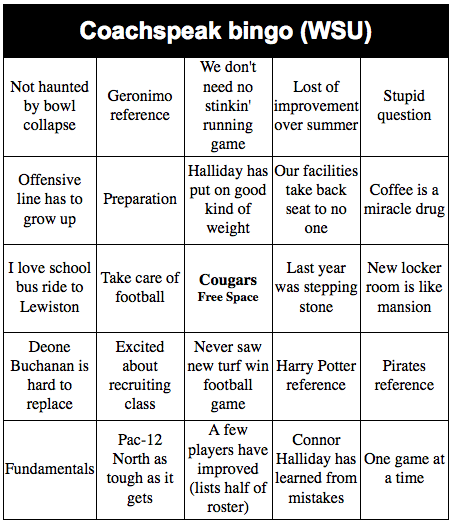 Whether it's facilities or hype, Oregon is known for going big. Remember when they bought a Times Square billboard for Joey Harrington's Heisman campaign? We hope Mark Helfrich announces that Marcus Mariota will grace an entire side of the Empire State Building. Hey, Uncle Phil has the money, right?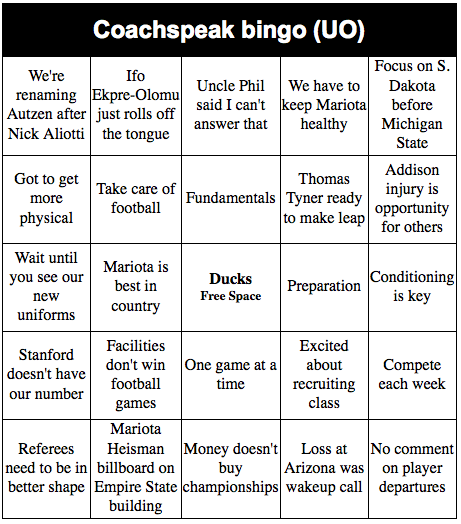 Oregon State coach Mike Riley's folksy wisdom makes him perhaps the most respected coach in the Pac-12. As the dean of Pac-12 coaches, we hope he flexes his muscle and takes a stand against the asinine "Chainsaw" dance that debuted last year.