Oregon backup QB Rodrigues to transfer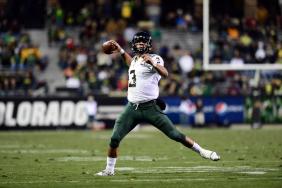 The race to back up Marcus Mariota has become much clearer.
Backup Oregon quarterback Jake Rodrigues today told CSN Northwest he plans to transfer.
The redshirt sophomore had been competing with sophomore Jeff Lockie to back up Mariota, considered one of the nation's top quarterbacks.
Rodrigues had hoped to win the backup job during spring practice, but the competition remained unsettled.
"Football wasn't working out here and that is why I am leaving," Rodrigues told CSN. "I am not leaving because of how people treated me, or how much it rains here. I am leaving simply based on this football decision."
If Rodrigues transfers to another FBS program, he must sit out the 2014 season and then have two years of eligibility remaining. If he transfers to a FCS program, he'll have three years of eligibility left.