Bad news for Ducks, good news for Beavers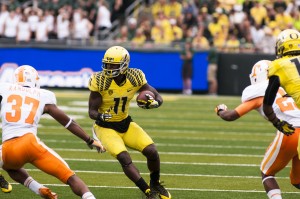 In Eugene, the Ducks' worst fears were confirmed as Bralon Addison will indeed miss the 2014 season. Oregon's top returning receiver tore his ACL in a non-contact drill Wednesday.
Addison had seven touchdowns and nearly 900 receiving yards last season. His loss means Keanon Lowe will be Marcus Mariota's go-to receiver, at least initially. Jalen Brown, B.J. Kelley and Devon Allen are highly-touted but unproven players who will need to step up.
Meanwhile in Corvallis, Oregon State got an unexpected dose of good news Thursday. The NCAA ruled that freshman quarterback Luke Del Rio will not have to sit out a year after transferring from Alabama. He's expected to compete for the backup QB job behind Sean Mannion. Del Rio is the son of former NFL player and current Denver Broncos defensive coordinator Jack Del Rio.