How do three local players rank on NFL Draft lists?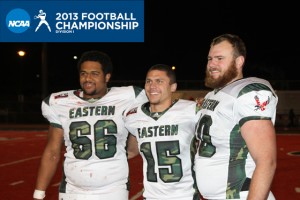 Vancouver players Steven Forgette, Ashton Miller and Ashton Clark, recently took part in Eastern Washington University's pro day.
Forgette and Miller are on a couple watch lists as possible late-round draft picks. NFL Draft Scout ranks just about every eligible player, so here's where they stack up on those rankings:
Forgette (Heritage) is ranked 103 out of 229 eligible offensive guards. Here's an interview Forgette did with Draft Diamonds.
Miller (Evergreen) is ranked 32nd out of 72 eligible centers. 
Clark (Heritage) is ranked 147 out of 379 eligible receivers.
Meanwhile, here are some links to keep you current on what's happening at the Northwest's four Pac-12 teams.
Oregon's new defensive coordinator Don Pellum expects the defense to play with attitude.
OSU linebacker Michael Doctor is back for a fifth year after a broken ankle ended his senior season early.
Chris Petersen is not yet pleased with what he's seen from the Huskies.
WSU expects to learn soon whether Spokane QB phenom Brett Rypen will follow in the footsteps of his uncle, Mark Rypen.