Could Shaq Thompson be Pac-12's next two-way threat?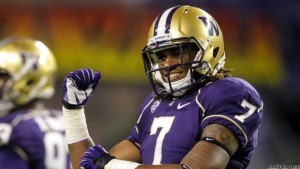 Three practices in, the most interesting news nugget from the University of Washington's spring session has been Shaq Thompson.
The 6-foot-2, 230-pound linebacker may see some time at running back next season, according to UW coach Chris Petersen.
Thompson was an outstanding running back at Grant High School in Sacramento. Over his final two seasons, he rushed for 3,016 yards and 40 touchdowns on 284 carries. That's 10.6 yards per carry.
His teammates were certainly impressed after Thompson worked out with the running backs on Thursday.
"He's a monster, man," junior cornerback Marcus Peters said on Thursday. "It's going to be real unique to see him run the ball. Everybody talks about (UCLA's) Myles Jack running the ball, but Shaq Thompson really can run that ball."
Bellevue High School graduate Myles Jack made waves last season, winning both Pac-12 offensive freshman of the year and defensive freshman of the year.
He finished with 269 yards rushing, averaging 7.2 yards per carry, and seven touchdowns. On defense, where he started 11 games at linebacker, he had 70 tackles.
http://www.youtube.com/watch?v=4sA6lOOezPg
Pac-12 fans will also remember Owen Marecic, a Stanford fullback who started at linebacker in 2010. He's best remembered for scoring touchdowns on offense and defense within 13 seconds against Notre Dame.
http://www.youtube.com/watch?v=sYGqYr_PN2c
Two-way players are rare, but not unheard of. It will be interesting to see whether Thompson will get more than a cup of coffee at running back this fall in Seattle.