NCAA tables "Nick Saban" rule to slow down offenses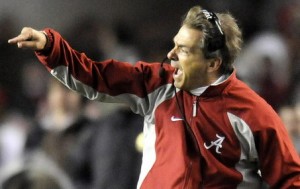 The NCAA rules committee has reportedly shelved the 10-second rule that would have slowed college offenses. We all know it was championed by Nick Saban to combat up-tempo offenses, which Northwest football fans have seen at Oregon for years.
But the proposal struck a nerve with many college coaches who have adopted up-tempo offenses, including Arizona coach Rich Rodriguez. He mocked the idea with this parody of "Speed."
It also brought to mind this study that breaks down plays per minute of time of possession. It's a year old, but still shows some interesting trends. Not surprisingly, from 2008-2012 Oregon was No. 2 with 2.83 plays run per minute of time of possession. The Ducks are the only Pac-12 team in the top 15.
Alabama ranked dead last among NCAA D-I teams at 2.02. While the SEC was second to last among conferences in this stat, the conference's two newcomers (Texas A&M and Missouri) rank No. 5 and No. 14 respectively. Under Gus Malzahn, Auburn also went up-tempo last year, and you saw how Alabama handled that.
It puts into perspective why Saban has such a vested interest in fighting college football's drift toward up-tempo offenses, which help neutralize the 320-pound defensive-line behemoths Alabama recruits so well.